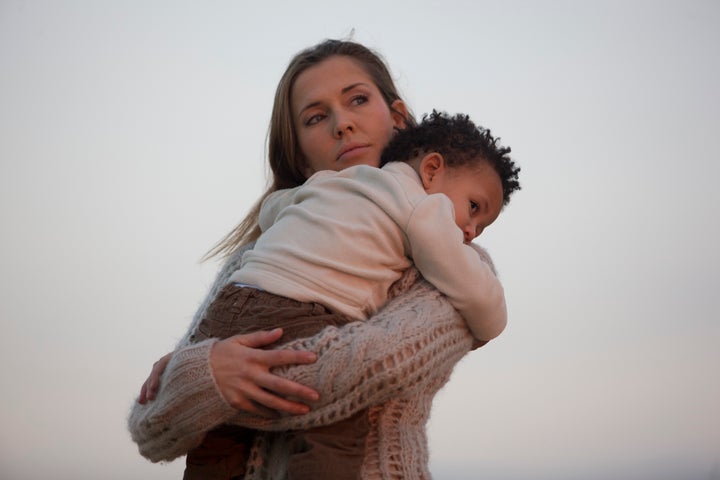 Weeks after giving birth to her daughter two years ago, Becky Schroeder, 31, began to realize something was very, very wrong. She was a busy, sleep-deprived new mom, but when short windows of rest presented themselves, she couldn't slow her mind and body down enough to fall asleep. She couldn't eat. She began having daily panic attacks, and was slowly sinking beneath regret about becoming a mom. Schroeder has written about the experience on The Huffington Post, describing it as "the hardest, most terrifying" stretch of her life. Fortunately, two-and-a-half months after her daughter's birth, Schroeder sought professional help, and through a combination of medication, therapy and support from other mothers, spent the next six months recovering from postpartum depression (PPD).
When she was first diagnosed, one the clearest thoughts to flash through Schroeder's mind was that there was no way she would ever have another child. She had suffered too much. But by the time her daughter turned 1, Schroeder began to cautiously dream about diving back into pregnancy. She had long talks about it with her husband, close friends and family. She assembled an "army" of people who pledged to support her. They did want to try for another child, Schroeder and her husband concluded, even if it meant facing PPD again. But even in her certainty, doubt crept in.
"When I first became pregnant [again], even though it was planned, I panicked for a few weeks," Schroeder said. "It was like I had really done it. It was real now."
"On top of all the usual considerations, there is the haunting question: "Could I really put myself through that again?""
Family planning decisions of any kind are among the most important and personal choices an individual can make. But the question of how many children to try for is even more complex for women who've endured a previous postpartum experience that was marred by severe depression and anxiety, rather than harried, new-parent bliss. On top of all the usual considerations, there is the haunting question: "Could I really put myself through that again?"
There is good reason to wonder. Women who have a history of depression, including a history of postpartum depression in an earlier pregnancy, have a higher risk of experiencing it again. Indeed, between 25 and 50 percent will have a recurrence, said Karen Kleiman, founder and director of The Postpartum Stress Center in Pennsylvania, and author of "What Am I Thinking: Having A Baby After Postpartum Depression."
However, those moms can take some consolation in the fact that they're less likely to be blindsided the second time around.
"The good news is that a woman who has experienced postpartum depression or anxiety for the first time who contemplates a subsequent pregnancy actually is in a better position to cope with the challenges if symptoms return, if she has had good treatment; if she currently has a good therapist and doctor who can accompany her through this process," said Kleiman.
It is essential, she argued, that women loop their health care providers into the decision making process, because they can help surface important questions, like how severe their depression was previously, and whether they received proper treatment. Should a woman consider being on medication during pregnancy? And what is the plan if she experiences PPD again?
"I think there's a huge amount we can do," echoed Kate Kripke, a clinical social worker and founder of the Postpartum Wellness Center of Boulder who teaches a class on preventing postpartum depression, grounded in educating women about what the risk factors. The class is regularly attended by moms who've been through postpartum depression and want to do everything they can to prevent it, or at least better prepare for its return, Kripke said.
Of course, many women -- particularly those with challenges accessing affordable medical care, or who don't have a strong support system -- do not get a diagnosis with PPD the first time around, nor do they get the treatment and support they need along the way. Many women don't report what they're feeling out of fear or shame, or because they mistake their experience for the baby blues, which are much more common and dissipate within a few weeks. That is why the U.S. Preventive Services Task Force, one of the most influential medical panels in the country, recently called for all pregnant women and new mothers to be screened for PPD.
"A woman's previous treatment does directly affect her experience of subsequent depression and anxiety," Kleiman said. "Untreated postpartum depression can have adverse long-term effects ... [and] other areas of vulnerability, such as a lack of support system or fragile marriage will further compromise her resilience to depressive symptoms."
"Mothers don't make this decision lightly at all.""
For many women, the risk of going through PPD again simply isn't worth it. "I am not sure that you ever completely 'get over' postpartum anxiety," writes Alexandra Quinlan in an essay for Mommyish. "I remember what it was like to be suffering from it ... And though it is not a happy decision for me, that is why I will not be having another child."
"Mothers don't make this decision lightly at all," said Kripke, who is currently working with several women considering just one baby because of previous PPD. "I think there can be an immense amount of loss for some women to say, 'I don't want to go through that again.'"
For her part, Schroeder went into her second pregnancy with her eyes fully open to the possibility of her depression and anxiety returning, and since she welcomed a second baby girl into the world four months ago, they have.
On the one hand, Schroeder said, it's awful. She loves her daughters desperately, and just wants to feel better. She is frustrated and impatient every day that she doesn't.
But in other ways, she sees how postpartum depression does not have quite the same chokehold on her this second time around.
"I know I will get better," she said. "The first time I experienced this, I seriously doubted for a very long time that I would recover and be myself again."