A few months ago, I started going to Starbucks, not only for my daily dose of caffeine, but because there is someone behind the counter who routinely puts a smile on my face.
His name is Clint.
I have gotten to know Clint through our daily interactions at the register because, like many Americans, I begin my day with a fresh cup of coffee. As a senior at the University of Michigan, I wake up every morning and go to "my" Starbucks -- yes, my Starbucks (we all have "our" places). Since I met Clint last year, he has singlehandedly made each and every day of mine better than it was before I had walked through the Starbucks doors.
If I had been one of those customers who tunes out, plugs in and isolates him or herself, I would not have had the good fortune of meeting Clint. I would not have known he is 22-years-old old, is an aspiring history teacher who loves mac n' cheese and orchids, and is currently finishing his Bachelors in Education (while working at Starbucks in his spare time). Nor would I have known that he recently took a trip to California to marry his fiancé, Will, this past December, because same-sex marriage is not legal where they currently reside -- the great state of Michigan.
If you are someone who encounters a barista on a regular basis, ask yourself this: How do you interact with others when you enter the coffee shop?
Do you do anything and everything in your power to avoid conversation from the time that you order to the moment that you receive your drink? Do you maintain eye contact with your smartphone, keep your headphones plugged in and only check behind the counter not for the person on the other side, but for your drink?
If you answered yes to any of these questions, I am confident you have failed to recognize the charm and character of the person standing behind the counter. Thanks to Clint, I have seen how the power of a smile, friendliness and awareness can go a long way.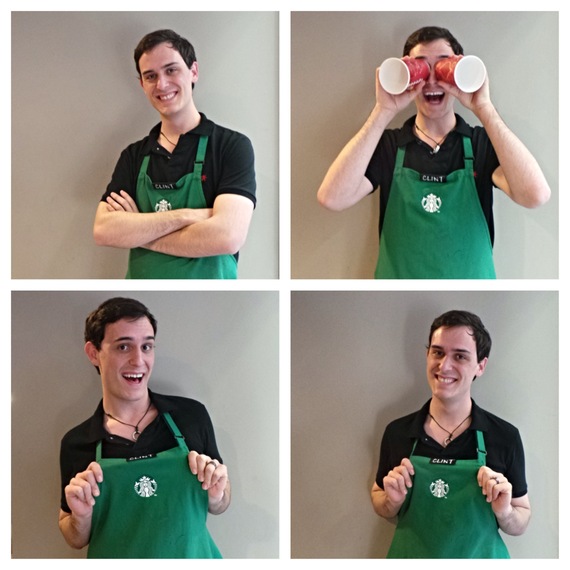 Clint knows I love the Starbucks Red Cups, so on a brutally cold December day, when I stopped at Starbucks before a final exam, he noticed there were no Red Cups left when I placed my order. To compensate for the shortage, Clint took it upon himself to write a message on the side of my traditional green and white Starbucks cup that said: "Good luck, Sydney!!!" (He even underlined it).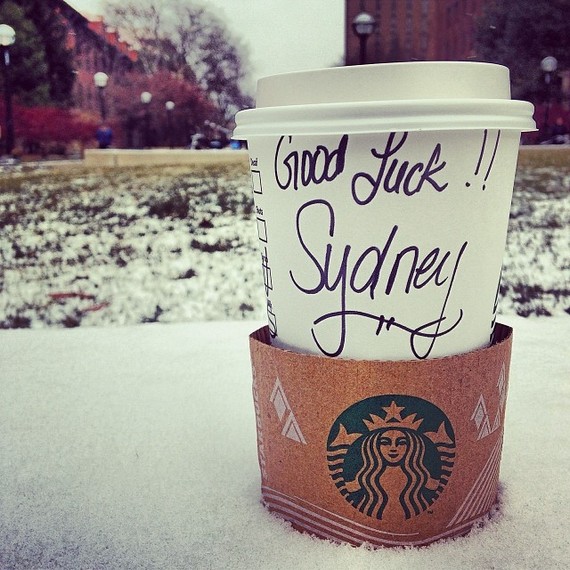 This small act of kindness gave me the confidence I needed to enter my test feeling not only motivated, but also special. That cup, which would have been disposed of on any other day, is currently sitting on my desk as a reminder of his thoughtful gesture. Something that may seem trivial to some meant a lot to me, and his words, all three of them, lifted my spirits during finals.
If you are a frequent retail-coffee shopper, be sure to note the charm of the person serving you behind the counter. No matter how early in the morning it is, or whatever mood you are in, there is a person out there looking to make your day better. For me, that person is Clinton Toledo-Milhollin.
Calling all HuffPost superfans!
Sign up for membership to become a founding member and help shape HuffPost's next chapter