Charlie Bird is a welcome new addition to the New York restaurant scene. Owner Robert Bohr and sommelier Grant Reynolds both have extensive wine and hospitality backgrounds and are two of the most thoughtful guys in the restaurant business. Recently, I caught up with them about everything from social media to restaurant advice.
JZ: How long did it take to open Charlie Bird?
RB: Once we picked the spot it was only nine months. From conception to opening it was 15 months.
JZ: You just moved here from Colorado. What differences have you noticed between working there and working in a restaurant in New York City?
GR: I was working at Frasca, which is a fine dining restaurant and totally different from Charlie Bird. At Frasca there was a lot more homogeneity of the diners, where as in New York the diners are much more diverse and from all different industries. With a more diverse group of diners you get a whole variety of the way people eat and the wines people drink.
JZ: What's your routine everyday?
GR: It's all over the place. There is no routine until 5:30.
RB: You just want to be sure everything is done and in place. How you get there has lots of different paths. By the time you get to 5:30 you are executing your game plan. It's nice to start service and not feel like you are behind and everything that you have to do is done.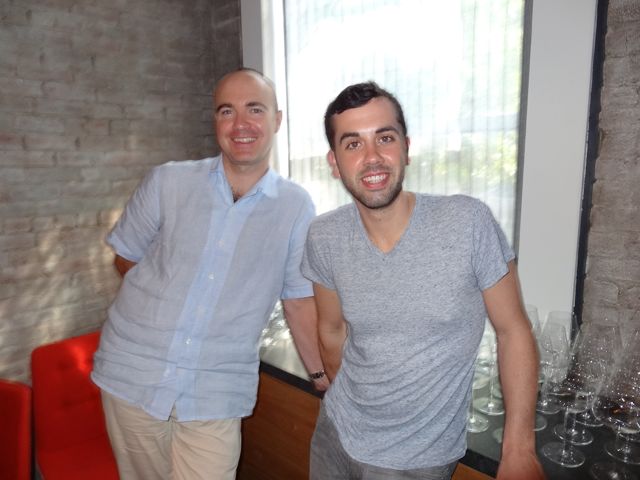 Robert Bohr and Grant Reynolds
JZ: How did you come up with the name Charlie Bird? Is it named for Charlie Parker?
RB: Charlie Bird quite simply means a restaurant at 5 King Street owned by Robert and Ryan where a lot of great people work. There is an etymology to the name that's a lot less interesting. In short we were looking for a name that was unique to our spot that didn't make you think of a farm to table restaurant or a music restaurant. It didn't reference a movement or a place and it's unique. We really wanted a name that was unique to our restaurant.
JZ: What would people be surprised to know about Charlie Bird?
RB: Against all beliefs to the contrary our ambition is much more modest than people would expect. We want to be a neighborhood restaurant where people can come often. All too often restaurants that have modest goals are elevated to a higher level because it's buzzy at the moment and the expectations become so great that they are unattainable. Our expectations are quite simple. We want people to come in, enjoy themselves and come back. The problem is you get thrown in to hot lists and there is all this buzz and then people come in and they don't see what the big deal is. We are not looking to make a movement or create something greater than ourselves.
JZ: It's funny because Charlie Bird is on every list.
RB: I get it and I think it 's great. The thing is I want to be on the list in two years from now. The problem is that's just not how the industry works at the moment.
JZ: What advice would you give to someone who wants to open a restaurant?
GR: Be patient, and be genuine. It's easy to jump on a train of something that has already been successful but if it's not who you are it's hard to pull off. The restaurant business is incredibly hard. It's emotionally exhausting and physically draining and that's anywhere, in New York it's even harder. So it has to really be a calling.
JZ: What advice do you have for someone who wants to be a sommelier?
GR: To start working in a restaurant that has great service. Not to discredit wine courses but you should go be a waiter to learn how to move and work in a restaurant. If you work at a restaurant with a great wine list you will also have more access to different wines.
JZ: How's Charlie Bird doing?
RB: It's doing super. It's beyond our expectations. I don't mean financially or even critically but the amount of positive feedback we have received has been inspiring. Primarily, because the restaurant is so much of a personal extension of the team's vision and what we care about. It's not about food trends and what's popular at the moment but it's deeply connected to the management. To have people come in and be so positive about their experiences means a lot.
JZ: What do you know now that you wish you knew when you opened?
RB: I would say how impactful social media is. The last time I opened a restaurant was ten years ago and social media didn't really exist. It's plays to our strength and the kind of restaurant we want to operate. We are providing an experience that isn't a high wire act but where all our basics are sound. It's about giving as many diners as possible a warm and thoughtful experience. It's because of that as our mission that social media has really impacted the restaurant.
REAL LIFE. REAL NEWS. REAL VOICES.
Help us tell more of the stories that matter from voices that too often remain unheard.