10:30 pm in Kenscoff, Haiti
Our sweet service ranger group has bonded totally and we spent an amazing day loving the children served by WWO. We started out the day in a pre-school classroom where we observed 12 children and their 12 teachers. That is the one to one learning experience that WWO provides for at-risk children from zero to 5 yo.
The teachers sat next to the children and helped them with all their school activities. The kids recited in French and Kreyol and then a book about brown bears playing ball was read by the head teacher and every line was explained. Kids were given a chance to recite the story themselves and they were coached and supported one to one. At different moments, children were noted to be tired, so the teacher held the child close and comforted and encouraged him/her. At snack time the children were affectionately attended to as if the teachers were the parents.
The teachers were very neatly dressed and professional in appearance. The young women wore lovely blouses and jean skirts. I believe that Haitian people care about how they look and work hard and even in challenging circumstances make every effort to look their best. I saw this right after the earthquake; in the midst of devastation, Haitians had self-care.
As we entered the school this morning, we all noticed that there were no electric lights. Within a few minutes the light from outside allowed the kids to participate, but it was not conducive to reliable learning. Not having electricity in schools and orphanages is a common finding in developing countries. The classrooms in this school were packed with kids with only one teacher. The workbooks looked up to date, but the style of teaching was purely recitation. We did not observe the kids interacting with the teacher and engaged in active learning. On one blackboard, I noticed at the top, the date and day of the week and then this statement in French, "Dieu est ma lumiere" (God is my light).
Haitian education can focus entirely upon religion at the expense of the academics.
And at least 80% of education in Haiti is private without curriculum standardization and out of reach to the millions of children on the island.
We walked up the winding rocky road to the new office in Kenscoff. The WWO Haitian staff secured this office and decorated it and organized the move on their own. They were very proud of this accomplishment as was I when we visited on Friday. Corelus, our WWO staff member is now the new Mayor of Kenscoff and we visited with him at the office after his official meeting in Port au Prince. He is beaming about his new venture and spoke of his ambitions to change Haiti and become the president of Haiti in the future. What a fantastic story that a poor young man with love and devotion to his country has risen to take on a political career to help his country be successful. I am very proud of Corelus. I hope that he can continue to be engaged in some level of support at WWO. His wife is helping us at our recycling center.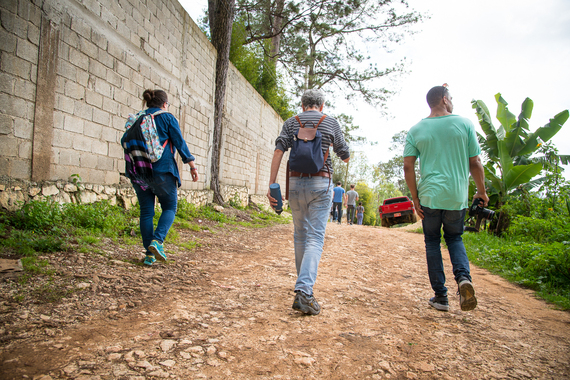 Walking to visit the new office.
Photo Credit: Ed Collier, 2016.
The visit to our recycling center which is a partnership with Ramase Lagan and Plastic Bank in British Columbia was very exciting. It is very pretty and looks quite professional. Large bags of collected plastic and cans were observed at our office. There were many issues discussed about the center that showed me how smart staff were about the future of this enterprise. How can we keep the costs of transportation down so that the participants will make a profit? People have to travel to collect waste and bring it to the center. How can we manage the up and down cost of gas which is necessary for the processing of the waste into "flake" which then gets utilized to make many usable products in the market place i.e. clothing, household items, etc. We stood outside the center and brainstormed about getting our own vehicles to go to the community to pick up the bottles and cans collected. We talked about creating teams of collectors in the community. Staff became excited about cleaning up their environment. Corelus, the mayor, felt certain that people in Kenscoff would care about the garbage that overwhelms the roads and streams and would be motivated to clean up the environment. Time will tell.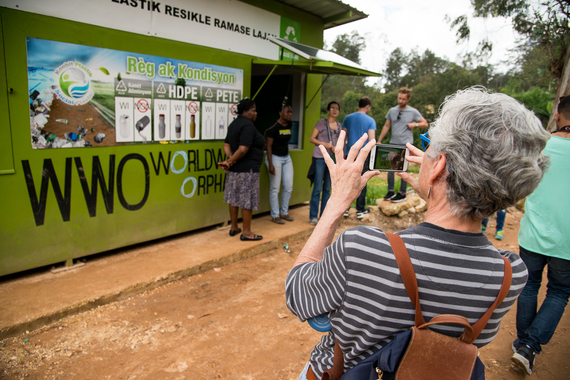 Our recycling center opened in December 2015.
Photo Credit: Ed Collier, 2016.
It is a time to remind all WWO supporters that we have 93 women in a microfinance program helping them to grow businesses here in Haiti. This is part of our work to support healthy families so kids are not relinquished or enslaved. Stay tuned for more on this program in the future.
Lunch brought us back to Bellecour, our Bed and Breakfast and then we enjoyed reviewing the activities of the morning. Then we were off to see the progress of our soccer field (partnership with Fundafield) in Godet. The grass needs work and we still need to complete the field with a taller fence and a net to keep the soccer balls from sailing over the mountain. The Junior Board on this trip spoke about having a fund raiser in LA to cover the costs of completing the field. Stay tuned for news of this event.
Public school at EFACAP was over at about 2 pm and 119 youngsters grades 1-9, gathered in the center of the school campus and participated in recreation. They were divided into smaller groups and then the games began: jump rope, musical chairs, steal the old man's bacon, and sack races. The excitement was almost a constant cheer. I could not help but want to do it all of the games myself. Alex, our after school program manager, had organized every detail. The names of the children were on computerized lists and there were 23 teachers to supervise the recreation. Every child was engaged and the older kids were helping the younger ones to join in.
I decided to jump rope. It looked very scary, but Kris, one of our Junior Board, encouraged me to take a chance and she jumped with me. I succeeded and felt jubilant! I watched all of the activities and could feel the pure joy of the crowd. The students were prepared before the events with a mass dance at each end of the campus. The children turned to the teacher that faced them and followed the choreography perfectly. Music in Motion is part of our Element of Play in Haiti and in all our WWO countries. The ability to follow directions and dance to music has been a very strong part of our programs. That sequencing and attention teaches children to think and this has been measured and shown to improve school performance.
Photo Credit: Ed Collier, 2016.
Alex was awesome. Quiet at the dinner table last night, he sat eating and enjoying the quiet of our company and explained his early life in Haiti which turned out to be a story that can be found all of the world in poor as well as rich countries i.e. family disarray, divorce, abandonment, and lack of adult guidance. Alex was not angry; he is a determined young man eager to help himself and his fiancé successfully complete higher education so that he can do global psychosocial work. I offered him a job at WWO when he is finished with his education and he smiled. Alex is gifted and endlessly energetic. He stands in the center of a circle of over a hundred kids and inspires them to work and play together. He is our Pied Piper!
After the excitement of the after school programming, we headed home to rest up for dinner. We were exhilarated and couldn't stop talking about the happiness of the children and staff. The travel group could not say enough about they wanted to do to support the growth of WWO. The enthusiasm and eagerness made me well up with tears.
Conversation at dinner was very warm and loving. The potato soup, meatballs, rice, and bean gravy disappeared quickly followed by a very sweet and delicious dessert. Myriam, our Toy Library coordinator in Orange, New Jersey is here on this trip; she is Haitian and was living in Kenscoff when we found her years ago. She is a seasoned AID worker and is now living in West Orange, NJ with her husband and pre-school aged daughter and running Orange Toy Library. She revealed her complicated family story at dinner and was filled with tears and appreciation. I saw her more clearly last night. I felt the pain of her family issues and admired her ambition to grow herself and the Haitian community in Haiti and Orange. She is currently in college studying nursing.
We all retired to our living room to enjoy one another's company and the making of wrist bracelets and God's Eyes. We talked over one another and snacked, drank a little wine and beer, and I was the DJ from my playlists on my iPhone (my son Des would have been proud of me). We spoke of the day and many other things and continued to grow our connections. Ed Collier, our photographer, was organizing his photos on his computer and sending us fantastic photos from the last two days. I was thrilled and delighted to see the photos and I am confident that these photos will dazzle all of our social media outlets i.e. Facebook, Twitter, and Instagram. We were sending one another our own iPhone photos from the trip by Airdrop. That was so amazing....I have learned so much new iPhone technology on this trip and I am ready to show my teen sons once I return home.
The memories of the closeness we had with the children on Friday will never fade. We have selfies and the photos that others took of us to witness our infatuations and affections for the children of Kenscoff. Each of the service group seems to have fallen in love with a child or two. Noah showed some of the kids photos of themselves from his last trip. And he found his buddy, Adenson, a now 17 yo boy, and hung out with him. Matt fell in love with 5 yo Michael and photographed him with his sunglasses. Matt became teary and emotional when he realized how connected he had become to the children in Haiti.
We all were in touch with the intimate and deep emotional work that has been accomplished in Haiti since WWO's arrival two weeks after the earthquake. Our work is deep and life changing. We use art, story telling, sport, camp, recreation, music, dance, and play acting to reach the souls of children and adults. We build the capacity of adults in the community to help them revere and respect the children who need support and more instruction/education to become independent in their country.
WWO has data to show that our psychosocial programs are hard at work in helping Haiti grow leaders from the most needy part of their country.
Today, we will finish up our visit with a hike to the top of the mountain to Furcy for an afternoon of soccer and other activities followed by a bagged lunch, which will fill a Saturday which ordinarily could be unfulfilling time for the poor kids of Haiti. We will bring the curriculum of play, Element of Play, day in and day out for as long as it is needed to create sustainable and scaled support systems in poor communities around the world including in the USA.
Looking forward to Kris playing the ukulele today...I wonder what songs the kids will like! I am so proud of what we will build in the future. No earthquake rubble or lack of infrastructure and political entropy will stay the course of our work to repair hurt hearts.
REAL LIFE. REAL NEWS. REAL VOICES.
Help us tell more of the stories that matter from voices that too often remain unheard.