Looking for a last-minute costume isn't too tough these days. In strip malls across the country, temporary Halloween stores have popped up in vacant retail spaces like an orange-spotted rash. But back when Chuck Martinez was growing up in the 1970s, the idea of a store devoted entirely to Halloween was considered kind of crazy, or at best, a silly business plan.
Martinez had an unusual job. He worked at a San Diego Sears Roebuck as a company magician, performing at store openings and company meetings. He also helped out at his mom's magic store. Every Halloween, the pair watched new shoppers flock in, searching for costumes. "We'd do as much business in October as the rest of the year combined," he recalled.
Sensing an opportunity, Martinez told Sears that he wanted to open a temporary Halloween store within its San Diego store. "Everyone thought it was crazy. But I felt very strongly it could work." To get the hefty deposit that Sears required, Martinez convinced his mom to take out a mortgage on her house.
The shop was a hit. And Martinez went on to help Sears (SHLD) open temporary Halloween stores across the country, spending the '80s developing the Halloween Shop at Sears. He sold the Sears enterprise in 1988 for $6 million -- a huge sum back then but just a small slice of 2011 Halloween money. The National Retail Federation estimates Halloween spending will reach $6.86 billion this year.
Martinez, who went on to found Disguise Inc., one of the world's biggest costume makers, is one of a few unlikely, if not accidental, businessmen who fell into Halloween in the 1970s and 1980s and have watched it grow from an indie enterprise to a massive industry. Marc Beige, CEO of Rubie's Costumes, another large operation, jokes that they are the "Icons of Horror."
Pop-Ups Pop Up Everywhere
Temporary Halloween stores have boomed in the years since the Sears experiment, growing in the past 10 years at a faster rate than spending for the holiday. In 1999, chain retailer Spirit Halloween, now owned by Spencer Gifts, operated 63 temporary Halloween stores. This season, it has 970 in the U.S. and Canada. Halloween Express, a Kentucky-based franchise launched in 1990 by a party store entrepreneur, had 130 stores in 2006. Halloween USA, a Michigan-based chain of pop-ups, had 100 stores in the same year. Today, the two have expanded to 300 and 400 pop-ups, respectively. Many more local chains have followed suit.
The past five years have been explosive. In Manhattan, Ricky's NYC, a beauty chain, opened up 30 Halloween pop-ups this year in the greater New York area. In the suburbs, pop-ups are practically ubiquitous. In Akron, Ohio, a city of 200,000 an hour south of Cleveland, there are ten Halloween stores this year, says Debbie Meredith, the owner of Akron Design.
"Halloween has become so popular that it's just about killing itself," Meredith says. She started her store 31 years ago in her basement, when she was sewing costumes for her friends' Halloween parties. Her first costume (still available for rental on the company's website) was a purple grape suit inspired by the 1978 Fruit of the Loom commercial.
Stores like Meredith's that stayed local, while others expanded, are today under siege, encroached upon by big chains like Walmart (WMT) as well as the pop-up stores. "It's really hard [to compete] when you pay taxes and keep people employed year-round." She had managed to survive in part by moving sales to the web. Meredith, who is vice president of the National Costumers Association, says that the trade group has seen 20% of the 1,800 year-round costume shops it monitors close since 2006.
Ironically, at the nadir of the economic crisis in 2009, when all other stores were suffering, Halloween pop-ups were at their peak, scooping up empty, low-rent space formerly occupied by stores like Circuit City and Linens 'n' Things. This year, many of the stores are opening in former Borders locations, though competition for space is now much fiercer, industry insiders say.
Adventures and Acquisitions
In the 1980s, others caught onto Martinez's good idea. Big chains like Walmart and Macy's (M) followed Sears by stocking Halloween goods. Meanwhile, other individuals had been striking gold with Halloween stores in malls, as more and more grown-ups starting dressing up for the holiday.
Perhaps the most legendary of all the Halloween stores, however, is New York City's Halloween Adventure. The huge store, which runs the width of a city block, was launched in 1996 by actor and former Halloween kiosk operator Bruce Goldman and Tony Bianchi, an artist and mask maker. The store was a natural next step for the pair, who had teamed up to create theatrical Halloween pop-ups -- "entertainment retail," as Goldman explained to The New York Times in 1994.
On a recent Wednesday, Halloween Adventure was crawling with children, bachelors, students, couples -- even rock star Elvis Costello and his son (so a salesperson claimed) were there. Also in attendance: 100 costumed employees, 60 of whom were hired for the season. Bianchi, now 66 and on his 15th Halloween at the location, was running around in a feathered cap helping customers and talking to journalists. While the store is open year-round, Bianchi says Halloween accounts for 60% of business.
From his perch, Bianchi has watched the quirky Village celebration transform into an international industry. "The [big] chains realized there was a holiday between Back to School and Christmas," he says. October is otherwise a dead month for retail, and when a few retailers began to make money, others big and small took notice. Costume manufactures also played a role, creating more elaborate costumes to fill the new stores and feed the burgeoning demand.
With the current state of competition in the industry, Bianchi's lucky to have his prime New York City location and eager East Village clientele. "We're like the FAO Schwarz of Halloween," he says. Every year without fail on Oct. 31, shoppers line up around the block to get costumes before the store closes at 10 p.m.
Spirit Halloween, acquired by Spencer's in 1999, was probably the first chain to open a "superstore" of the kind we see today, a 20,000-plus-square-foot box. Spencer Gifts was able to take the concept to a much bigger place when it bought Spirit, notes Martinez. In the 2000s, other chains like Halloween City were acquired by big companies like Amscan. Meanwhile, local businesses, inspired by their success, tried their hands at pop-ups through franchises like Halloween Express or private ventures.
According to Bianchi, many of the operators who opened pop-ups in the 2000s were more interested in money than the meaning of the holiday. "I'm connected with the aesthetic of Halloween, the silliness of the holiday from infants to old age," he says. "Pop-ups tend to be slapped together."
Still, the line separating the originals from the opportunists isn't always clear. Some "mom and pop" costume stores have become national chains. Other pop-ups are now trying their hands at permanent retail. In addition to Bianchi's location, Halloween Adventure now operates 26 permanent toy stores, all of which become Halloween stores during the season.
But no matter how you look at it, what seemed like an all-you-can eat retail buffet ultimately turned cannibalistic. "Margins are big, and it looks like a no-brainer," Bianchi says. "Then stores copy each other. You see them all along the highways up and down New Jersey. They wipe each other out."
Martinez and some of the other "icons" express regret that so many small costume shops -- similar to the one he and his mother once owned -- have closed. "I think what happened is Halloween really grew up," he says. "Those baby boomers took it along with them to celebrate in an adult fashion and to pass on to their kids as a more involved experience."
"Europe has carnival and masquerade," he says. "This is the closest thing we have to a fall harvest festival."
Meredith also acknowledges that the growth that has hurt her store has been wonderful for consumers. While some of the fantasy and creativity she loved about Halloween has been lost, the holiday is now accessible to more people. Today, anyone can buy a costume for as little as $5, if they don't mind being a stock character -- a vampire, witch, zombie, etc. -- or last year's forgotten superhero hit.
Meanwhile, there are still some hardcore Halloweeners and costume fanatics keeping the holiday weird. New York shoppers who don't find anything in the two neighboring pop-ups on Broadway can still wait in line to dig around Bianchi's store, or else browse the wealth of costumes available online. This year, Meredith's surprise hits were 25 homemade hamster masks (made popular by the Kia Soul commercials) that she sold for $75 a pop on eBay. No other manufacturer could produce them fast enough.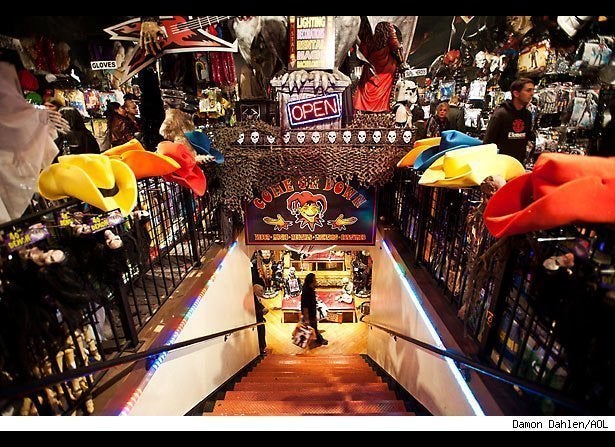 Related
Popular in the Community