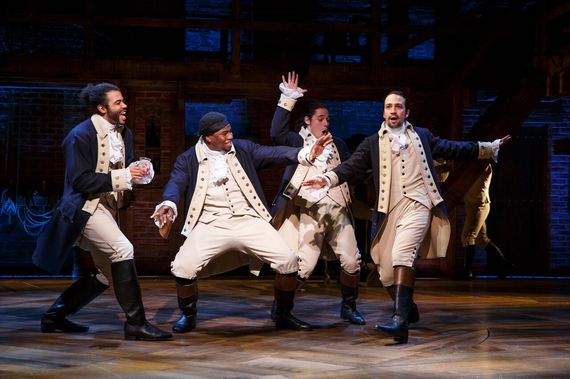 By Jil Picariello, ZEALnyc Theater Editor, June 30, 2016
I just saw Hamilton for the third time.
I don't have any inside connections and I certainly didn't spend the fortune being demanded for re-sale tickets (with Lin-Manuel Miranda and Leslie Odom, Jr.'s recent announcements that they are departing the show on July 9, prices for the next couple of weeks have just rocketed to heights that put the eyesore skyscraper (skysore eyescraper?) on West 57th Street to shame).
I saw the show at the Public very early in its downtown run last year. And then again on Broadway last summer while still in previews. And then again at a recent Sunday matinee, with an out-of-town guest, who bought the tickets back in September.
All this Hami-bounty has given me the unique opportunity to see, in the major roles, two Alexander Hamiltons, two George Washingtons, two John Laurens/Philip Hamiltons, two Peggy Schuyler/Maria Reynoldses, and--count 'em--three King George IIIs.
While it's very hard to be objective, especially after having memorized the cast album and read the book Hamilton: The Revolution in one sitting, I can happily report that the show is, for the most part, casting-proof. Talented performers may bring something different to the role, but that can be a good thing. So take a breath, all of you who won't get tickets until 2019.
But for me it is very difficult, almost impossible, not to miss the brilliantly talented people I fell in love with. Lin-Manuel Miranda is Alexander Hamilton, right down to his very DNA, and while his alternate, Javier Muñoz, brings a manly sexiness, a devil-may-care charm, and even an occasional dark glimmer to the role, he's missing the almost shambling casualness of Miranda. As the man who created the role in every possible way--the words, the tunes, the persona--and has lived with it for more than six years, Miranda doesn't play Hamilton, he is him. Miranda brings both ambition and insecurity, and his lack of poise rings true to the penniless orphan who's come to make his way in a new land. It also makes him endearing. We root for Miranda's Hamilton because, despite his brilliance and erudition, he needs our support. Muñoz seems like a winner from the start.
His strength brings different shadings to the role. Because he seems more confident, more powerful, his fall is in some ways even more painful. We cry for Miranda's Hamilton because we have been rooting for him. We weep for Muñoz's ending because it seems so much more unlikely, despite the fact that we know what's coming.
In the end, I like and respect and applaud Muñoz's performance. But I love Miranda's. I don't think that's because either performance is better or worse than the other. It's because Miranda is the Hamilton I fell in love with. Muñoz may be brilliant, but he's not my man.
Of course, for those of you seeing Hamilton for the first time now, or next year, or in 2027, Muñoz--or whoever replaces him--will be your man. And your first love.
Andrew Chappelle, understudying the John Laurens/Philip Hamilton role usually played by Anthony Ramos had an appealing confidence that sometimes went too far. Ramos has a youthful energy and boyishness that suits both roles, while Chappelle comes across as a near-arrogant frat boy (those "two pints of Sam Adams but I'm working on three" really suit him). Since it doesn't look likely that Ramos will be leaving the role any time soon, we won't get a chance to see of the rough spots of Chappelle's performance will smooth away with time.
Nicholas Christopher, as His Excellency George Washington, doesn't capture the stature and gravitas of Christopher Jackson, but wins your heart in his beautiful "One Last Time," delivering a touching and expressive performance. And Alysha Deslorieux is a less dark, less predatory Maria Reynolds, but the fact that she seems as much victim as perpetrator brings new and different shadows to her role. If only her voice was as passionate and silken as Jasmine Cephas Jones's. Both performers, like Chappelle, are understudies, not replacements, but both have a lot to offer.
The problem, for the viewer, when you see the same show with an original cast and later with replacements, is that it feels, inevitably, like the new people are imposters. In the mind of the second (or third) time visitor, the cast is not only trying, in this case, to be Alexander Hamilton or George Washington or John Laurens, but that they are also trying (and, of course, failing) to be Lin-Manuel Miranda or Christopher Jackson or Anthony Ramos. Their performance can be brilliant, but you can't erase first love from your viewing of it.
Which brings us, of course, to the monarch. My King George III the first was Brian D'Arcy James at the Public. He left the downtown run after just a couple of months to take a lead role in Something Rotten and was replaced by King George III the second, Jonathan Groff, who moved with the show to Broadway, and was nominated for a Tony for the role. King George III the third was Andrew Rannells, who briefly replaced Groff last fall, while Groff filmed the final installment of his TV show, Looking. When Groff left for good in April to begin filming David Fincher's new Netflix series, Mindhunter, Rory O'Malley, a Tony nominee for Book of Mormon, stepped in as King George III the fourth. (Can someone please stop offering Groff so many good TV shows? Broadway needs him.)
I can't comment on Rannells, whose five-week run I missed, but I can say that King George is as close to casting-proof as a Hamilton (or maybe any) role can get. He's so damn silly and witty and you're so desperate for a laugh and so excited to see him arrive that there's almost nothing he can do wrong. Having said that, I can pick my favorite, and, as you might expect, it's my first love. Brian D'Arcy James played the King with such vaudevillian minimalism that every arched eyebrow, every curled lip, every shoulder shrug was brilliantly, irresistibly perfect.
Jonathan Groff brought a boyish charm to the kingdom, coming across more like a petulant King Joffrey than a powerful King Arthur. But he did charm nonetheless. And Rory O'Malley, while still superb comic relief, delivers a slightly blander, slightly less winning performance. It's like Groff, only dialed down a smidgen. It's still a hoot, and still wonderful. But like what often happens in the hereditary monarchy itself, each generation seems a tad paler, a touch watered down.
So build a time machine and go back and see the show at the Public in January of 2015. And if you can't do that, get yourself a ticket for 2019 and know that since you'll be seeing it for the very first time you will fall in love with it, and all the performers, and never know for a minute what you might have missed. Just like King George III the first, second, third, and fourth, it will serve you well.
Photo credits: Joan Marcus
Jil Picariello is ZEALnyc's Theater Editor, and writes frequently on theater and culture.
For all the news on New York City arts and culture, visit ZEALnyc Front Page.
Calling all HuffPost superfans!
Sign up for membership to become a founding member and help shape HuffPost's next chapter