There are many reasons to attend the Hamptons International Film Festival over Columbus Day weekend. First of all, it gets you out to New York and the Hamptons during, arguably, the most beautiful season on the east coast. You can go for long walks on the beach and drive down lanes just beginning to fill up with leaves falling from majestic trees. All that before heading over to a theatre in Easthampton, Sag Harbor or Southampton, to see a wide variety of films and programs put together by the ever-so talented team, Board and volunteers who make HIFF such a stand-out, exceptional festival.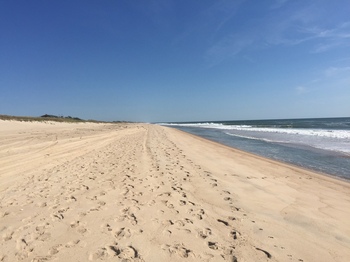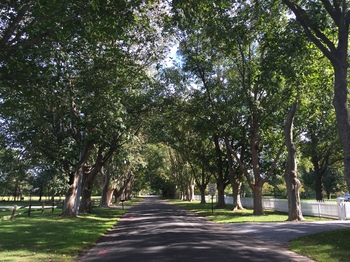 The Hamptons International Film Festival began 23 years ago by a group of people who love the Hamptons and are significant and noteworthy individuals in the entertainment industry. I spoke with Stuart Match Suna, the beloved Chairman for 18 years, outside the festival office to learn about the festival. He will be succeeded by Co-Chairs, Alec Baldwin, and the current Vice Chair of the Board, Randy Mastro.
Stuart has been supporting HIFF from the very beginning, 23 years. He was one of the founding board members. I asked him how did the festival start, whose idea was it? "Actually it was Joyce Robinson, a casting director who came from L.A. and landed here in New York. It was her idea to start a film festival here in the Hamptons, and she literally cast the Board of Directors," he said with a smile. "I was cast. I own Silvercup Studios (Sex in the City, Sopranos, Gossip Girl, Girls and a lot of movies). Other people who were brought in were Toni Ross (daughter of Steve Ross who was Head of Time Warner, who owned HBO, and many things) and her (late) husband, Jeff Salaway, who own the popular Nick and Toni's restaurant, Steven Gaines, a writer who writes about celebrities (the Beatles, Calvin Klein), Joe Zicherman, who is still on the Board, a stockbroker to the stars who was dating Barbara Streisand at the time. She cast various Board members who have homes out here." Not a bad job of casting I would say! Those mentioned were some of the founding members of the Board who gathered together as a team, pooled resources and got the Festival started.
This will be Stuart's last year as Chairman, a position he has devoted his time, heart and soul to, as I said, for eighteen years. As we were sitting in the garden of The Maidstone hotel, where the HIFF central offices are located during the festival, Judy Licht, a current board member passed by and called out affectionately, "the best Chairman in the world!" Clearly, there is a great bond and kinship in the team of people that make HIFF happen.
"At the time," Stuart said, "the goal was to have an intimate festival, that would bring the talent to the people. We wanted to bring the art, culture and craft of independent film to the Hamptons in an intimate setting. An additional goal was to extend the Fall season to benefit the local merchants."
Programs at HIFF evolved through the years. "A Conversation with..." series goes way back from the beginning days. The first of that series began with Martin Scorsese having a conversation with Steven Spielberg. Other years included such luminaries as Vanessa Redgrave, Robert Altman, Susan Sarandon and Richard Gere. This year's "Conversation" was Alec Baldwin speaking with Dan Rather. The timing was perfectly curated to have the esteemed Mr. Rather this year since HIFF premiered the film, "Truth," at the festival. "Truth,"is first-time Director James Vanderbilt's film, starring Academy Award winners Cate Blanchett as Mary Mapes and Robert Redford as Dan Rather. The film tells what happened at CBS 60 Minutes when some documents surfaced about George W. Bush's military record and resulted in a story that producer Mary Mapes was working on with Dan Rather. More deeply the film is about journalism fighting for air with the corporate powers, with producer Mary Mapes and Dan Rather at the apex of the storm. Being able to see,"Truth," at the festival made it all the more poignant to, then, hear the amazing Mr. Rather, a hero of our times. More on "Truth," to follow.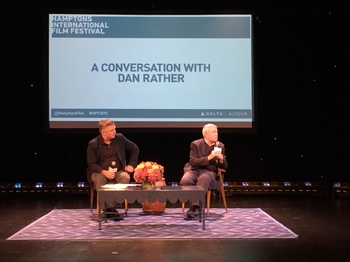 David Nugent is HIFF's current Artistic Director. The previous Artistic Director, Raj Roy, went on to be the Head of Film at MOMA. Stuart Match Suna noted that, "Under David's leadership we have gotten many more Oscar contenders. Any number of times we have had 30 plus Oscar nominations coming out of the Festival. Last year we had 40 plus Oscar nominations. 6 out of the 8 last years, we have screened the Best Film Oscar winner (Slumdog Millionaire, Argo, Birdman). Distributors have found out that there is a lot of good press here and a lot of Academy owners have homes here. It's a great way to launch their independent films."
HIFF shows a wide variety of films from all over the world. Believe me it is hard to pick which film, or program to see, and manage your time, because, you (I) want to see them all. The line-up is so well curated by a team of sophisticated Jurors who have the keenest of instincts in selecting the narrative films and documentaries chosen. Some of the narrative line-up this year includes, "Spotlight," co-written (Josh Singer) and directed by Tom McCarthy, "Carol," directed by Todd Haynes, "Bridge of Spies," directed by Steven Spielberg, "The Preppie Connection," co-written (Ashley Rudden) and directed by Joseph Castelo, "Youth," directed by Paolo Sorrentino. For documentary, some of note that I saw, are, "In Transit," the final film of legendary documentarian Albert Maysles, "Class Divide," directed by Marc Levin, "Bolshoi Babylon," directed by Nick Read. Also, featured this year is a new series focusing on a safe and humane world for animals, called, "Compassion, Justice and Animal Rights." The film, "The Champions," written, produced and directed by Darcy Dennett, received the 2015 Zelda Penzel "Giving Voice to the Voiceless Award." Zelda has been a volunteer for the festival for 23 years!
Films of Conflict and Resolution has been a category for 16 years, showcasing films that deal with the complex and societal effects of war and conflicts with humanity. "The Uncondemned," is the Winner of the 2015 Brizzolara Family Foundation Award, a film about the international lawyers and activists who fought for justice to make rape a crime, and the brave Rwandan women who came forward to tell their story. Other film categories include World Cinema, short films, student films.
HIFF has a Summer Docs series collectively curated by Alec Baldwin and David Nugent. In the past, they screened,"The Cove," and "Searching for Sugarman," both which won the Oscar for Best Documentary, having been selected for Summer Docs prior to their winning.
There is a Screenwriter's Lab which happens in the spring sponsored by the Sloan Foundation. That program has been going on for 15 years. It is an intimate, weekend-long screenwriting program, pairing up screenwriters with established screenwriters, directors and producers for a series of one-on-one mentoring sessions. HIFF then carries forward that work by having a reading of two of the winning screenplays that you can sit in on. They gather a group of talented actors to be the readers. Another one of the great programs available when you come to festival.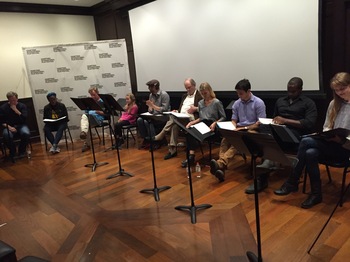 Anne Chaisson is the Executive Director of HIFF. She has a background as a producer and a filmmaker. She worked in Development. I am sure she would be happy to hear the praises that Chairman Stuart Match Suna told me that, "She has done a great job. She cut expenses and increased our revenue." Marissa Fallon Friedes is the Festival Administrator. Jordan Overstreet is the Development Manager. The Public Relations and Strategic Partnerships team is Frank PR with Clare Anne Darragh, Lina Plath, and Nastasya Morauw. Whether you are Press or signed up for a Founder's Pass, these individuals above mentioned, are the ones that pump the engine of the Hamptons International Film Festival.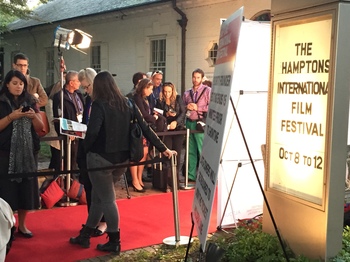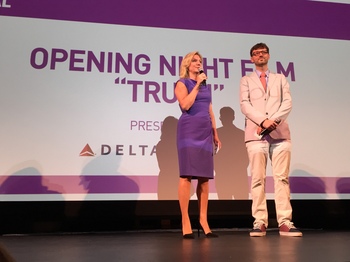 For the Opening Night, Anne Chaisson and David Nugent, came on stage, thanking all the sponsors, Partners, Jurors,"and our Board, especially Stuart, our Chairman for 18 years. He will become our Chair Emeritus so we will be celebrating him on Sunday night." David went on to introduce the film, "Last year we were up here introducing, 'Still Alice,' another Sony Classics film, and it is very exciting to be up here tonight with the film,'Truth.' We do a screenwriter's program in the spring. Jamie Vanderbilt had been a mentor in our screenwriting program 8 years ago. He wrote a screenplay, 'Zodiac.' We thought he had a lot of talent and now he is back as a first-time director, with, 'Truth.'" David then introduced the producer, Brad Fischer, and the actor, Dennis Quaid. (James Vanderbilt was caught in traffic at the time of the film's intro but he arrived for the Q & A afterwards.)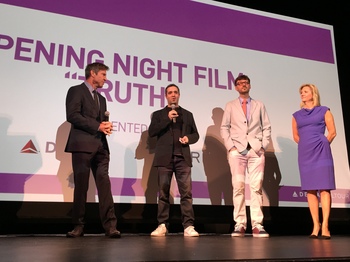 Brad thanked everyone, "We are so excited to be the Opening Night Film." Dennis Quaid spoke with passion telling us,"Jamie Vanderbilt has made an incredible movie you are about to see. It's a remarkable story, a story that maybe you think you knew, or maybe a story that went by so fast that you never really got to hear it, and what the story is really about. It is a story about integrity. It's about loyalty. It's story about a cover-up in plain sight that indicts the powers that be, also, the corporate structure that once was the network news that we so respected, and I hope you enjoy it. I am sure you will."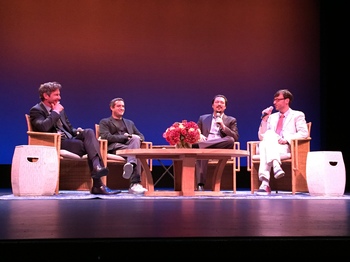 Dennis Quaid said why he wanted to work on the film,"It was this script Jamie had written. It was the truth. It was about real journalism, what it ought to be."
Jamie Vanderbilt,"I just really liked Mary's story, that it is a great story. If there is any kind of conversation that comes out of it, a little bit about where we are societally." Thank you Jamie for getting us into this conversation.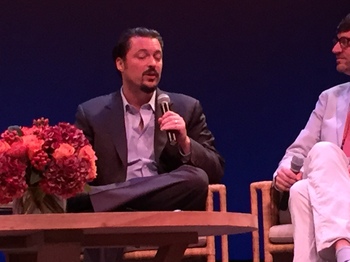 I have to say,"Truth" is an amazing film. It will make you ache for truth. Cate Blanchett's performance certainly moved me. Robert Redford brought out the essence of Dan Rather. Redford, Blanchett, and Vanderbilt, and the whole production, perhaps received the highest compliment from Dan Rather, himself, when he said at "The Conversation with..", that "I don't think there is anything that has ever been on the big screen as accurately showing what it's like to be an investigative journalist as in "Truth." For first time Director, James Vanderbilt, it is an amazing accomplishment. With all the reference to HIFF and their ability to be drawn to Oscar winners, I have to say, "Truth," might deserve a few of them.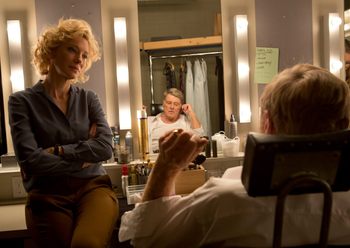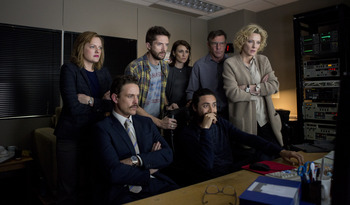 Of course, there are parties at HIFF. There was the Opening Night Party at THE CLUB at Phillipe. The Chairman hosted a party for longtime Patrons at his home where stunning Mark di Suvero sculptures catch your eye upon entering. Another party was in the Chairman's honor at a private home. There was a party Sunday night at Race Lane Restaurant. Other parties going on all over.
However, you don't want to stay out too late or party too hard. You need to find balance. The Hamptons International Film Festival is only Thursday through Monday. There are so many great films to see, so many fascinating panels, and so many interesting people all around that you want to appreciate. I will be back with more on the films and panels that I went to at the festival!
Photo of Stuart Match Suna courtesy of Lucia Engstrom
"Truth" Production Stills courtesy of Frank PR
Other photos by Sally Fay
REAL LIFE. REAL NEWS. REAL VOICES.
Help us tell more of the stories that matter from voices that too often remain unheard.