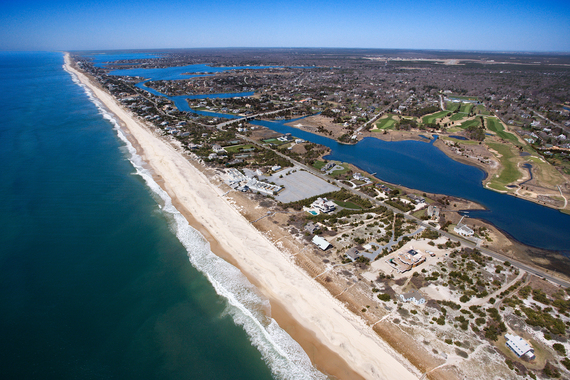 As this year's July 4th weekend approaches, New York residents will race their cars, buses, and helicopters out to their second homes in the Hamptons for the long weekend. While these residents all have the same goal of avoiding traffic on 27, their houses differ much in architectural style, location, and purpose.
The Hamptons and their hamlets serve largely as weekend destinations, offering an escape from the busy city life of New York. However, along with the leisurely lifestyle of Long Island, residents desire hassle-free homes to match.
In order to achieve such seamless living, buyers have begun seeking out turn-key homes, in mint condition and ready for move in. They feature modern finishes, including stainless steel appliances, steel staircases, and sprawling windows, that create an intermingling between traditional Long Island and modern Manhattan.
The demand for turn-key homes has brought about a wave of new development in the Hamptons, even causing entirely new communities to be constructed. The Beachwood Organization, for example, built a community of townhouses in Southampton, fully packaged with shared amenities such as a swimming pool, tennis court, concierge services, and Jitney pickups. While the attraction in such resort amenities is its vacation-like charm, full-service buildings in New York City have been offering equivalent amenities for the busy city lifestyle.
In addition to move-in quality finishes and services, location is at the top of the checklist when purchasing a home in such a diverse area of New York as the Hamptons and its surrounding areas. The Observer recently posted an article differentiating the quaint hamlets of the Hamptons, citing Tuckahoe as an area overflowing with golf courses, and the Hampton Bays as the destination for quiet unassuming waterfront living.
With each pocket of the Island seeming to cater to a niche population, perhaps the next influx will be the art collector. According to Bloomberg, art collectors have been having trouble finding proper homes for their large-scale pieces, opting to create private museums or to donate the works to popular public museums. However, perhaps Hamptons mansions will be their next permanent home, creating a need for not only enough blank wall space, but also for the proper temperature conditions to maintain the art and even added art dedicated wings.
As the Hamptons serve as a summer destination for many of New York's residents hoping to escape for the warm months, its relaxing role does not prevent them from serving a specific function for the individual buyer.
Calling all HuffPost superfans!
Sign up for membership to become a founding member and help shape HuffPost's next chapter