Hana-li is a singer, a songwriter, a rock star. Hana-li is a walking statement. Her presence is one of beauty and strength as I found when lucky enough to meet her. She belted out songs at a sold-out auditorium of hundreds that might as well have been millions, as she encapsulated every bit of attention with lyrics that grabbed your heart and melodies that caused you to sing along when you didn't even know the words.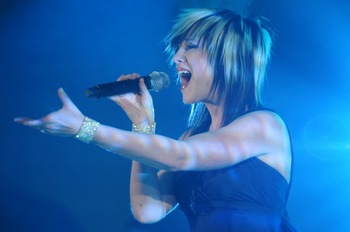 She's an independent artist and entrepreneur who has a thriving career doing what she loves, and it shows. Her creativity shines in her newly released Take A Girl music video which showcases her passionate musician talent while sharing her secret to sexy... she does Cross Fit and wow!
She said "I am a vegan and CrossFit athlete which is a rare combo. I am passionate about health and fitness and using that in my life and career to inspire and help others." She certainly will be the new poster-girl for Cross Fit once this video goes viral!
"My purpose is to spread beauty in the world through every outlet that I can and be an example in every aspect of my life from my health to my relationship with my husband and my friends to my work ethic, etc." she added.
Hana-li is not an artist to be taken lightly. With so many people out there fighting for a spot in the world, Hana-li is simply making her own. In an ever changing landscape of culture, art and technology, Hana-li looks for the universal specificity that unites us in being human. She wants the listener to know that we are here together in this crazy world and together we can make it beautiful. And she takes action, not just words, in her passion for Human Rights too.
With a voice that can quite literally do anything she spans genres effortlessly, luring in fans of all ages, races and walks of life. Weaving pop sensibilities with a soulful backdrop and a rocker's edge she is somewhat of a self-proclaimed "dichotomy".
"I've always been a bit of a rebel but one for a good cause. I'll never settle to be your average girl next door and I don't let anyone define me. I know who I am and I'm not afraid to share that with the world. In fact, that's something I've learned to embrace fully." - Hana-li
Interview by David Lee Jensen, #1 Bestselling Author
REAL LIFE. REAL NEWS. REAL VOICES.
Help us tell more of the stories that matter from voices that too often remain unheard.