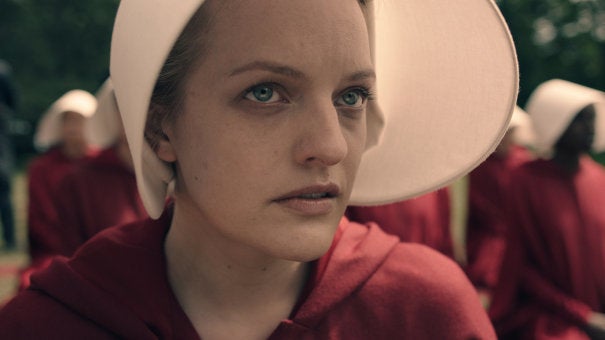 In Gilead, the dystopian world of Hulu's new adaptation of Margaret Atwood's The Handmaid's Tale, mothers and babies have become society's most valuable commodity.
So why are the children of Gilead born at home? Is homebirth safe enough for Gilead's most precious resource, when obstetric technology still ostensibly exists within this new fundamentalist republic?
Because despite the fact that the Marthas (the domestic servants who staff the houses of Gilead's totalitarian elite) now bake their bread from scratch and that hemlines have been extended well below the knee, the Republic of Gilead remains a society reliant on modern technology. The Commander's (Joseph Fiennes) laptop still casts a bleak glow before he snaps it closed, and air travel brings foreign dignitaries to Offred's (Elizabeth Moss) doorstep. Cars remain ever present (much to the momentary delight of Ofglen (Alexis Bledel) in Episode 5). Indeed even the practice of conventional ob/gyn medicine persists, and Offred's visit to a creepy gynecologist with a twisted take on the Hippocratic Oath reminds us that the medical industrial complex is alive and well in Gilead. (Or okay… if not well, it is – like many things – still alive.)
If modern medicine is available in Gilead, why would Wives (the elite spouses of the commanders) force their Handmaids to birth at home and forsake medical intervention? Wouldn't homebirth be too risky? Certainly it's taken to be so in American society today.
Or has unmedicated homebirth become the latest iteration of archaic torture imagined for the Handmaids of Gilead? Is nothing more emblematic of dystopia than depriving a woman of modern obstetrics?
In Gilead, childbirth ― like virtually everything else ― is equal parts appalling and surreal. Janine, or - as she is now known - Ofwarren (Madeline Brewer), perched atop the double-occupancy birth chair was farcical, and watching her newborn be stolen from her was ghastly. And yet here amongst the pervasive horror of Gilead is a surprising depiction of woman-centered birth care writ large, and portrayed in ways that embody all its best practices. Here is midwife-attended homebirth in a supportive, non-medical environment. Here is unmedicated labor. Here is a woman moving freely during labor. Here is delivery in an upright position and delayed cord clamping. Here is the rare depiction of a newborn properly latched and actively breastfeeding. Taken out of context, Janine/Ofwarren's birth looks a lot like what's held up today as the woman-centered birth practices towards which current research now suggests we should be striving. So what are we to think when these practices are deployed as evidence of the woman-phobic world of Gilead?
Is homebirth really what childbirth looks like in the anti-woman apocalypse?
But instead of pointing to reproductive atrocities such as these that exemplify women's powerlessness and lack of bodily autonomy, Gilead suggests that homebirth, midwives, and unmedicated labor are the real villain. In aligning homebirth with Gilead's toxic anti-woman culture, The Handmaid's Tale further substantiates the American myth that the only sane place to deliver a child is in the hospital.
Popular in the Community