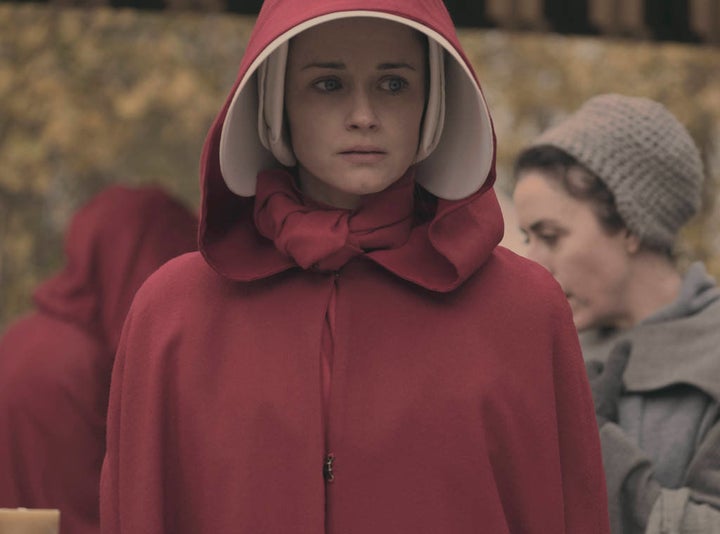 During a discussion at 92Y in New York City, the stars of the Hulu adaptation talked about the undeniable relevancy of their new show, centered on a theocratic regime that goes to terrifying lengths to police women's bodies and reproductive rights.
When asked by an audience member how the actors would unwind after an eventful shoot ― and, in turn, what they'd suggest viewers do to shake the horror of Gilead themselves ― Moss said she relied on cocktails and sleep for recovery. However, when it comes to the viewers who find the handmaids' reality too nightmare-inducing to watch, she doesn't know what to tell you.
"You're fucked," she said, followed by a round of applause from an audience made up primarily of women who'd just finished watching the series' fifth episode.
"Talk it out," Bledel suggested.
In that episode, "Faithful," [Spoiler alert!] Bledel's character Ofsteven (formerly, Ofglen) hijacks a car and proceeds to speed somewhat comically around a farmer's market before deliberately running over a Gilead guard. His death is one of the goriest moments in the show, though it pales in comparison to the bloodless violence depicted in the story's "ceremonies." In those scenes, the handmaids are all raped by high-ranking officials in the Gilead government, forced to endure regular sexual assault in the service of their dystopian society.
"It is heavy," Bledel added. "I didn't find it stressful to work on [the show] at all [...] but watching the show is really stressful."
Indeed. Many, many women have taken to Twitter to express just how stressful the viewing experience can be.
Margaret Atwood, the author of the 1985 classic novel upon which the Hulu series is based, has spoken at length about the importance of her book, maintaining that she made nothing up in telling the story of Offred (played by Moss in the show). Instead, it's based on historic examples of the oppression of women around the world.
Thirty years after it was published, though, her story has resonated in new and frightening ways. Just last week, shortly after the House passed the American Health Care Act (AHCA), women expressed opposition to the bill by flooding social media with "Handmaid's Tale" references and images. Before that, women protesting legislature in Missouri and Texas dressed up as handmaids to defend reproductive rights.
"The story has always been timely," Reed Morano, who directed the show's first three episodes, explained at 92Y. "Everything in the book has happened or is happening somewhere in the world right now, and that's how it was when Margaret [Atwood] wrote it." Adding:
The whole message that Margaret was sending in the book is that big changes like this don't happen overnight, they happen very slowly over time, almost so that you don't know that they're happening until it's too late. We tend to be a little sheltered in America because of the rights that we do have and what we've all been used to. One of the things I liked about doing this story is that I thought maybe it will make people really appreciate what they have.
Of the rape scenes that Morano filmed, which she described as "total and utter awkwardness and uncomfortable, unsettling, sickening," the director assured audience members that they're intended to stress you out. Even when discussing a tamer act in the show ― the handmaids grocery shopping under fluorescent lights ― she says of her aesthetic choices, "I want to scare the shit out of people."
Beyond Twitter, women and men watching the show and rereading Atwood's book have banded together under the auspices of podcasts, book clubs, and watch parties. They've no doubt done so out of both excitement for the critically acclaimed adaptation and as a gesture of solidarity.
Watching the show is meant to be hard, and Bledel's advice ― "talk it out" ― is not unfounded.
CORRECTION: An earlier version of this article misstated that the AHCA had passed through the Senate. It passed in the House and has yet to go through the Senate.
Popular in the Community