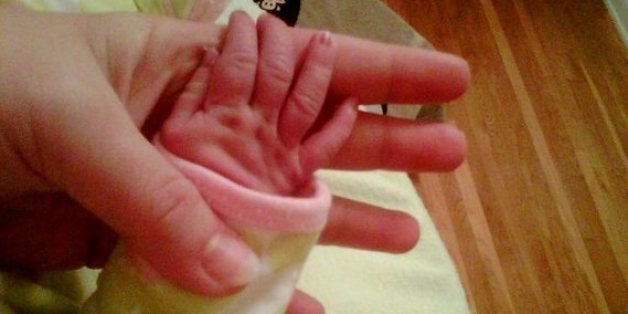 Sitting here in the darkness, I rock you gently. Your back is to me as you cuddle your favorite stuffed animal.
Humming "our" song, my mind starts to wander... I need to buy milk, send an email, schedule that appointment...
But you don't seem to notice.
Hearing me hum, you slink back into me, exhaling deeply...
And my heart skips a beat.
You grab my weathered hand with your little sausage fingers.
Traveling over calloused knuckles, you explore my tired hands. (I should moisturize more frequently, I scoff.) But the dryness doesn't bother you. You slowly trace each finger, tickling my palm when you get to my life line.
One final sigh and you choose which finger to squeeze.
You're not letting go of this one.
As your breath slows down, I can feel myself joining you in relaxation pose. A shavasana of sorts.
And then, my mind drifts off...
These little sausage fingers are learning how to sign "more" and "please" and "milky."
They awkwardly clap and playfully mimic peek-a-boo.
Soon, they will hold a pencil as you learn how to express your ideas, thoughts and dreams.
They will give high fives, shake hands, grip a bat and throw a ball.
They will wipe the sweat from your brow and the salty tears from your hurt.
They will adapt to new technology... without hesitation.
And, yes, some day, they will grasp someone else's hand... Squeezing their fingers, tickling their palm (and I will be ready to let go. Promise.)
But for tonight, sweet baby, your little sausage fingers can squeeze my hand for as long as you'd like.
Jennie Sutherland lives in Austin, Texas, with her husband and their two young daughters. Follow her on Twitter @jenniesuth