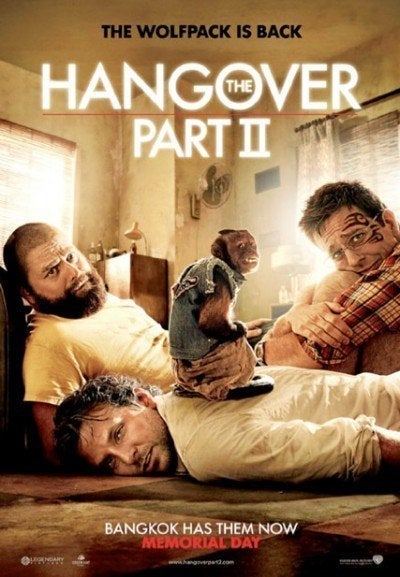 UPDATE: Turns out there's been no primate nicotine addiction; Todd Phillips, comedy director, was making a joke.
This was a joke. I make comedies.

If you read the story, it doesn't even make sense. "On the set of her new film, she won't stop smoking cigarettes". Umm. Really? Maybe just take them away from her. Or at least take her money away so she can't buy them any longer.

When you are doing press for a film, it tends to get repetitive, lots of the same questions over and over. Sometimes I like to mix it up with the journalists. Obviously, the monkey in the film NEVER smoked a single cigarette. There are people on set whose sole job is to protect that monkey. Even if I wanted her to smoke it wouldn't be allowed. By the way, she also appears to do cocaine in the movie, but I guarantee you that she didn't do that either (I can't, however, comment on Ken Jeong's cocaine use in the film).

Sorry for the confusion, but it definitely is a funny headline "PETA pissed after Todd Phillips gets Hangover 2 monkey addicted to cigarettes." Definitely one for the office wall.
Maybe this monkey is a true method actor?
While intricate plot details are still sparse, one of the biggest parts of the marketing campaign for "The Hangover Part II" has been its badass biker monkey. Trailers show that it appears on the floor of the Wolf Pack's Thai hotel, feigning a sex act (which got the trailer pulled by the MPAA), and it graces a number of promo posters for the upcoming comedy. Apparently, all that bad behavior on screen has led it to picking up a nasty off-screen habit, too.
Director Todd Phillips told Total Film Magazine that his monkey star is causing havoc on another set -- because he's constantly craving cigarettes.
"I wanted the monkey to smoke so we had to train her to," Phillips said (via Movieline). "Now I have PETA after me because the monkey's become addicted to cigarettes. She was just shooting Cameron Crowe's movie 'We Bought A Zoo.' And the monkey won't stop smoking..."
"I don't really want to go back because I find that I might be bored when I go back to the United States," he told Entertainment Tonight. "This is, like, the most un-boring place. I just love it."
Check out the monkey's antics in the trailer below.
WATCH
: