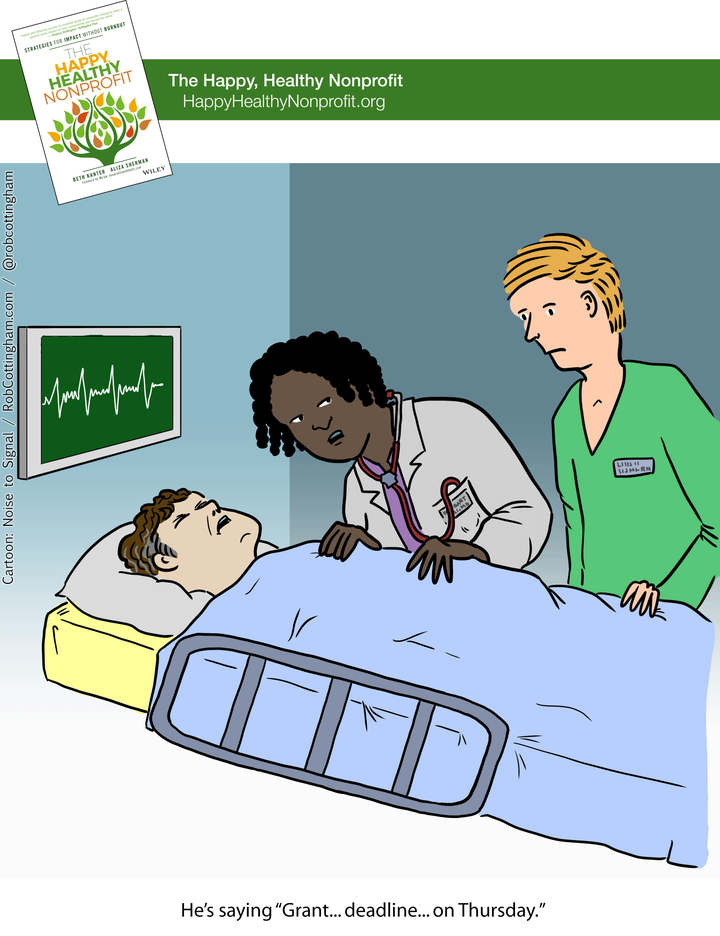 I'm Beth Kanter, co-author of the book, The Happy, Healthy Nonprofit: Strategies for Impact Without Burnout, co-authored with technology pioneer Aliza Sherman. In our book, we've explored the causes of burnout in the nonprofit sector and offer alternatives to dysfunction, energy depletion, sleep deprivation, low morale, high turnover, and other conditions that stand in the way of achieving better outcomes. We'll discuss these important issues as well as provide tips here.
During our research, nonprofit professional asked this question: "Why does something bad have to happen to nonprofit leaders or their staff before they start taking care of themselves?" We interviews dozens upon dozens of people who work for nonprofit causes and heard stories of about stress related illness and landing in the hospital.
It doesn't have to be this way. We don't have to kill ourselves, or be martyrs for our work. People who work in nonprofit do very important work of saving the world and it is vital for them to practice self-care so they can sustain themselves for their work. That mindset, a culture of wellbeing also needs to become standard in the nonprofit workplace.
We advocate treating self-care and wellbeing as an organizational strategy to help create a Happy, Healthy Nonprofit. Your efforts toward self-care must be supported by your organization – something we call "WE-care."
WE-care does the following:
Recognizes self-care as an inextricable part of work.
Acknowledges an organizational responsibility for self-care.
Builds healthy work/life boundaries into workdays and workweeks.
Ties passion for personal wellbeing to passion for organizational mission.
Goes beyond a focus on physical health.
Helps the nonprofit become a high performance organization and sustain results.
What we discovered through our research is nonprofits that practice Happy, Healthy ways of working are also high performance organizations.
Take for example, Nancy Lublin, CEO of Crisis Text Line, who literally told us in our interview with her that "burnout is bullshit." We were taken aback. Certainly staff at a nonprofit such as Crisis Text Line, which provides counseling and intervention to people in crisis, might experience high levels of stress and burnout. But Lublin, who also founded Dress for Success and Do Something, believes that "burnout" equals being "out of love" with one's job, and if that's the case, she says, either that person should get another job or be asked to leave.
Lublin's zero tolerance for bad attitudes and for people who don't take care of themselves means she is willing to let someone go if they aren't happy at their job. Lublin goes as far as offering to pay staff who are not happy with their jobs to look for new ones and leave the organization on good terms. By paying attention to the culture of her organization and empowering staff to be proactive about "cleaning house," she helps to eliminate some of the internal stressors of rigorous, high-pressure work. Not surprisingly, Crisis Text Line is a high performance organization.
In order to be sustainable, "Happy" and "Healthy" must align with your organization's values and be part of your organization's culture and work processes, hand-in-hand with the hard skills. We hope this column sparks an exciting and much-needed movement in the nonprofit sector: championing Happy and Healthy as essential parts of our work and workplace and every day lives to give us the sustainable energy, focus and fortitude we need to help make our world a better place.
Related
Popular in the Community