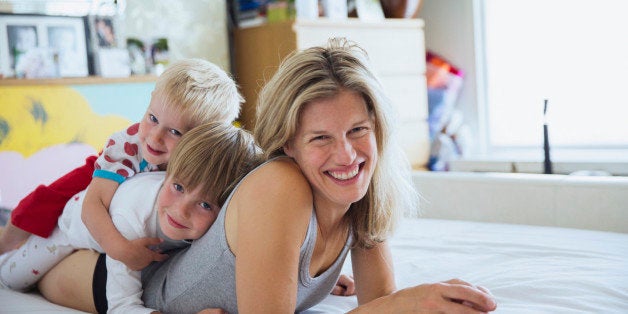 I am all about being positive about life after divorce, and it's not for show. It is a general attitude that I've adopted for my children's welfare as well as my own. And what's not to love about our lives? We have our health. I have a good job; my kids have the best caregivers. We have wonderfully supportive family and friends. Laughter and chocolate abound in our household. Life is good.
I am also all about being real about divorce and what comes next. Whether that's a selfishly cathartic move, an attempt to connect with others who share similar experiences, or a desire to diminish the stigma of divorce, I don't know. I'll let you know if I ever figure it out.
The truth is that divorce is a wild ride. I won't give it the power to define me, but it has changed me. And it continues to affect my life and worldview. There is a lot of letting go that takes place when experiencing and recovering from a divorce. You have to let go of your partner. You have to let go of the pain of the past. You have to eventually let go of the anger and sadness as you move into a new time in your life. And you also have to let go of the picture you had painted for the future.
You know the picture -- the one with a "whole" and "complete" family. Maybe throw in a dog or cat. The family is in the backyard grilling for the fourth of July. There are sparklers and laughter. Everyone is gloriously happy. And in my picture, there was something else -- more babies.
You see, I have loved kids since I was one myself. As much as I loved getting an education and as much as I enjoy teaching and writing, becoming a mother was always my number one dream. And it hasn't disappointed. For this reason, I had my first child at the fairly young age of 25 and his sister 22 months later. There is only one logical reason to have two kids in two years in your mid-20s -- you love being a mom. I did, and I do.
But two kids was never the plan; I wanted more. Maybe one more, maybe two, but definitely more. I didn't plan on my daughter being my last (not that I know she will be), and, in some ways, I felt robbed. I didn't relish her newness as much as I should have. I didn't celebrate all of her milestones enough. I didn't know that she might very well be my last.
Now, I am no fortune teller; I can't predict the future. Maybe I will remarry and continue to grow my family. Maybe I will remarry but not have any more children. Or maybe I'll join a convent (this seems the most likely based on how post-divorce dating is going.) At 30, the possibilities are pretty wide open. But one thing is for sure -- my dream for the future will never look quite the same.
I do know something, though. I don't have to dream about a handsome 4-year-old boy and beautiful 2-year-old girl who call me Mom and shower me daily with love, hugs, and kisses. That's my reality, and my heart is full.