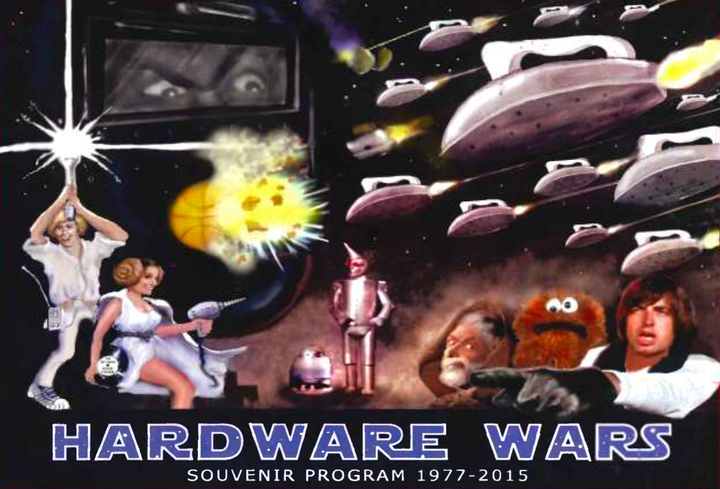 In a galaxy far, far away, an ominous-looking spaceship prepares for landing. Clouds of smoke pour from exhaust ports as the craft slowly descends, its foreboding features coming into focus. But something's not quite right. Is that a handle on its hull? Is that even smoke? What kind of alien contraption is this?
Apparently, it's the clothes-ironing kind.
In a scene transition from the latest "Star Wars" movie "The Last Jedi," what initially appears to be a spaceship ready for touchdown is soon revealed to be something far less imposing ― an iron ready for household duty. We were watching the First Order press its laundry the whole time.
To most fans, the scene is just an innocuous sight gag. Laundry is hilarious, amirite? But to devotees of a cult 1970s parody called "Hardware Wars," the iron cameo has a lot more steam.
Director Rian Johnson confirmed last year that the iron scene in "The Last Jedi" is an homage to "Hardware Wars," the first-ever "Star Wars" parody.
San Francisco-based filmmaker Ernie Fosselius created the trailer-style spoof back in 1978, lampooning the big-budget spectacle of what later became known as "A New Hope" with a 13-minute, intentionally hokey short film. Whereas "Star Wars" features special effects-driven spaceships, droids and stormtroopers, "Hardware Wars" features mundane household appliances like irons, vacuums and steamers buzzing around space.
"May the Farce be with you," the obscure film beckoned about a decade before "Spaceballs" hit theaters.
But what was initially a small parody project has since grown into an unprecedented tour de Force. Thanks perhaps to its endearing cheesiness, and the persistent popularity of "Star Wars," "Hardware Wars" became one of the most successful short films of all time, reportedly grossing around $500,000 in the first year of its release. It's still revered by supporters today.
And that's why so many fans loved the "Hardware Wars" reference built into "Last Jedi." It's just that ... the film's creator didn't.
It's true that reactions to "Last Jedi" have been mixed overall. Some audience members loved Johnson's update of the franchise, some hated it, and some are just professed members of the "alt-right." As for Fosselius, he's decidedly not a fan, and he's been carrying around his arguably legitimate reason for decades.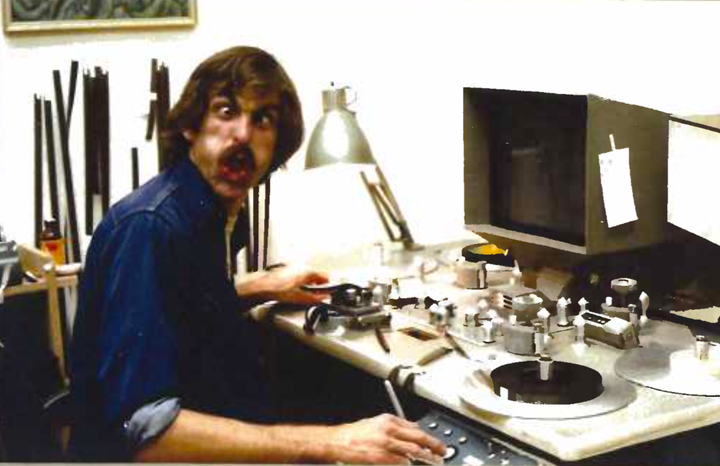 A NEW GRUDGE
Over the course of an hourlong interview last month and a few subsequent email exchanges with HuffPost, we attempted to unpack Fosselius' feelings about Johnson's "Hardware Wars" reference ― and Fosselius' broader, "Star Wars"-related grievances.
His story began with a few phone calls.
Following the release of "The Last Jedi," Fosselius said he was "flooded with calls" congratulating him on the "Hardware Wars" allusion. Many of these admirers even supposedly told him they had no intention of seeing "Last Jedi" until they heard there was a "Hardware Wars" reference in it.
Sounds pretty good, no? Uh, no.
"This is the phrase that got me: 'Aren't you happy that you finally got into a "Star Wars" film?'" Fosselius said of the various well wishes he received.
"No, I'm not," he explained. "I did the parody. Why would I want to get into an actual 'Star Wars' film?"
Let's clear some things up: Fosselius didn't just get into a "Star Wars" movie. He's already been in a number of them. According to the filmmaker, "Star Wars" sound designers Ben Burtt and Gary Rydstrom were early fans of his work and they brought him into their studio to do character voices, sound effects and miscellaneous vocal grunts for "Empire Strikes Back," "Return of the Jedi" and even Lucasfilm's "Indiana Jones" movies. Fosselius said he wound up rearranging a John Williams piece in "Return of the Jedi," too. (Burtt and Rydstrom did not respond to HuffPost's request for comment.)
Still, Fosselius harbors an even bigger issue. Fans misconstrued his parody as a tribute to George Lucas' movie, he says, rather than a full-fledged spoof. And as a result, he believes he's been miscast as "the number-one fan of 'Star Wars.'"
"That's how things work," Fosselius said. "You get absorbed into the thing you're spoofing because it's revised. Your intentions are revised."
So when people told Fosselius they'd spent money on "Last Jedi" tickets just to see the "Hardware" reference, he was annoyed.
"I thought, oh, great. I'm doing business for ['Last Jedi']. I'm bringing in customers for their movie," Fosselius said. "Look, you got to understand. 'Hardware Wars' was a parody. It wasn't a fan film. Oh, god. I'm never going to live it down. It was turned into a fan film."
"It really sort of pissed me off," he added, "because I spend my entire life trying to make a name for myself in a very obscure profession, because it's what came naturally to me, and I consider [my parodies] art. I thought everyone was going to have fun with it."
THE FARCE AWAKENS
Back in San Francisco in the late 1970s, Fosselius and his team certainly had fun putting together "Hardware Wars."
Their parody style was simple: create "a really crappy version of something that was huge." With "Star Wars" being "big budget," "big box office" and "technically so advanced that you can't even imagine how they did it," it was the perfect target.
"I was surrounded by a lot of people who were Trekkies, and ['Star Wars' mania] was the next huge leap over 'Star Trek' worship, you know?" said Fosselius. "And there were already rumors out about how amazing ['A New Hope'] was and people had that glazed look in their eyes saying this is the best thing that has ever happened in movies. That's a call to me. Yeah, let's put things into perspective."
The parody's creator described the project that followed as "a spontaneous group effort." He delivered the initial pitch to producer Michael Wiese in a Chinese restaurant in 1977.
"For props, he used what was available," Wiese told HuffPost. "A soy sauce bottle was a spaceship. He just had me on the floor. Of course, the people in the restaurant were like, there's a crazy person in the booth."
But the antics worked; Wiese was onboard.
From there, Fosselius recruited an eclectic group of friends and a number of co-workers from the animation company Imagination, Inc., where he worked on "Sesame Street" cartoons.
Their budget was nearly nonexistent, reportedly only $8,000. But that worked for the purposes of mocking a big budget blockbuster with an intentionally chintzy production.
"Everyone said, 'I got the camera' or 'Let's do this and borrow that' and 'I work at a place so let's get in there at night and shoot in there,'" he said. "It was probably the last thing that I know of where that was possible."
Pretty soon, steam irons and toasters were soaring through space on obviously visible fishing line, while droids 4-Q-2 and Artie Deco traversed desolate landscapes complete with suspiciously earthling-like sunbathers in the background. Heroes like Fluke Starbucker (Scott Mathews), a Luke Skywalker knockoff with a lopsided wig; Princess Anne-Droid (Cinthia Freeling), a Leia wannabe with stale bread buns for hair; and Ham Salad (Bob Knickerbocker), a Han Solo-esque "ace mercenary pilot and intergalactic wise-guy" were teaming up to save the galaxy from evil ne'er-do-wells like Darph Nader.
It was tacky. It was corny. "It was magic," Fosselius said.
According to the filmmaker, even the short movie's casting sort of worked itself out. For example, Imagination, Inc. animator Jeff Hale seamlessly slipped into the Obi-Wan-Kenobi-type role of Augie 'Ben' Doggie because he had the voice for it.
"I said, 'You have a British accent. You gotta play him,'" Fosselius said. "He had a beard, so it was perfect."
And legendary voice actor Paul Frees ― a friend of Imagination Inc. co-founder Walt Kramer ― somehow consented to provide narration for "Hardware Wars." At the time, he was the go-to guy for everything from voice-overs in movie trailers to playing the voice of God in different projects. (He reportedly narrated the original "Star Wars" teaser.)
"This guy makes more money than anybody ever made in the voice-over business. He's the main guy. So for the balls to go over there and say, 'Oh, we need a couple of voices,'" said Fosselius, recalling how Kramer convinced Frees to do the lines in exchange for some maintenance work on his recording equipment.
Fosselius said Frees called him one day after "Hardware Wars" was released.
"I answer the phone and [Frees] says, 'Are you Ernie?' And I go, 'Oh no, he found out something. The unmistakable voice of God!' And I was like, 'Yeees, sir,'" Fosselius recalled. "[He goes], 'How did you get my voice?' I said, 'Well, remember Walt Kramer fixed your machines and you agreed to read a couple of lines?' 'Oh right. Never mind.' Click."
"He'd forgotten about it," Fosselius said. "But it scared the crap out of me. I thought I was gonna get sued."
The film was said to be initially available on 16 mm through Pyramid, a nontheatrical distributor known for educational films. Students watched "Hardware Wars" in classrooms and it gained a grassroots following from there.
Pyramid sent the film out to festivals where it won various awards, including the Most Popular Short Film of the Year at the 1978 Chicago Film Festival. Eventually it was enlarged to 35 mm and played in theaters across the country.
"For years, it ran with 'Rocky Horror' every Saturday night at the UC Theater in Berkeley [California] among other 'cult film' venues in other cities," Fosselius said.
THE LUCAS EMPIRE STRIKES BACK
Though Fosselius' film was a financial success, the "Hardware Wars" creator said he didn't see a lot of profits from the movie. Still, he mostly laments the fact that his original goal ― to create a belittling spoof ― has been lost.
Today, "Hardware Wars" is one of the most revered "fan films" ever, and Fosselius thinks George Lucas might be partly to blame for it.
Over the years, Lucas has apparently spoken openly about "Hardware Wars," listing it as one of his most-loved parodies in a 1999 interview on "The Big Breakfast." He's also reportedly referred to it as a "cute little film" and his favorite tribute to "Star Wars." In 2003, Lucasfilm gave "Hardware Wars" a Pioneer Award at the Official Star Wars Fan Film Awards.
The award, in Fosselius' mind, passed down a misleading verdict: If anyone thought "Hardware Wars" was making fun of "Star Wars," they were wrong. It was a fan film. It won a Pioneer award, after all!
"It was upsetting," said Fosselius, "because it wasn't like Lucas was saying, 'Oh, that was fun and everybody likes it, and no harm done. That was a parody. It was a spoof. It was fun. It was satire,' No, he has to make it that I did it because I love the film so much I had to imitate it. That's how I took it. And if George says that, then that's the law, and everyone is now thinking that's what happened."
Further dismissing any notion that he envisioned "Hardware Wars" as a "Star Wars" tribute or fan film, Fosselius added, "I'll say one thing. I've been in a room with George Lucas about five or six times ― I mean, over 40 years ― and he never talked to me. He never said how he felt about ['Hardware Wars']." Representatives for Lucas did not respond to HuffPost's request for comment.
A few years after "Hardware Wars," Fosselius parodied Francis Ford Coppola's "Apocalypse Now" with a short 1980 film called "Porklips Now." Whereas Lucas had virtually ignored the parody artist, "Porklips Now" allegedly earned Fosselius a 3 a.m. call from Coppola himself.
"[Coppola] said, 'Ernie, I'm gonna be doing some work with Jerry Brown. Come over to my house tomorrow at 10 o'clock,'" Fosselius said of the phone call. "I go, 'Oh shit. Wait a minute.' That's the first thing he said. He didn't say anything about ['Porklips Now']. And it's Coppola, so I'm thinking 'Godfather,' you know? Like, 'Oh shit.'"
The filmmaker took some precautions. He called a friend to tell him he'd be going to Coppola's house the next day. He gave the address to the friend and said, "If you don't hear from me, something bad happened."
Once there, the director quickly got to the point.
According to Fosselius, Coppola said, "You know, I didn't like that you made fun of me and the film. It sort of pissed me off. But you got a right to do a parody, so be it. Whatever. Now I'm asking you to help me work on this campaign." That campaign was Jerry Brown's 1980 presidential run.
"I love this guy for this, and I respect him," Fosselius said of Coppola. "He told me and he was honest about it. So that I thought was much better than never talking to me and figuring out some way to discredit me."
Coppola told HuffPost he couldn't remember whether or not he asked Fosselius to work on a project for Brown, but he said, "I like and admire Ernie Fosselius and so it could be possible."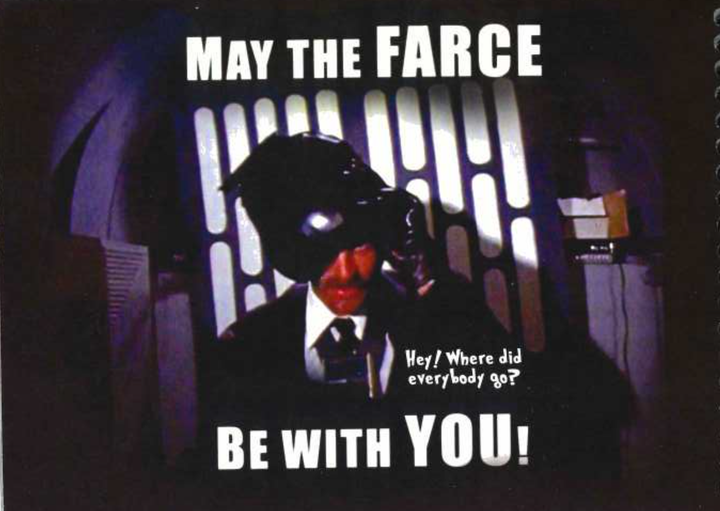 Ultimately, Fosselius said that the "Hardware Wars" reference hidden inside "The Last Jedi" isn't the end of the world for him, but "people are making money on this," he reiterated.
"You can call it a tribute, but a real tribute would pay my rent for a month, or buy me some art supplies," Fosselius said, "or say something nice about me in the press."
The "Hardware Wars" creator said he's still trying to figure out why Johnson wanted to add the tribute at all.
"That's all I wanted to find out," he said. "Are you a fan? Why'd you put that in there? Because it might have just been to gather in all the 'Hardware Wars' fans that might not have gone and to convert them to being 'Star Wars' fans because, 'Look! We're cool. We put this obscure reference in here, and everybody showed up.'" Like Burtt, Rydstrom and Lucas, Johnson did not respond to HuffPost's request for comment.
Next time, he'd appreciate a heads-up.
"If you call it a tribute, wouldn't you want to find out if the person wanted a tribute like that or what that would actually mean?" he said. "It does cement in the idea that I'm a fan, that I'm the number-one fan because I got the number-one award, and all that stuff, which is completely bogus."
Fosselius still hasn't seen "The Last Jedi," and he probably never will. He doesn't like the digital films and special effects of today ― it "physically bothers" him. He's nostalgic for classic parodies, too.
"Satire's probably dead by now," he said. "It's pretty dangerous. It's not something people do."
With that spirit in mind, Fosselius is able to look back on his film fondly, regardless of those who misread it.
"It was that magic that happened when you throw something out there, invite people to come in [and] bring in whatever they got, and hope you get some sort of really exceptional things happening," he concluded. "It was a very magical kind of a mix."
Before You Go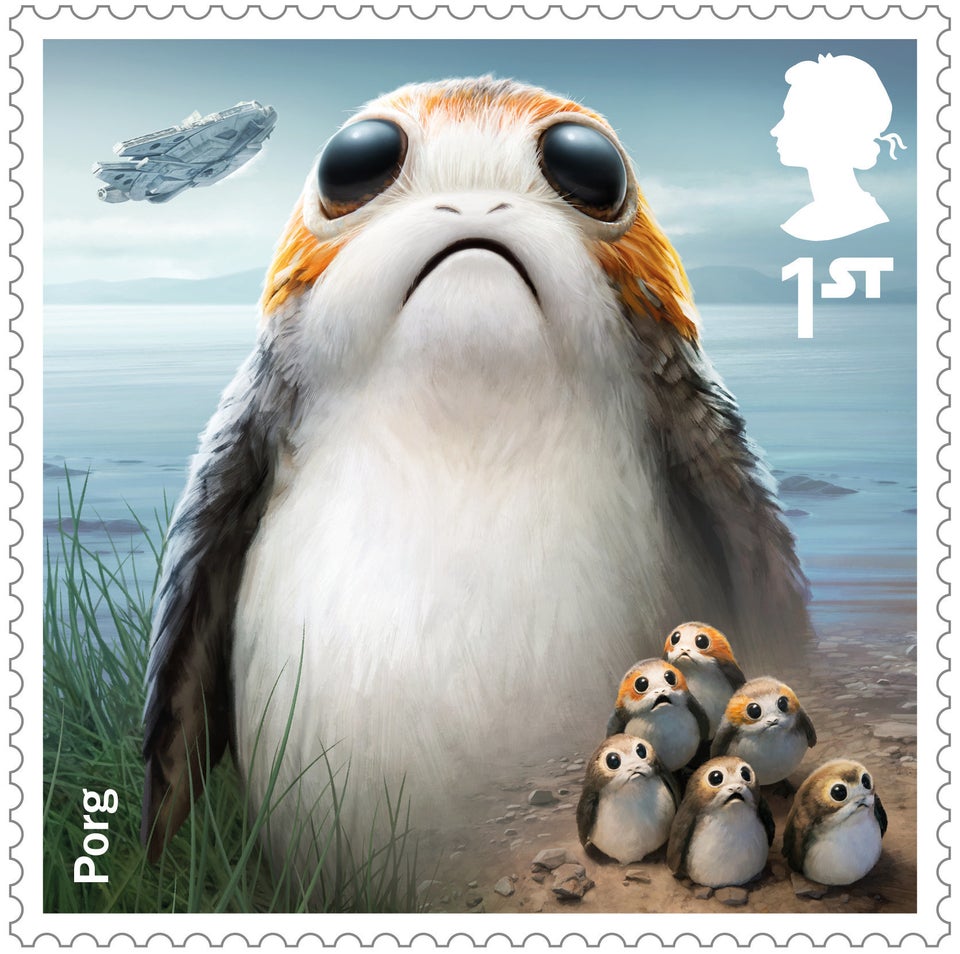 'Star Wars' Postage Stamps
Popular in the Community