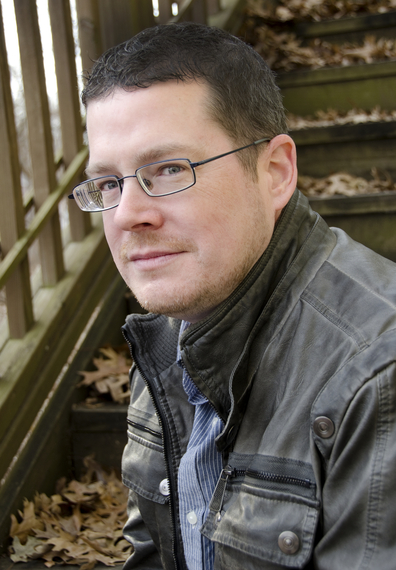 Alex Grecian is the author of the Scotland Yard Murder Squad novels which include the New York Times bestseller, The Yard, The Black Country, The Devil's Workshop and his latest, The Harvest Man. After leaving a career in advertising, Alex began writing fiction. He wrote comic books and co-created the critically acclaimed graphic novel series Proof. He has been nominated for the Barry Award, Strand Magazine Critics Award and has won others.
The Harvest Man is the fourth in the Murder Squad series. Set in 1890, Walter Day, a Scotland Yard Detective Investigator, has been sidelined with an injury inflicted by Jack the Ripper who is still terrorizing London. But a new monster has surfaced, the Harvest Man--who carves victims' faces off their skulls -- so Day is recalled to investigate. His former associate, Nevil Hammersmith, who has been dropped from the force, launches his own investigation. With two serial killers -- or perhaps three -- on the loose, the investigation becomes urgent. But the Ripper has been playing a game with Walter Day, and a huge surprise awaits the reader.
After reading The Harvest Man, I was surprised to learn you're American, not English. What made you decide to write London-based crime thrillers set in the late 19th century?
That's the kind of stuff I read growing up and was influenced greatly by it. Actually, it was never my intention to write a series of Victorian novels. I was going to write only one to get it out of my system. But, after the first was published, there was interest in a sequel. I realized I could do things with these characters I couldn't do with contemporary characters. I picked up the gauntlet and haven't been able to put it down since.
You mentioned reading as a youngster. Which authors were your earliest influences?
I loved the Sherlock Holmes stories which I read over and over again; and Edgar Rice Burroughs's Tarzan books, which turned out to influence me greatly. I was most interested in the novels where he left the jungle and went back to England. As an American kid, it felt alien at first, but after reading a number of the books, it began feeling natural and I just absorbed all of it. Victorian society really fascinated me.
I also loved comic books. The Flash was my favorite comic book character.
One of the striking aspects of The Harvest Man was the description of the beginnings of forensic crime-solving techniques. Will you talk about that?
My books are occasionally called mysteries, but there's not a whole lot of mystery to them. They're police procedurals. The structure of the first two books was based on Ed McBain's 87th Precinct novels. I loved those books and thought it would be interesting to write a police procedural set in Victorian England. I wondered how police procedures worked back then, so, once I had my detectives in place, I began researching and discovered Victorian England had no forensic examiners, and it turned out they had no forensic procedures. I created Dr. Kingsley as a forensic examiner who was far ahead of his time. I wanted to craft a story concerning what it was like to try to find a murderer back then. I don't see how anyone got caught. (Laughter). The police were limited to strands of hair and footprints; but even that didn't happen very often. Criminal apprehension was mostly a foot chase, with the police being more dogged than the criminal.
You've certainly never visited turn-of-the century London. How did you manage to capture the atmosphere of those times so intricately?
No one alive has actually visited there. (Laughter). I read a lot of fiction from those times, especially Dickens, to pick up the atmospherics of the time and place. I have two whole walls of books about day-to-day life during that era. I also have a gigantic map from that period, so I can pinpoint streets where things happened. Basically, I do a great deal of research.
You've written comics and graphic novels. How does that impact your novel writing?
When you write a comic book script, you're describing for the artist everything that will be drawn in a panel. You're doing that five or six times for each page, because a comic book's action is segmented into panels. You learn to think visually, putting yourself into that panel and describing everything the artist needs to render in the scene. When you write a novel, you use a separate set of models, creatively speaking. It's not as rigid as a comic book, but I carry over some habits, and end up thinking visually. So, when I'm writing a scene, I'm in that room and describe everything about it. I think writing comic books is a good training ground for writing novels.
You left your day job to begin writing full-time and have been very successful. What has surprised you about the writing life?
What surprises me most is the self-discipline you must exercise as a writer. It's much easier to lie on the couch and eat potato chips or watch Better Call Saul than sit down and write another paragraph. It's much easier to go to work where you have people waiting for you at the office, and you'll be in trouble if you don't show up. I've had to relearn self-discipline in writing these books. So, the autonomy is great, but it's also challenging. It can be tough not having a boss, but I guess my wife fits that description. (Laughter).
What's your writing day like?
I used to get up at three o'clock in the morning to get my writing done before the rest of the household woke up. Once my son went off to school, I began getting up at six and now work from about ten until three in the afternoon. I then pick up my son from school. My workday revolves around my family life.
What do you love about the writing life?
I think a lot about this. I do love it. If I weren't being paid to write, I would still be writing. It's almost a compulsion. There are things I want to say and try, such as new structures and techniques. But what I love most is finishing a book (Laughter).
If you weren't a writer today, what would you be doing?
I think I would be a professional thief. I think I could pull that off. I'd be an Ocean's Eleven kind of guy. I love figuring out a caper; how to break into a place. Every time we're anywhere, I'm looking for a spot to hide until the place closes.
You're having a diner party and can invite five people from any walk of life, living or dead. Who would they be?
I would invite Graham Greene, my favorite author. I'd also invite Stephen King because I've learned so much from him. Then I'd invite JFK. I'd like to have William S. Burroughs, and J.K. Rowling as guests, too.
What's coming next from Alex Grecian?
I'm wrapping up my comic book series, Rasputin and the Mad Monk. It's a supernatural, historical take on Rasputin. Next year, the sequel to The Harvest Man is due. It's called Lost and Gone Forever.
Congratulations on penning The Harvest Man, a suspense-filled, atmospheric historical thriller taking the reader back to 1890 London. I truly felt like I was there during that time.
Mark Rubinstein
Author of The Lovers' Tango and Return to Sandara
Related
Popular in the Community