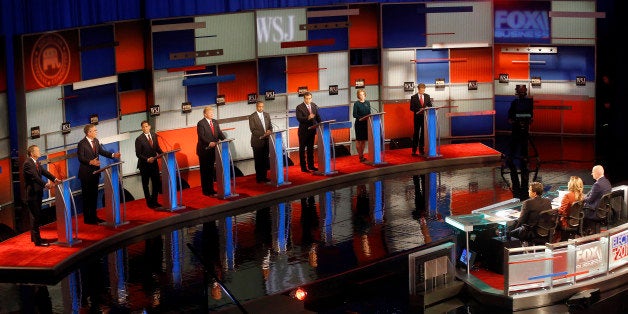 For the past several months, we have seen presidential candidates running for the highest office in the land tell outright bald-faced lies. The lies coming from Republican candidates have grown increasingly bigger, crazier and if possible, even more deceitful. For example, "the Colorado shooter is a transgendered leftist" or "watch a fully formed fetus on the table, its heart beating, its legs kicking, while someone says we have to keep it alive to harvest its brain."
People don't forget these statements, and some even take them at face value. And why shouldn't they? At that level you would expect them to be accurate. This is not the case. Instead, we are seeing an alarming increase from irresponsible presidential candidates, as well as lawmakers, in hateful rhetoric and smear campaigns against abortion providers and patients over the last few months. I have no doubt in my mind that this environment breeds these acts of violence.
The rhetoric isn't just directed at Planned Parenthood or other abortion providers, it is directed at refugees, immigrants, the gay and lesbian community, people of all different races, and the list goes on. Just this week, Donald Trump, who is handily leading the Republican presidential field, called for, "a total and complete shutdown of Muslims entering the United States."
Americans must reject this extremism and vitriol, and they do. A USA Today/Suffolk University poll released this week, showed that 46 percent agreed with the statement: "Heated political rhetoric about Planned Parenthood and abortion bear some of the responsibility for what happened" in Colorado Springs. In addition, the poll also found that the majority of Americans oppose defunding Planned Parenthood.
It has long been said that hate breeds more hate and the hateful rhetoric we continue to endure from those in the public eye has much bigger implications.
We saw this in Colorado. The anti-abortion rhetoric coming from those in publically held office is taking its toll. It has become clear that leaders in the public eye are equating safe and legal medical services that one in three American women will need, with mass murder. The next step in this continuum of thought is the thinly veiled suggestion that murdering staff, providers, patients and civilians is a logical, moral act.
Even before the staff and supporters could begin picking up the pieces of their shattered health center, the U.S. Senate voted just last week to cut patients off from Planned Parenthood health centers and gut the Affordable Care Act. And in just a few days, the same out-of-touch politicians could push us into another government shutdown. It is completely offensive and outrageous that some politicians are now claiming this tragedy has nothing to do with the toxic environment they helped create.
Even more, Carly Fiorina, Donald Trump, and others are using this tragedy to repeat false claims about Planned Parenthood. Instead of looking for lessons to prevent this from happening in the future, they're doubling down on their effort to block women from getting preventive health care at Planned Parenthood. Last month, Ted Cruz accepted the endorsement of a group whose leaders have asked for providers to be executed. His endorsers have also been convicted and served prison time for conspiring to fire-bomb abortion clinics. Cruz went on to say that he had never met a pro-life activist who is in favor of violence. Clearly, yet another lie.
Since the first video appeared charging Planned Parenthood of a crime it did not commit, there have been multiple arsons at Planned Parenthood health centers, including one in Pullman, Wash. Incidents of harassment at Planned Parenthood facilities have risen nine fold after the videos were released in July, according to the National Abortion Federation's complaint to the Department of Justice.
But will any of these candidates or politicians make the connection? Most likely not. We have seen a long history of avoidance when it comes to the connection between hate speech and violence in the opposition movement.
It has become abundantly clear following the awful tragedy in Colorado that words matter, images matter, journalism matters and hateful rhetoric fuels violence. It's not enough to denounce the tragedy without also denouncing the poisonous rhetoric that fueled it. Instead, some politicians and journalists are continuing to stoke it, which is unconscionable.
For clarity, if you know your words incite violence, but absolve yourself because you didn't participate in the violent act itself, you are no longer part of civil society.
Calling all HuffPost superfans!
Sign up for membership to become a founding member and help shape HuffPost's next chapter