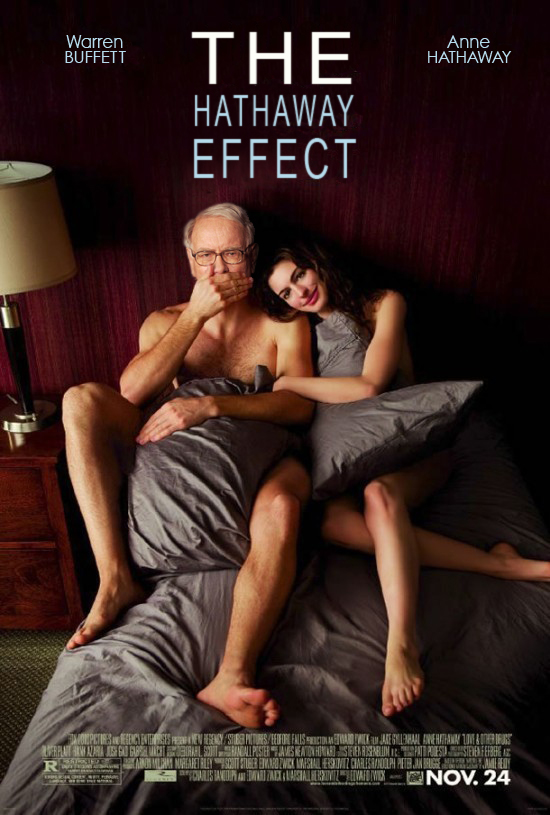 Whatever you may think of how Anne Hathaway and her co-host James Franco did as hosts of the newer, younger, hipper Oscars, one thing appears to be certain: When Anne Hathaway makes headlines, the stock for Warren Buffett's Berkshire-Hathaway goes up. Think of Berkshire-Hathaway shares (BRK.A) as a really expensive version of the IMDb's StarMeter (which actually is designed to go up and down as actors make the news). But a bedrock member of the New York Stock Exchange? The evidence would indicate as much.
On the Friday before the Oscars, Berkshire shares rose a whopping 2.02%. And on the Monday just after the Academy Awards, they rose again, this time 2.94%. But it's not just an Oscar bounce, or something Warren Buffett may have said in the newspaper, or even necessarily something the company itself is doing (i.e. rumors afoot to buy Costco). Just look back at some other landmark dates in Anne Hathaway's still young career:
Oct. 3, 2008 - Rachel Getting Married opens: BRK.A up .44%
Jan. 5, 2009 - Bride Wars opens: BRK.A up 2.61%
Feb. 8, 2010 - Valentine's Day opens: BRK.A up 1.01%
March 5, 2010 - Alice in Wonderland opens: BRK.A up .74%
Nov. 24, 2010 - Love and Other Drugs opens: BRK.A up 1.62%
Nov. 29, 2010 - Anne announced as co-host of the Oscars: BRK.A up .25%
My guess is that all those automated, robotic trading programming are picking up the same chatter on the internet about "Hathaway" as the IMDb's StarMeter, and they're applying it to the stock market. Of course, this isn't necessarily bad news for the investor. After all, can you imagine what might have happened to Berkshire stock if Warren Buffett had appeared nude in Love and Other Drugs rather than Anne Hathway? Perhaps it's best if we don't think about it.
Related
Popular in the Community