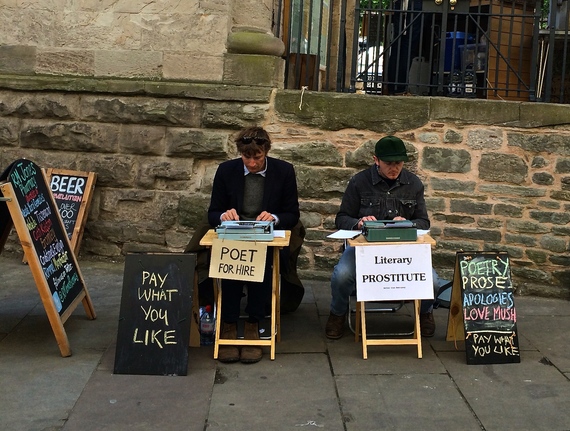 The sun was shining, for the first time in six years, on the Hay Festival's final weekend, and Wales was spectacularly beautiful. Pastures of CG green rose and fell around us in Tolkien-inspired awesomeness, and Middle England was alive and kicking, something comedian Marcus Brigstocke might have done well to remember with his tired round-up of newspaper coverage on Hay's final Sunday. Misjudging the audience, or maybe nursing late nights and a long week, he and his band of merry satirists dredged through the dross-covered pages of the Sun, Mirror and Daily Mail. The metal seats we sat on were a degree chillier than our response to their attempts to make us laugh. The Hay Festival might fill its tents with anoraks of colours incompatible with human skin, and silver haircuts that could thatch Cotswold roofs, but those who attend are an intelligent, well-read bunch who eschew trite.
Helen Macdonald, author of award-winning, "H is for Hawk", read sublimely from her novel. Hypnotic, she sounds like the earth's core, mythologised. I wondered if her pervasive and seemingly studied coyness (shoulder shrugging, downward mouth "yikes" smile, an embarrassed fist to her lips, etc), was now a tool with which to hold on to a long-ago genuineness of feeling when she discussed for the hundredth time the sorrow of her father's death that prompted her to write this wonderful book.
Actress and screenwriter Meera Syal was forthright too in communicating with an audience of potential consumers the subject of her latest book; barren rich western women outsourcing their need for a child to the fecund poor in India. Less futuristic than Margaret Atwood, Myra's tale bounced along with the seasoned fluency of a television drama script, visually conjuring the ever-changing status of being an immigrant and a woman in today's Britain. Audience questions that went off-message or delved into greater complexity were reined in with three dots at the end of the answer. But the question about whether the book had been optioned for our screens was on-message, and the answer was, yes.
Channel Four news anchor, Jon Snow, bravely stepped in last minute to take Eric Schlosser's place for a talk on nuclear disarmament. Smiling reluctantly, he soon meandered off-piste, like a beloved history teacher, recalling his experiences in the Middle East - a sort of Gerald Durrell without the animals. The first question was from a former foreign office defence expert, who respectfully pointed out Jon's statistical omissions, misleading in light of the current state of worldwide disarmament. And following on from a comment by another audience member that he had omitted to mention North Korea, Jon dismissed its nuclear threat because of China's determination to contain it...(three dots).
An expertly-handled interview by renowned barrister Helena Kennedy with Alex Salmond was one of the festival's highlights. Both Scots bandied quips and insights. Helena swayed between a motherly expectation of deference and accountability when she called him "Alec", to charming flirt, when she forgave him for yet another instance in which he avoided the question. It was a joy to watch, and an indulgence, like eating chocolates in bed, with afternoon television.
So what do we take back with us from the The Hay Festival? On one level, the exhaustive process of product placement. The air hums with the plug, plug, plugging of books, and it is difficult to quieten the vibration. Yet there is much to be commended; the access to the shared humanity of those public figures we have grown to like or dislike through the distorting lens of the media or from a book of theirs we've read; the titbits of a good line or an insight, the enthusiasm for thought, and the confirmation or elucidation of a previously-held belief or opinion.
Acquiring knowledge, however, of the deep questioning kind, still takes place within the four walls of our home, in a book, often picked up at will. So, though thoroughly enjoyable, there was palpable relief at the un-plugging process of returning home from Hay when a socket is once again used to emanate light not sales, and an agenda is a personal organiser unscripted by a literary publicist.
Calling all HuffPost superfans!
Sign up for membership to become a founding member and help shape HuffPost's next chapter