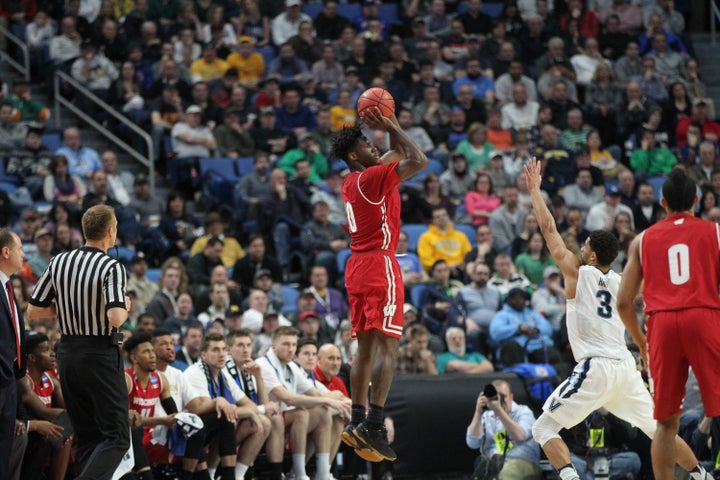 Student athlete memes joke about how it's also a lifestyle, but for Wisconsin basketball star Nigel Hayes, college basketball goes even beyond that — it's become a political mission, too.
The Badgers senior has had a stellar last three years, winning multiple honors and even flirting with the idea of leaving school after his junior year for the NBA draft before coming back for one more go-around at the collegiate level. His return, while shaky, has paid off: the Badgers narrowly upset the heavily favored overall 1 seed Villanova this weekend to advance to yet another Sweet Sixteen.
In October 2014, Hayes became one of the most notable college athletes to join a list of plaintiffs in a lawsuit against the NCAA, calling for the removal of rules that "prohibit, cap or otherwise limit remuneration and benefits" for basketball and football players, in addition to preventing the creation of new rules that ban "negotiating, offering, or providing remuneration … in compensation for their services as athletes."
He could've quietly added his name to the list of plaintiffs, refused to comment, and played ball like everyone expected him to. But he didn't stop there. Two years later, when ESPN's College GameDay showed up to Camp Randall in Madison, Hayes was there, too, holding a sign that read "Broke college athlete — anything helps" with the name of a Venmo account called brokebadger1. (The account belongs to Taurean Villolovos, a former fellow player from Hayes' native Toledo, OH; Hayes actually intended to donate all funds to the Boys & Girls Clubs of Dane County). 
The most wild part about all of this? Even if he wins the case and the NCAA changes its rules about potential payment for athletes, Hayes won't actually see a dime; as a senior, this is his last year of playing eligibility. He doesn't personally stand to gain anything from a stance that has brought him all kinds of criticism, both from online trolls and commentators like Sporting News' Mike DeCourcy. He just firmly believes that it's the right thing to do and hopes to help future college athletes.
Deeply connected to his activism surrounding money matters is Hayes' advocacy on racial issues. While fellow Badger Zach Bohannon — an intellectually-bent senior on the team who described meeting Hayes as a "wide-eyed freshman" — was the one who first introduced him to his fight for players' rights, Hayes credits his "awakening period" to his A.A.U. coach back in Ohio, Quentin Rogers, saying, "[Rogers] gave me some books and some things to read, and it opened my eyes to things I'd never thought of or seen before." He cites The Autobiography of Malcolm X as one of the books that led to his personal "eureka kind of wake up call."
That wake-up call has led him to tweet extensively about race issues and even call on the University of Wisconsin to make real changes for students of color on its campus. In a statement following the infamous noose incident at a football game earlier this year, Hayes tweeted, "[I]n solidarity with other students on this campus, we implore Chancellor Blank and her cabinet to take action, be visible and leave your ivory tower and speak to the students. Please create real programs, initiate meaningful change and understand that students of color deserve to thrive in this institution just like our peers."
His two causes aren't unrelated — as Patrick Hruby, who profiled Hayes, explains, Hayes sees a key connection: "Revenue sport college athletes like him are predominantly black. Coaches and administrators are overwhelmingly white. The latter group makes the rules, and controls all of the money."
Hayes isn't alone in his advocacy, either — as a New York Times interview with his fellow teammates Jordan Hill and Bronson Koenig noted, the Badgers' locker room has been dubbed "college basketball's most political" ― Hill frequently speaks up on issues like race and police brutality on Twitter, and Koenig is an active advocate for protestors of the Dakota Access Pipeline, an issue he identifies with on a personal level as a Native American himself.
Hayes, Koenig, and Hill set a precedent for college athletes, who may fear speaking out on social issues due to the repercussions on their potential careers. It's not a completely unfounded fear; as Kain Colter and Johnnie Vassar from fellow Big 10 school Northwestern learned, challenging institutions can lead to complete exile. The same can be said for those who dare to take a stand professionally, like Colin Kaepernick, who has admittedly played poorly recently, but also created more than his fair share of enemies with his national anthem protests.
But that's exactly what makes these three so special. They're big names with a real shot at big futures, and every time they make big time plays, they're turning up the volume on the mic for their political messages, too, knowing the risks full well — and the risks of not speaking out.
"[A]t the end of the day, the quote I hang my hat on is, I was black before I picked up a basketball, and when I retire, I'll still be black," said Hayes in the New York Times. "I'll be black more of my life than I'll be a professional basketball player."
Rooting for Wisconsin thus isn't just about the fun of seeing a "rebuilding" team pull off a major upset and bust everyone's brackets. Every win now is another chance for Hayes and company to fly in the face of an increasingly divided political climate that is only united on insisting that athletes "stick to sports," another chance for them to drive home the point that you can be a good player, and a good citizen too. Hayes, Hill, and Koenig might not have the fame or seeming invincibility of Muhammad Ali, but they have the potential to usher next generation of social justice athletes at the collegiate level, especially when one considers the example they're setting not just for their fellow players, but for all of the kids watching them play at home.
It's more than just a game.
Keep on, Nigel. On Wisconsin.
REAL LIFE. REAL NEWS. REAL VOICES.
Help us tell more of the stories that matter from voices that too often remain unheard.