With the rollout of the Affordable Care Act, everyone seems to have something to say about the state of health care in America. NerdWallet sifted through data available on the 50 largest metropolitan areas to find the healthiest places in the U.S. We assessed the general fitness of residents, overall health insurance coverage and the availability of doctors. The rankings were based on the following factors:
How fit are the residents? We assessed the overall fitness of residents in line with the American Fitness Index, a composite index that includes data from the Centers for Disease Control and Prevention (CDC), environmental factors from the Trust for Public Lands, rates of disease and other government data. We also included the percentage of residents with healthy weight levels and the percentage of residents who engage in physical activity, according to data from the CDC.
Is health care accessible? We incorporated the percentage of residents who have health insurance, as well as the number of available physicians per 100,000 residents.
Here are the healthiest metro areas: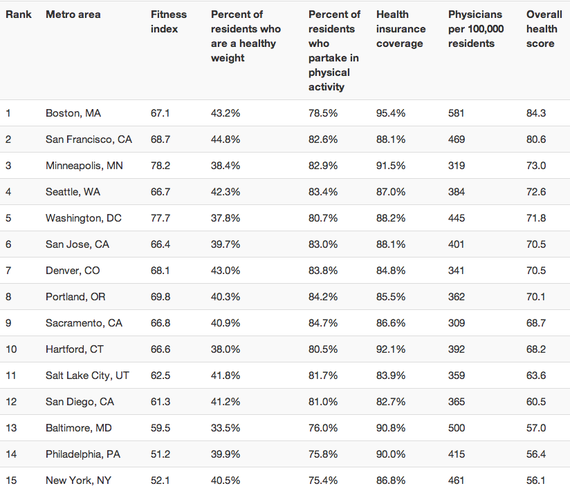 For more details about study methodology, see the full study here.