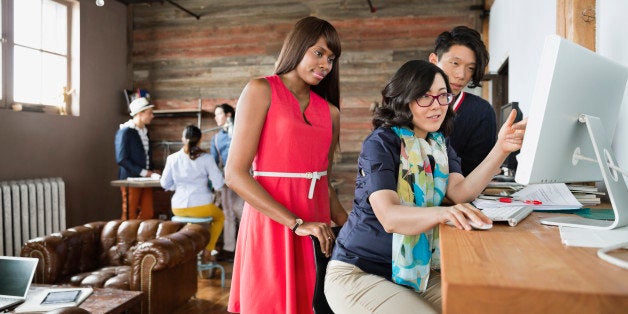 As a Chinese American business woman, TV producer and host, I am honored and excited to be speaking next month at the first Simmons International Women's Leadership Conference in Berlin, Germany.  I will share my personal story in the hope of inspiring other women to take risks and follow their dreams.
My journey as a young Chinese girl who started my career in America with $150 in my pocket to an international business woman able to bridge these two cultures, was challenging to say the least. It has also been rewarding: I founded a production company that made some of the most watched TV series in modern Chinese history. I also launched Yue-Sai Cosmetics, which became China's top cosmetics company by creating products specifically for Asian women's skin. For the first time in years, Chinese women wore lipstick, used make-up and felt beautiful! I'm proud to say that Yue-Sai Cosmetics really spurred the emergence of modern Chinese women! 
 
I once spoke to the late tenor Luciano Pavarotti about performing for the public. He said he would rather die if he could not sing anymore. Wow. He would rather die than not sing for the public! I believe that an entrepreneur must have that same kind of irrepressible drive.
Entrepreneurs, I've learned, are a special breed of people; they put their heart, soul and body in a place they may not have gone before. They are the ones willing to step to the edge and are ready to sacrifice everything to achieve their business success. Yes, being an entrepreneur means taking risks! If you're not willing to take those risks, you will not be a successful. Clearly entrepreneurship isn't for everybody and many people would rather be in a steady and safe job. So before you begin any new enterprise, ask yourself, "Do I really have the passion to succeed?"
 
Let's say you have the guts to be an entrepreneur, then what else will the job demand?
 
1. You have to understand your customers. Do they need what you offer? I have talked to very passionate people who want to start businesses or sell products that no one really needs. Be realistic. 
2. Be frugal with your expenses when you start out. I have seen too many people renting expensive offices and driving fancy cars to keep up appearances in front of their clients. But that really is not smart or necessary. Many big and successful businesses started were started from small and inexpensive "offices". Jack Ma started Alibaba in his living room. For five years, I did all of my TV production work, including recording, filming and editing from a one-bedroom apartment in New York City. My advice is this: take on more expenses only as you expand your business. 
3. Don't focus on how you can surely make big money, but think instead about how you can fail. There is a difference. For example, I continue to ask myself why would my customers stop buying my products. 
4. You need to work very hard, and be ready to work around the clock. For most new businesses, it takes about four years to turn the corner to success. There are exceptions to the rule of course but that is the average time. You will have learned from your mistakes by then. And that is how long it took for my cosmetics company to become number one in China. 
 
Next time we shall talk about cross-border selling! Stay tuned.
 
This post is part of a series on women's leadership produced by The Huffington Post and the Simmons International Leadership Conference. The series aims to inspire an inclusive conversation and global support for closing the gender gap in leadership. For more information, visit here.
Calling all HuffPost superfans!
Sign up for membership to become a founding member and help shape HuffPost's next chapter