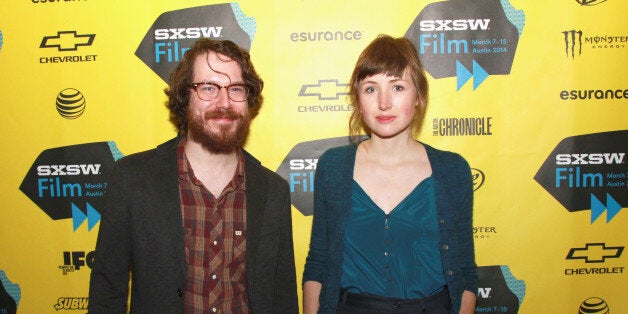 John Gallagher Jr. had some big aspirations after agreeing to star in "The Heart Machine," Zachary Wigon's debut feature film about a couple (Gallagher and Kate Lyn Sheil) who have a relationship that exists solely online, where they communicate via Skype.
"I had this great Method idea that I wasn't going to meet Kate until the characters meet in person," Gallagher told HuffPost Entertainment at the South by Southwest Film Festival in Austin, Texas, where "The Heart Machine" had its world premiere. "I was convinced I was going to do that. Then, you know, I've done a lot of theater and obviously I was like, 'I have to meet her and talk to her and stuff.' Then I ran into her at a party and introduced myself, and was like, 'Well, shit.'"
While Gallagher's best laid plans failed, the onscreen relationship he has with Sheil does not. Despite having very little person-to-person interaction in "The Heart Machine," the duo create a believable partnership, one revealed to the audience in bits and pieces throughout the film's story.
"I love the way the movie kind of plays with your expectations," Gallagher said. "Reading it, there were so many moments where I was like, 'I know what's going on.' A few pages later, I'd be like, 'Shit, I guess I don't.' That mirrors what happens with the characters: they have no idea and this is out of their control."
As the film begins, Cody (Gallagher) and Virginia (Sheil) are already deep into their boyfriend/girlfriend roles, with Cody living in New York and Virginia apparently spending six months abroad in Berlin. Tensions arise, however, when Cody becomes increasingly convinced that Virginia actually lives New York. He tries to unravel her true location, using everything from Facebook photos to good, old-fashioned stalking.
"I was very curious as to whether she was going to reveal why she was doing what she was doing," said Sheil, who has a lengthy list of indie films on her resume and most recently appeared on the second season of "House of Cards." "Then I thought, 'Oh, that's great. How lucky to get a character where there's something so essential to figure out and grapple with?'"
Wigon, a film critic as well as filmmaker, had his cast watch "Eyes Wide Shut," "The Conversation" and "Simon Killer" to get into the right frame of mind for "The Heart Machine." That helped Gallagher especially, who had never seen any of the films before.
"What's great about all of the movies that Zach had me watch was a less-is-more lesson as far as acting goes," he said. "All of those movies focus a lot on what is unsaid and that's the powerful part."
Also powerful in "The Heart Machine" is what the film says about technology in the modern age. It's a topic that's en vogue at the moment, having been mined previously by Spike Jonze in "Her" and even Ben Stiller in "The Secret Life of Walter Mitty."
"I would love people to have a conversation about technology and how it's effecting human interaction and making it basically unnecessary. Which is very strange," Sheil said before admitting that she wasn't taking any kind of moral stand on the issue. "I'm just not very good at technology," she said. "But I'll order something off Seamless."
Echoed her co-star: "I love Seamless. I ordered Domino's Pizza to my hotel the other night off my phone. That was pretty great."
"The Heart Machine" does not yet have distribution.
Calling all HuffPost superfans!
Sign up for membership to become a founding member and help shape HuffPost's next chapter
BEFORE YOU GO
PHOTO GALLERY
Stars At SXSW