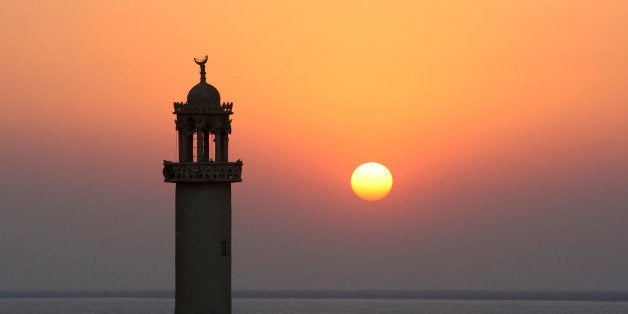 Over the next month, Muslims around the world will refrain from food or drink during daylight hours. While the physical restrictions of the fast are intense, the primary focus of the holy month is spiritual renewal. So what are the practices that lead to deep spiritual growth? How can fasting help focus attention on what matters? What are those who observe the fast hoping to learn? These are the questions of the Holy Month of Ramadan.
Welcome to this week's All Together, the podcast dedicated to exploring ethics, religion and spiritual practice. Please download All Together on iTunes, or Stitcher.
This week, I speak with Imam Khalid Latif, a University Chaplain at New York University, and the Executive Director of the NYU Islamic Center. In 2007, he became the youngest chaplain to serve the New York City Police Department. Recently Chelsea Clinton produced a documentary on Imam Latif's relationship with NYU's Jewish Chaplain, Rabbi Yeduda Sarna, called Of Many" On a personal note, I was honored to work with Imam Latif at Princeton University when I was the Associate Dean for Religious Life and we appointed him to be the first Muslim Chaplain.
For the past four years, Imam Latif has written a meditation each day during Ramadan for The Huffington Post. His reflections have delved into subjects as diverse as gender, prayer, war, death, his mother and social justice. These pieces were shared and discussed by Muslims around the world.
Today, Imam Latif speaks to to us about the deep spiritual meaning of Ramadan. I promise you, this is not just for Muslims but for all those who wrestle with the two questions at the center of Latif's work: "What are your values, and how do take care of your heart?"
Also on this program, you will hear a reflection from Jamila Afghani, the founder and director of an NGO serving women, youth and children in Afghanistan. Like Imam Latif, Jamila reminds us that Ramadan is primarily about gaining spiritual strength and about the Jihad, or struggle of the soul.
This week's All Together was produced by Katelyn Boguki and edited by Jorge Corrona.
PHOTO GALLERY
Ramadan 2014
Calling all HuffPost superfans!
Sign up for membership to become a founding member and help shape HuffPost's next chapter