Denisse Polanco and I first met in a small trailer that served as our theater arts classroom when Bronx Prep Charter School was spilling out of its temporary home at Our Lady of Victory on Webster Ave in 2003. I was feeling pretty beat down; my first two weeks of school had not gone well. I had come to Bronx Prep as a English Language Arts teacher, fresh from my first year at Teachers College and full to the brim with ideas and enthusiasm. I had exactly zero experience teaching young people and was entirely unprepared to find myself breaking up fights in my English classroom or reasoning with parents who worried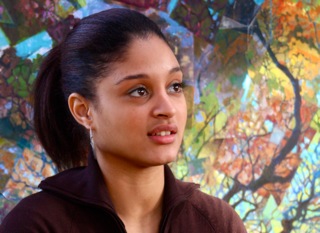 that teaching kids to use "words not fists" would make them look like sissies on the block. I had no experience teaching theater, either, but our principal spied the Theater Arts degree on my resume and the next thing I knew I was standing there in one of the "modulars" out in the church parking lot, waving around a beat-up copy of Viola Spolin's Improvisation for the Theater and trying to get the attention of a group of rowdy ninth graders, all but one of whom were fighting over a ragged Finding Nemo sticker that had fallen off someone's notebook. Little did I know that the quiet young woman with the luminous brown eyes sitting calmly in the midst of the chaos would end up radically altering the course of my teaching career.
Seven years have gone by since Denisse impressed me that first day, leaping up (once I had gotten the sticker melee under control) to try her hand at a cold reading of a monologue while her classmates blushed and squirmed uncomfortably in their seats.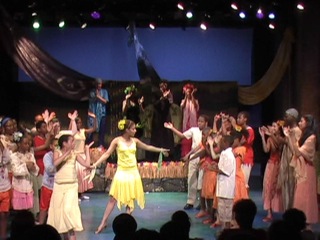 What was remarkable about that moment was how Denisse's willingness to be vulnerable and authentic while doing something scary immediately changed the energy in the room. Her classmates dropped their antics and started getting up to volunteer, too, haltingly at first, but soon with real seriousness of purpose. Thanks in large part to Denisse's generosity of spirit and quiet leadership, that theater class gave me my first taste of what real teaching and learning could look like in a high school context and totally changed the way I structured all my other classes.
As Denisse moved through her high school years, she continued to inspire me with her leadership and conviction. She was the one who first suggested that we start a musical
theater program. I had never directed a musical before, but Denisse pushed herself to grow in ways that challenged me to do the same. If this girl could star in the first show she'd ever acted in, there was no reason I couldn't dig deep and get my directing chops up to par on the fly. After starring in our second show, Denisse became the first person in her family to graduate from high school and earned a full scholarship to Hobart and William Smith Colleges, where she's currently a junior majoring in Arts Education and Latino Studies--and performing in the school play every semester. Never one to forget where she comes from, Denisse comes back to Bronx Prep every spring to help direct our annual school musical. She recently upped the ante on her commitment to breaking new ground while staying true to her roots: two weeks ago, Denisse became the first Bronx Prep student to study abroad, choosing to return to her birth country, the Dominican Republic, for a semester of self-directed study in Spanish and Arts Education. She plans to put her theater skills to use directing a play with a group of kids at an orphanage.
In the movies, the credits roll right after the kids get their college acceptance letters. For Denisse Polanco, college is just the first act. The way her story is unfolding is challenging and complex,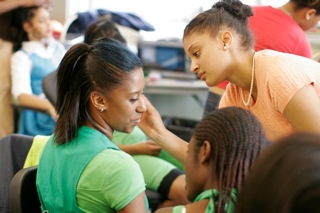 but she's living it fully and telling the story with grace, thoughtfulness and humor, paving the way for the kids who come after her. Before leaving for DR at the beginning of January, Denisse sat down to share her thoughts about her high school and college experiences, the challenges of confronting racial, economic and cultural differences on campus, the pressures of being a Bronx Prep poster child, and the power of the arts to bring people together. Here is Denisse Polanco in her own words:
Envisioning Herself as a College Student
Before I got [to Bronx Prep]... I really didn't see myself going to college. I was thinking of what I was going to do after I graduated high school and planning my life, and I was thinking, well I have two choices. Either work really hard to pursue my dream as a dancer, or find a nice man to marry so I can be a nice housewife... [...] The moment when I realized I was going to go to college was when I started going on college trips. [...] You get to see other people that look just like you that are in college and made it there already... See full video segment.
Confronting Racial, Cultural and Economic Differences on Campus
You know, people tell you [at Hobart and William Smith that] 'you're going to be the only one in your class who looks like you,' but actually experiencing that... it hits you. It's in your face. [...] I didn't know there were so many people who have so much money at my school. My friends' moms come to school and take their clothes, even if they're four hours away, just to wash their clothes and bring them back. [...] My mom hasn't been to visit me and I've been there for three years... See full video segment.
College and Family: Challenges and Benefits
My mom calls me way more than she would ever call me just because I'm so far. [...] I feel like even though I'm further away, I have a stronger relationship with my mom. [...] [She] only got to go to maybe the seventh grade in the Dominican Republic... See full video segment.
I feel a lot of pressure. [...] I always strive to be perfect at everything. It's not only pressure I put on myself, but I feel like my whole family looks up to me because I'm the first one to go to college. [...] And also, going back to Bronx Prep... the fifth graders know who I am! [...] I learned that it's OK to let myself know that I'm not perfect... See full video segment.
"Ignorance Goes Both Ways"
One big thing that I've learned in being at college and being around people who are different from me is that [...] ignorance goes both ways. [...] I feel like a lot of the little comments that people say make a big difference. [...] Like just saying, "Oh my God, these white people at school..." Just by saying that, you're feeding into something that is not positive in the end because you're not going to be able to open yourself to people who are different than you... See full video segment.
How Theater Contributed to her Success
My theater experience started in a very cramped space when Bronx Prep was still a smaller school, and it was the first time I had ever experienced theater. [...] It was just like... adrenaline rushing through me, an excitement I had every time I went on stage. [...] It really helped me get through school... See full video segment.
"Art Brings People Together"
I chose [to major in] Arts in Education because I wanted to mix my passion for the arts and share that with people who are ostracized in society. I worked with the College Experience, which is a group of students who attend Hobart and William Smith [who have] developmental disabilities. [...] I've asked them what they like about [the arts] and it's just... spending time with us! [Art] is the thing that unites us. A lot of people say it but it's not seen... art unites a lot of people, all different kinds of people...See full video segment.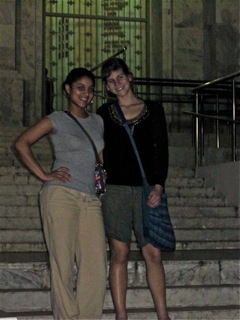 In a recent email from the Dominican Republic Denisse reports that she's settling in nicely, meeting new people, studying hard, and learning a lot about Cotui, the town where she was born. In a follow-up to our interview, she writes,
In the end, I think it's important to advocate for more individuality in our educational system. Not everyone learns the same way. Not everyone learns at the same pace. People have different needs in terms of what helps them feel visible and challenged. I can speak for myself: doing theater helped me become more of who I am and having that outlet made me want to do better in my academics. If I had to offer one piece of advice for the people making education policy in our country, I guess I would say that it's important for schools to be able to offer students all kinds of different ways to express themselves and learn who they want to be in the world.