Room 201 is packed with sweating kids. The youngest are in fifth grade, the oldest, twelfth graders on their way to college in a few short months. Outside the fogged-up windows,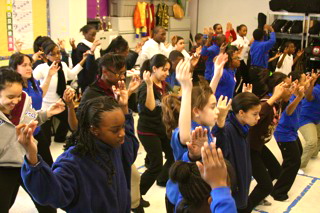 the students who are not auditioning for the spring musical The King and I are spilling through the gates of Bronx Prep Charter School into the cold afternoon and hauling heavy backpacks onto the BX55 bus or huddling on the concrete yard to wait for rides. Inside the classroom that does triple duty as piano lab, orchestra room and theater space, it feels--and smells--like a tropical rainforest. And it sounds, in the words of Alethea Brown, a vivacious tenth grader who is scrambling to learn the choreography for the dance audition, "kind of awesome, but kind of weird."
The song blaring out of the boom-box on repeat is the "The Small House of Uncle Thomas" the soundtrack to a Siamese interpretation of Harriet Beecher Stowe's anti-slavery novel defiantly staged by the King's subjects in Rogers and Hammerstein's classic tale of a British schoolteacher in nineteenth century Siam. "Ms. Q!" calls Alethea, taking a break from the challenging footwork and walking over to me. "What the heck is this music?"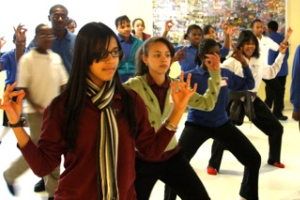 Standing there in the doorway of my South Bronx classroom, watching seventy-plus Black and Latino/a students dancing to the Siam-via-Broadway soundscape of reverberating gongs, pentatonic xylophone riffs and heavily (if inauthentically) Asian-inflected vocals, I try to answer Alethea's question as clearly as I can. "This is what a Jewish musical theater songwriting team from the 1950's thought a classical Siamese retelling of a novel about African American slaves written by a white woman in the 1860's would sound like," I say. "Oh," says Alethea, wiping sweat off her forehead and squinting at the florescent light flickering above her. Then she grins and leaps onto one foot, bringing her thumbs and middle fingers together in the stylized Thai hand gestures she's just learned. "Cool!"
For a brief moment there in the doorway, I let myself agree with Alethea. I desperately want to believe that this is cool. I want to believe that we made the right choice, pulling away from our standard, crowd-pleasing musical theater fare of melting witches and man-eating plants to tackle a true classic--a sprawling,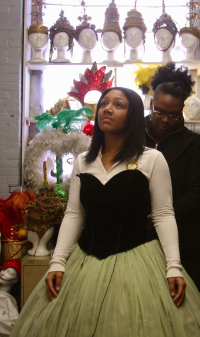 intricate show packed to the rafters with thorny issues and scattered with historical inaccuracies and culturally condescending characterizations, but also bursting with improbably brave and beautiful storytelling. I want to believe that the process of making art with these kids and taking a fresh, creative approach to this show's heavy baggage of colonialism and slavery will open up safe spaces for the kinds of challenging conversations I wish we had more often in our country's classrooms.
But now that I'm watching the audition unfold, I'm beginning to panic. Uncomfortable questions are surfacing; parallels between the play and real life are crystallizing and making me cringe. What identity issues am I asking kids to deal with when the actress I just cast to play the role of the British schoolteacher Anna Leonowens is African American? What elements of my own history will I need to answer for as a white teacher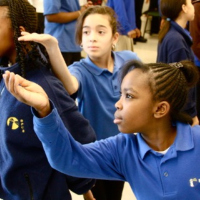 in a multi-racial urban environment directing a show about a white teacher in Siam at the height of British imperialism? How do we honor a classic show from the musical theater cannon while sidestepping cultural clichés that now ring narrow-minded if not downright racist? How do we engage our school community around these issues so our audience members come to the theater not as passive consumers but as active participants in a complex conversation?
The dancers line up and I step to the back of the room. I tell myself that I don't need to know all the answers right now, that if I trust the process of doing the work and putting the students' natural discovery process at the center of it, their understanding will evolve organically and so will mine.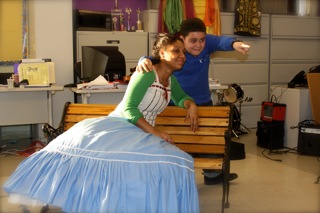 Several weeks of rehearsal have gone by since we held auditions. Opening night is now less than two months away. I can't say I'm feeling comfortable, but there is an exhilaration that comes from day-to-day contact with messiness and challenge.
Two weeks ago, I discovered to my deep embarrassment that our orchestra director is not Chinese, as some of my students and I had assumed, but Thai. "You never mentioned it!" we protested; "You never asked!" he said. He's facilitating a conversation about Thai culture and history for the whole cast next week.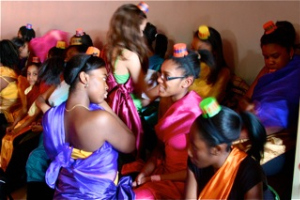 The kids are also making strong choices about how to tell the story on their own terms. After turning down an offer from a costume shop in Yonkers to rent the original Uncle Tom and Topsy masks from the Broadway revival because the kids felt they were racist, we're now in the process of designing and making our own masks from scratch.
And then there is India Robinson, a senior who has never performed in a musical before, but who is navigating the complex identity issues of playing the character of Anna with real power and grace. Last week, we offered a work-in-progress sneak peak of one of the show's big production numbers, "Getting to Know You," at an all-school Poetry Slam event where India was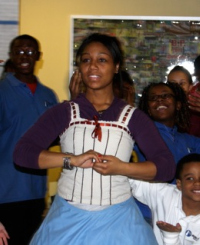 also scheduled to perform a piece of original poetry. She was dressed in the makeshift costume she's been wearing during rehearsals--complete with tight corset and massive hoop skirt--getting the younger performers organized in the gym, when word came that the running order had suddenly changed and that her poetry piece was up next. I told her there was no reason she couldn't perform in her costume, but India smiled and said, "Sorry, Q. I really need to be in my own clothes. You'll see."
She made a lightning fast change and re-emerged in jeans and a button-down, walked to the mic, raised her fist in the air and let loose with an intense and poignant poem called "Black Sheep," a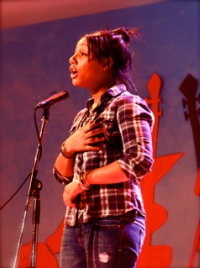 piece she had written, she says, "to narrate the experience of being a Black person, and to remind African Americans that although we can sometimes feel defeated, it's important for us to hold our heads high." With the drama building as she neared the end of the poem, she smiled and gave a nod to the crowd of kids in the back of the gym draped in homemade satin costumes. "'Getting to Know You'?" her voice rang out as they all sat up straighter in recognition and beamed back at her. She paused and then delivered the twist: "Getting to know... Who... We... Were. Who you are. Who we need to be, in order for our futures to be... bright." A deep silence settled over the crowd and then there was thunderous applause, after which India made another quick change, re-emerged as Anna Leonowens--petticoats, flawless British accent and all--and welcomed her students up onto the stage to show the world a different side of their rich and multilayered humanity.
"The King and I" runs at Bronx Prep Charter School from May 19th-21st, at 7 PM. Tickets go on sale May 5th at www.bronxprep.org/boxoffice.