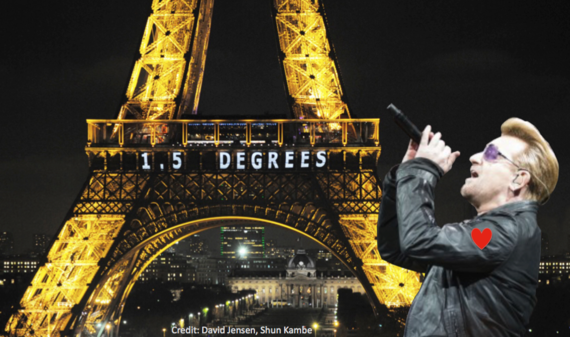 I've been impatiently waiting for the world to come together and combat climate change since the '90s. Knowing the Paris talks would be different this time around, I was eager to take part. Then three weeks before our trip, terrorists attacked Paris. Three days beforehand, terrorists attacked San Bernardino (10 miles away from our son). Instead of driving us away, we were compelled to support this imperiled world of ours even more. COP21 turned out to be an unforgettable experience, with a true sense of progress and unity. To top it off, we squeezed in a U2 concert. The most timely, life affirming concert ever to rebound from the recent heartache. To me, it also amplified the summit's underlying purpose, one love for people and the planet. Bringing it home, here's a recap.
My husband George and I were honored to participate as members of the NRDC delegation. Our agenda included an endless array of forums, gatherings and exhibits scattered throughout the city. I was drawn to events that featured people on the frontlines of climate change (by NRDC, UNESCO, Sierra Club and WECAN). Coming from Ecuador to the Philippines and the Arctic to the Congo, a range of indigenous leaders shared stories about their endangered homelands, refusing to be invisible as negotiators determined their fate. Here's just a few:
Kathy Jetnil-Kijiner is from the Marshall Islands, ground zero for climate change. She uses spoken word poetry to put a human face on their struggle. For her, "1.5 To Stay Alive" couldn't ring truer. Watch her 2 Degrees performance, highlighting how this inadequate temeperature goal assures her nation will tragically vanish under rising seas.
Allison Akootchook Warden, an Iñupiaq interdisciplinary artist from Alaska, explained, "The ground is melting beneath us. We must stand up for our children's right to live their ancestral life. I like the cold. But last winter, instead of 40° below, it was 40° above and raining. We have the smarts to figure this out." See her "I Am a Caribou" rap.
Mundiya Kepenga is a traditional Leader from Papua New-Guinea working to preserve his forests. Through a translator he said, "I do not know how to read or write. I'm not a scientist. But I can testify with my eyes and heart. I'm here as a bridge connecting the new world and mine. You need you to understand my side of the bridge. It no longer rains, our source water and native species are disappearing. We are losing the ability to feed ourselves. When all the trees disappear, the brothers of trees will too."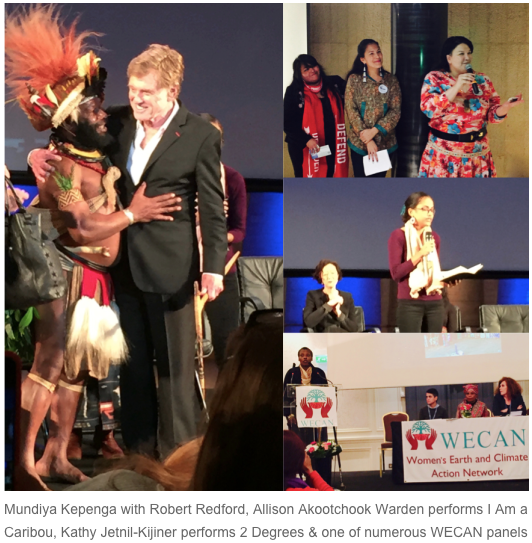 Devastation from climate and the fossil fuel economy is also happening closer to home. Neighborhoods are ravaged by floods, hurricanes and wildfires; farmers suffer from droughts; children living near coal power plants and toxic petcoke clouds are stricken with asthma; drinking water is poisoned from fracking and oil spills... The list goes on.
The human toll is unconscionable. Vulnerable communities least responsible tend to be hit the hardest, and the burdens disproportionately affect women and children. It's estimated 450,000 deaths worldwide are linked to climate change each year, which will escalate over time. Another 4.5 million people die each year from lung disease associated with burning fossil fuels.
Fortunately, an unprecedented climate movement has been building momentum for bold action in Paris. While there, it was energizing to mix and plot next steps with environmental groups and fellow activists I've engaged with along the way including anti-Keystone and Peoples' Climate March demonstrators; Divest-Invest advocates (organizations worth $3.4 TRILLION have pledged); the faith climate justice community (go Pope Francis!); and student sustainability leaders. Alongside NGOs and grassroots, the huge presence of business and subnational governments pledging significant commitments rounded out this powerful coalition.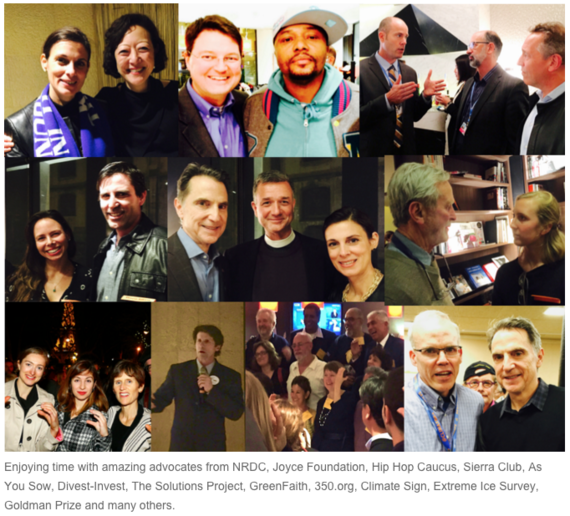 On December 12, 2015, a beautiful day, 195 countries signed a landmark, legally binding climate accord to limit warming increases below 2°C and aim for 1.5°C. Nations, representing 97% of the world's carbon pollution, submitted commitments to reduce their emissions. The agreement calls for an elevation of these commitments every 5 years, a system to track progress, financing for poor countries to expand clean energy and help making vulnerable regions more resilient. Notwithstanding the miracle of this momentous step, a great deal of work lies ahead to meet these ambitious targets.
Most importantly, the world now recognizes that fossil fuels have become a bad addiction and it's time to embrace the clean energy revolution. We spent the several days at the Energy for Tomorrow conference hearing from top business leaders and investors, policy makers, academics and technologists. They noted, before the narrative of decarbonization was about sacrifice, now it's about a trillion-dollar market opportunity with billions of users, millions of net jobs. As Elon Musk stressed at his Sorbonne talk, slowing down this inevitable transition is "the dumbest experiment in history." The dropping prices of solar and wind energy, LEDs and battery storage, Mission Innovation and the Breakthrough Energy Coalition, shifting Millennial preferences, corporate sustainability practices (linked to stronger financial performance), no sacrifice impact investments - all favor disruption. The Solutions Project lays out how 100% clean energy is possible with today's technology. To drive this transformation, the business crowd (not treehuggers!) called for a carbon neutral tax, ending fossil fuels subsidies, policies to de-risk investments, cross sector collaboration, sustainable agriculture, livable cities, utility iteration, decentralization, clean energy access for 1.6 billion people... Also worth noting, moving beyond fossil fuels will reduce international conflicts and the potential for terrorism.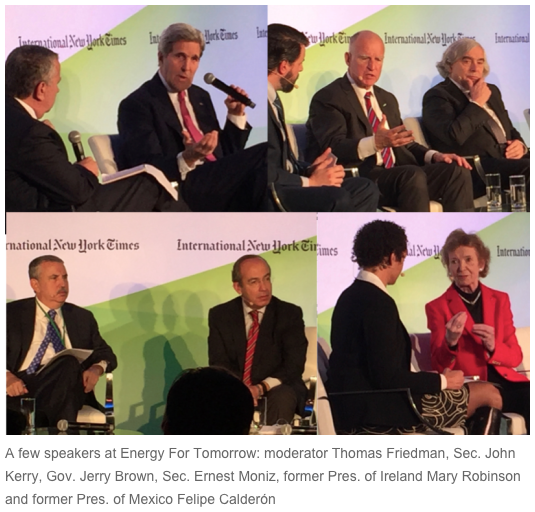 Despite the commitments and support of corporate giants, states and cities, religious leaders, military leaders, a majority of citizens and NEARLY EVERY NATION ON THE PLANET - Republicans threaten to shred Obama's climate commitments, derail the Clean Power Plan and end the 40-year crude oil export ban. We must hold fossil fuel backed politicians accountable. And ramp up pressure to keep it in the ground.
During the concert, Bono shouted out, "You will not have our hatred. In order to defeat the monster, we choose love over fear," to enormous cheers from the crowd. He said they returned to Paris after the attacks as quickly as possible because their music is all about defiant joy, "They're a death cult, we're a life force." In their first performance since the attack killing 90 people at their Bataclan concert, the Eagles of Death Metal joined U2 on stage and ended the concert aptly singing People Have The Power and I Love You All The Time. They vowed to keep on rocking as "a beacon of compassion, love, progression forward, being part of something greater."
At the heart of the matter, climate activists keep pushing ahead in the name of love and connectedness too. We cannot walk away or sit still, the beat goes on. As the audience sang out in unison...
One love, One blood
One life, you got to do what you should
One life with each other
Sisters, brothers
One life, but we're not the same
We get to carry each other, carry each other
One
Watch the crowd bask in LOVE Over Fear and One. HBO is now broadcasting this amazing U2 concert.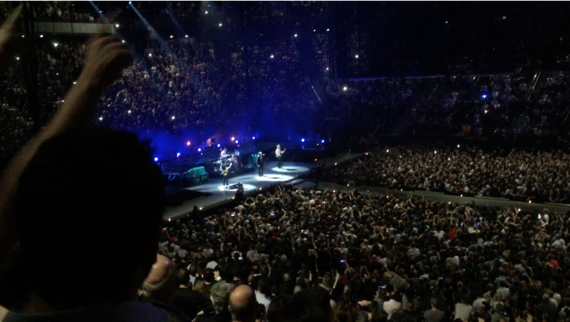 REAL LIFE. REAL NEWS. REAL VOICES.
Help us tell more of the stories that matter from voices that too often remain unheard.