A stunning photo of a mom with her baby in a crib is going viral on Facebook for truly heartbreaking reasons.
"I climbed in the crib in hopes to soothe my screaming, teething, blushed faced, and tear soaked little girl," Mager wrote in the caption, adding, "There I was in the heat of this exhausting, beautiful thing we call parenthood, and I remembered a promise I made to her."
The mom recalled a Christian worship music concert she attended with her husband. At the event, a missionary described his experience at an orphanage in Uganda. He said when he entered a nursery with over 100 cribs filled with babies, he was struck by the silence in the room. The missionary asked his host why a room of infants was so quiet.
"She looked at him and said, 'After about a week of them being here, and crying out for countless hours, they eventually stop when they realize no one is coming for them,'" Mager recalled him noting.
"I broke," the mom said of her reaction to the story. "I literally could have picked up pieces of my heart scattered about the auditorium floor."
"We came home, and that night as Luella rested her tiny little 10-pound body against mine and we rocked, I made a promise to her. A promise that I would always come to her," Mager added.
"At 2:00 a.m. when pitiful desperate squeals come through a baby monitor, I will come to her," she continued. "Her first hurt, her first heartbreak, we will come to her. We will be there to hold her, to let her feel, to make decisions on her own, and we will be there. We will show her through our tears and frustrations at times, that it is okay to cry, and it's ok to feel. That we will always be a safe place, and we will always come to her."
Mager's Facebook post has received over 50,000 likes and 22,000 shares. In a follow-up comment on the photo, the mom said hearing the missionary's story put her life and struggles as a parent into perspective.
"I wanted to share because as moms, don't we have those days of just pure frustration?" she wrote. "That story has helped me in those times to be real, raw, and to cherish even the sleepless nights and scream tantrums."
"As a new mom, there are days that I just can't do it. I can't do it in my own strength," she said. "My Facebook feed has been flooded with new mamas, new breath, new life, and the heart of my post needed to be shared with them. A promise, a reminder to hold onto during hard days."
Evoking her Christian faith, she added, "We're not perfect, we have hard days, the struggle is real, but so is the strength that comes when we are vulnerable enough to admit that."
Mager told HuffPost her motto with Matt since they were married is to remember to take time to "press pause." And she encourages others to do the same -- "take moments, from the day to day, the mundane, the normal, to pause. The hard times, the silly times, the amazing moments we all experience ... simply pause."
Sounds like words to live by.
Related
Before You Go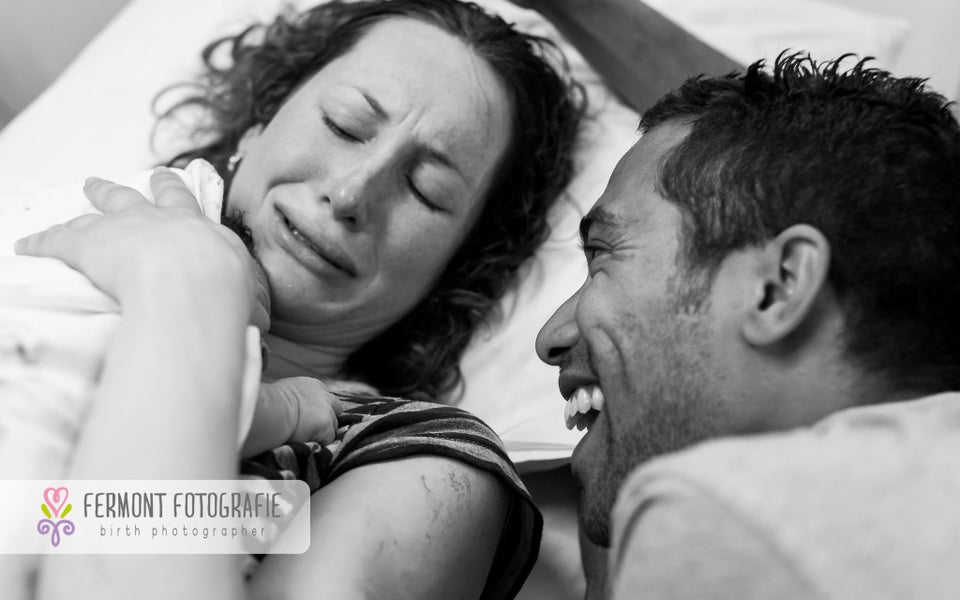 Beautiful Photos Show Parents' First Moments With Their Babies