A viral photo of twins in the NICU is evoking tears and heartfelt wishes across the social media world. But the story behind it is even more heartbreaking.
On Aug. 18, Florida couple Tommy Buchmeyer and Brandy Guettler welcomed twin sons, Hawk and Mason. The babies were born prematurely via emergency C-section, and Mason was sent to the NICU for a short time.
The situation, though, was even more serious for Hawk, who was diagnosed with congenital diaphragmatic hernia (CDH), a rare condition in which a baby's diaphragm fails to fully form. As a result, the hole in the diaphragm allows abdominal organs to push up into the chest cavity and inhibit lung growth.
Hawk underwent surgery on Aug. 30. Tommy and Brandy created a Facebook page called Mason & Hawk to share updates on the twins' progress.
On Sept. 1, as Hawk fought for his life in the NICU, his parents posted an emotional photo of the newborn with his twin brother. The photo had been taken prior to Hawk's surgery, and it shows Mason embracing his sick brother.
Brandy told CBS12 that Mason had been fussy that day. "The nurse said 'Why don't you try laying him down next to Hawk,'" she recalled. "So we laid him there and all of the sudden as soon as he felt Hawk, he reached his arm out and grabbed him and just started to smile. The two of them knew they were there for each other."
When Brandy and Tommy posted the photo on Facebook, they wrote in this caption, "This picture was taken a 11 days after they were born, it's the first time they have ever touched, and as soon as Mason felt Hawk he reached out for his arm and smiled this big. We thought it was time for everyone pulling for our boy to see this picture."
The powerful photo went viral, reaching over 121,000 likes and nearly 4,000 comments from Facebook users pouring their hearts out to the baby boys.
But tragedy struck six days later. Hawk passed away on Wednesday.
In their Facebook post sharing the devastating news, Tommy and Brandy asked followers to give them time to grieve and shared the comforting message that Hawk "went very peacefully ... we know he's no longer suffering."
In the aftermath of their loss, the parents have received messages of love and condolence from Facebook users around the world, as their boys continue to touch people across social media. To read more about the parents' journey, follow Mason & Hawk.
Keeping this family in our thoughts.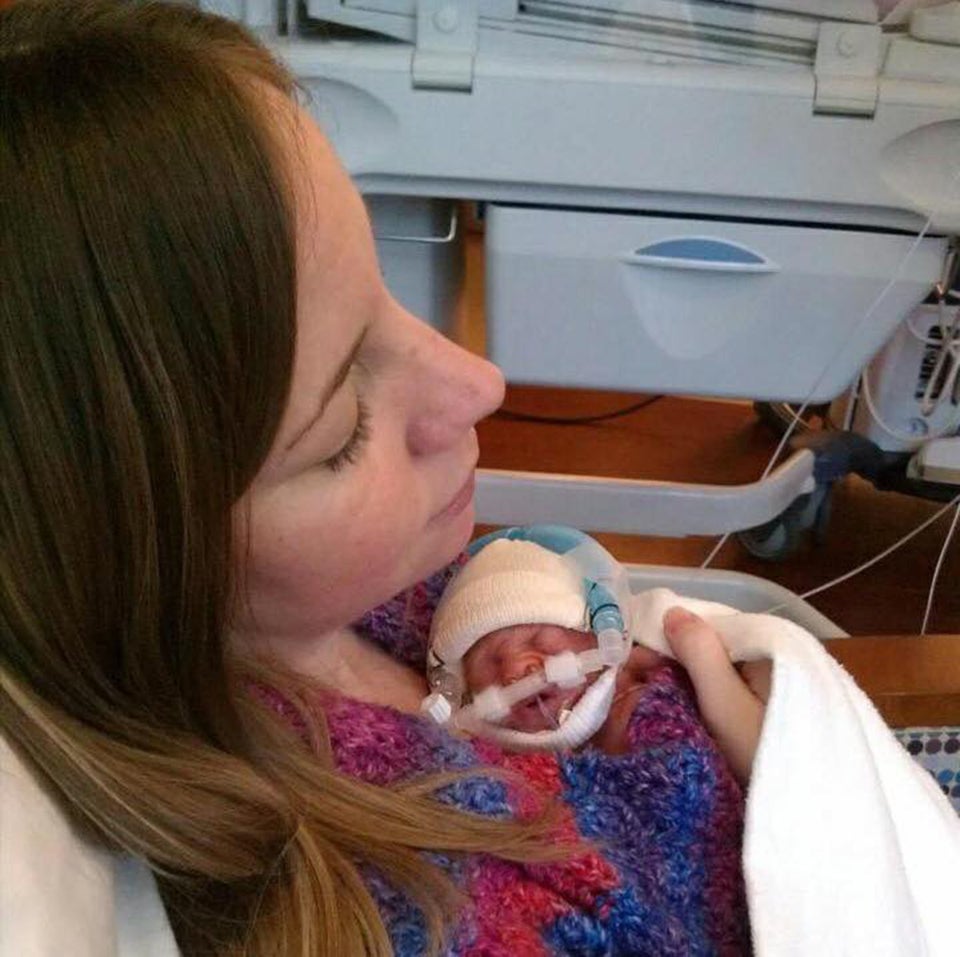 Preemie Parents Reflect On Their Time In The NICU
Popular in the Community