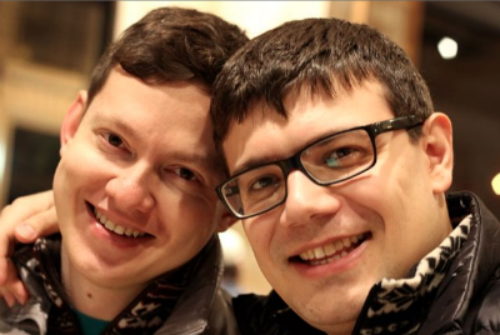 "Let's sing the Falling Leaves," Valentina Kharenkon, a 62-year -old Ukrainian, English teacher plops herself on a steel chair in front of a grand piano surrounded by 10 Russian students. We were at a music hall in the basement of a Jewish Community Centre in Bay Parkway, Brooklyn. Oleg Dusaev is sitting slightly away, tracing the Russian translations scribbled in black ink next to the lyrics with his small, shapely fingers.
The music begins. As the students drift from song to song, the mood becomes festive as the rough, weather-beaten faces of tall, Russian men break into broad smiles and their tense, thick-set shoulders relax. Oleg smiles furtively at them. He is clearly the sharpest dressed man in the room, with grey, knitted, woolen cardigan and brown, stylish, leather boots. His black Pierre Cardin glasses are perched on his small, rounded nose on a smooth, clean-shaven, square face with delicate, thin lips. His fingers move rhythmically, almost in a trance, playing the imaginary notes in the air. Valentina asks Oleg to come forward to play, and soon the notes pour out of his fingers in a sublime release. Down the corridor in another class, Oleg's husband Dmitriy Stepanov practices English with his classmates in his soft, lilting voice.
For four days every week, Oleg and Dmitriy take an hour and a half long subway ride from their small, one room rented home at Union Turnpike in Queens to Brooklyn to take free English lessons at this center.
Oleg Dussaev, 33, and Dmitriy Stepanov, 30, fled Moscow in October last year after allegedly being beaten up, harassed and intimidated by anti-gay vigilantes. Their careers met an abrupt end after Oleg came out publicly on Facebook in August.
A trained classical pianist and a music instructor at a school affiliated to the Moscow Tchaikovsky Conservatory, he was a well known journalist and a television personality at the state owned arts and cultural channel "Kultura" where he worked for eight years before his contract was terminated just days after he came out publicly.
"Today for me it's a time to be brave. Openly and honestly I want to tell you that I am gay... I am the same person you knew before, the pianist and journalist Oleg Dusaev. I am a faithful Christian, convinced that God created and loves me for who I am," his post read in Russian.
Next day, he told me his colleagues stopped talking to him, and some even refused to shake his hands. On September 4th, he was invited to appear as a television commentator at an independent Russian news channel to respond to Putin's interview to the Associate Press ahead of the G20 summit in Russia, where he claimed that his government is not discriminating against those with "non-traditional" sexual orientation. Mindful of the repercussions, Oleg did not comment directly against Putin, but talked about his experience of discrimination at work. Next day, he was handed his termination letter. Meanwhile their phones were constantly beeping with hate messages. "Damned sodomites, we can help you burn in hell faster," said one.
"I had an interesting career in Russia and I finished my career in Russia," Oleg says. "Being famous was a problem for me."
Oleg's mother Nailya, a Russian music teacher at a posh, music school for children, with an estranged husband, was terrified after his termination. She knew that Oleg was gay since he was 14, but her response was first to ask him to find a girl, and then a complete denial, and finally, treating his boyfriends with rank hostility. But this time it was different, the danger was very real. Nailya bought two tickets to the U.S. and pleaded with Oleg to leave the country with Dmitriy, his boyfriend for six years. "My mother had never acknowledged us as a couple, but this time she bought tickets for him as well. She was scared for him too," Oleg says.
We were sitting around a wooden table with an overhead lamp at a cramped, shared living room of their apartment in Queens. Oleg and Dmitriy live in one of the rooms with dark blue walls and a small bed cluttered with discarded items of their landlady. Their marriage certificate lies framed on the table in front of their bed, with their wedding cake topper figurines in black tuxedos standing on either side. It was a low-key October wedding soon after they came to New York at the city hall attended by friends and a quiet kiss behind tall glasses of champagne.
"Here we are tenants, and we have no privacy. In Russia we had moments of peace, but we also had two metal doors and security systems," Oleg says.
In early October, a few days after coming out, two unknown men attacked Dmitriy and Oleg outside a synagogue in Moscow. It was 10 p.m. and the streets were dark when the two assailants pounced on them and ripped their clothes. That very evening they received a text message from an unknown number: "Fuck off from here, or we will send you to jail," it said. "It was disturbing to get texts that we will be sent to jail because it's easy to do that in Russia." Oleg explains.
The attack was a brutal reminder of an assault that sent Dmitriy to the hospital with a severe head trauma a few years ago when he was walking near Kolomenskoye Park in Moscow to buy his dinner. A tall, burly man ran up behind him and cracked his fist on the back of his head. Oleg and Dmitriy pursued the case with the police, but they say no one was arrested. In August 2013, they were handed an investigation report, which said that the case was closed after the file was found destroyed. "Where is the court, where can I appeal," asks Oleg. Break-ins at their Moscow apartment became frequent when they started living together. They changed their apartment, installed metal doors, but the attacks continued. The police, they say, never came on time, and no one was arrested.
"We initially wanted to return to Moscow after our marriage. We wanted the dust to settle, we had tickets for 30th of October, but things changed dramatically overnight," Oleg says.
A day before their flight, Dmitriy woke up to a message from his 39-year-old sister Irina from his hometown Saransk, more than 500 kilometers away from Moscow. "What is this news of your wedding on the front page of Capital S (newspaper). How do you expect our parents to face the society now," it said. Dmitriy was shaken. The Russian article with the headline "Sodon and Umora", and their wedding pictures culled from their Facebook accounts, contained unnamed family sources of Dmitriy and his teachers in school saying that they were mortified by his wedding.
"I just read the first few paragraphs. [To] date I couldn't bring myself to read the whole article," he says. The article also wrote about his mother Ludmila who suffered a stroke a few years ago and his grandmother who died a month back. "Thank god she didn't live to see this day," the article read.
"We didn't want to tell anyone we were married before the ceremony, we thought we will break it to them in Russia," Oleg says. Oleg's mother bore the news calmly over the phone, but a few days later, she fainted at work. Dmitriy's father snapped all ties with him when he tried to explain the article over Skype. He and his sister haven't spoken to Dimitriy since; slammed phones greeted his New Years Eve messages. "His sister is scared that we will corrupt her sons and turn them gay." Oleg says.
It was then that they decided that they can't go back. Their tourist visa to the U.S. expires in spring. Recently they connected with an NGO "No More Fear," which is providing them free legal aid to get asylum in the US.
"There is a lot of uncertainty now. I am not thrilled not to return to Russia. I am also scared of leaving my mother behind, but being beaten up or killed is not going to do anyone good." Oleg says.
It's the first day of 2014 and we are at boulangerie near Central Park with Oleg's mother, who had come to New York to spend Christmas with her son. Between tartines and soup, sounds of Tchaikovsky melt in the air. Oleg and his mother excitedly hum the tunes with their eyes fixed on each other almost like two masters conducting a silent symphony. I ask Nailya if she will miss Oleg if he gets asylum. She looks at him with a faint, teasing smile and says, "Ask Oleg if he will miss his mother." Oleg eyes grows misty as she looks down and says quietly, "I want to see him everyday. My mother has Alzheimer's. She doesn't recognize that I am her daughter. Oleg is my only family left. "
Asylum is an irreversible process, which means the doors to Russia will be forever shut. Their careers in Moscow are over. It's time to make a fresh start but with no money and no job for now. Oleg's fame as a musician and a journalist is now a fading memory, almost irrelevant in the U.S., but as long as the music plays on the dusty old piano at the Jewish center between smatterings of English and laughter, they have hope of a life; a tough one, but one of love, where they can be called man and man without shame or fear.
Popular in the Community