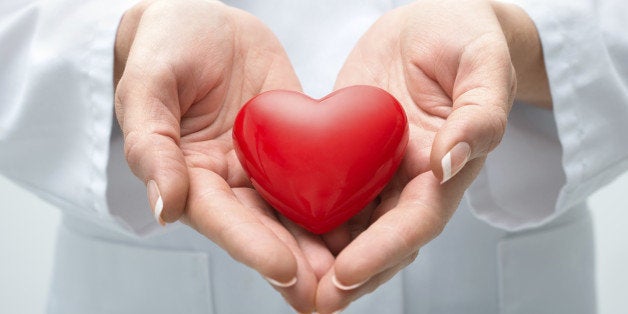 The path to the heart may lead through the kidney. As Valentine's Day comes and goes, we commonly reflect on affairs of the heart. We have known for many years that people with chronic kidney disease (CKD) commonly have heart disease. We have also known that people with heart disease commonly have CKD. It has been assumed that because people with high blood pressure and diabetes get both kidney disease and heart disease, that this was the link. The presence of heart disease complicates CKD and the presence of CKD complicates heart disease.
New research seems to suggest that just the mere presence of kidney disease may start to have adverse effects on the heart. In a study reported in the journal Hypertension, researchers from the United Kingdom studied individuals who had donated a kidney for transplantation and compared them with individuals who did not donate a kidney. All of the individuals studied were otherwise healthy and had no kidney disease or heart disease. They compared heart function and kidney function on individuals before they donated one kidney and one year after kidney donation. They found that after donating a kidney, the overall kidney function (measured as the estimated glomerular filtration rate or eGFR) fell by 30% as compared to individuals who did not donate a kidney. This was associated with changes in the function of the heart that included some thickening of the heart muscle, stiffness of the major blood vessels of the body, and changes in a heart protein that suggests mild early damage. Some individuals who donated a kidney also experienced an increase in the urine albumin (protein). It should be noted that most people do not experience health problems as a result of a kidney donation. Studies have shown that kidney donors have preserved kidney function and a good quality of life over the long term. Their findings suggest that the sudden reduction in kidney function, when a kidney is removed for transplantation, could be associated with early changes of heart disease within one year. These changes are very mild and did not require treatment. The changes in the heart function must be followed over a longer time period in order to know if these changes progress to actual heart disease or whether the changes remain stable over time. No changes in blood pressure were detected after one year.
This suggests that individuals with reduced kidney function of any cause should also be monitored for heart disease. If your physician detects a decline in your kidney function as judged by a decline in your eGFR or if there is excess in albumin or protein detected in the urine, further studies for heart disease and risk factors for heart disease may be warranted.
Again, we know that people who donate kidneys for transplantation are much healthier than the general population. The overall risk of heart disease and CKD in people who donate a kidney is known to be very low. A recent study in the New England Journal of Medicine shows that the absolute risk of kidney failure for living donors is very low. The study found that kidney donation may increase risk for CKD by between 3.5 and 5 times with the overall risk of major problems still much less than 1%.