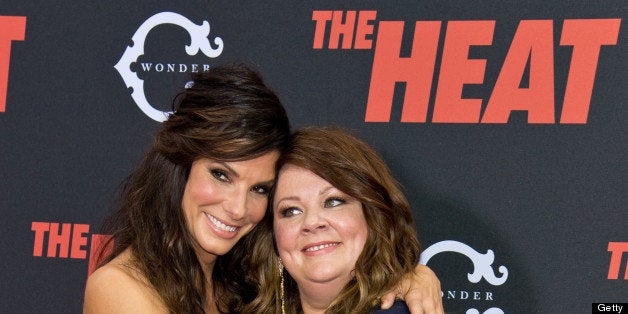 We're guessing that's why everyone is so excited about "The Heat," which opens June 28th and promises to be a beacon of hope for the female buddy film genre.
A "Buddy Film" is, according to The Oxford Dictionary of Film Studies, "a film that tells the story of a close relationship between two men, often with a light-hearted tone." And according to Kaleem Aftab at The Independent, buddy films embody the common qualities of "violence, witty banter and misogyny." Women in these movies are often auxiliary characters who exist primarily as love interests. While audiences have been watching films that explore "bromances" for years, we rarely see movies about female friendship that don't also revolve around finding romantic love. And we definitely don't see action films centering around those relationships.
Sandra Bullock, who co-stars in "The Heat" with Melissa McCarthy, recently spoke about her eagerness to challenge cinematic female stereotypes, telling The Huffington Post, "I've always wanted to do a female buddy film, the kind the guys get to do…["The Heat"] didn't have anything to do with getting a guy, and it didn't involve shoe shopping." And the film's Director, Paul Feig, told HuffPost that, "What I liked about ["The Heat" is that it's] just two professional women in the workforce who are great at their jobs and who are on this adventure."
So in honor of a film that will hopefully encourage Hollywood to feature women taking over the big screen together more often, we've rounded up six other dynamic duos we'd love to star in buddy films:
1. Jennifer Lawrence and Emma Stone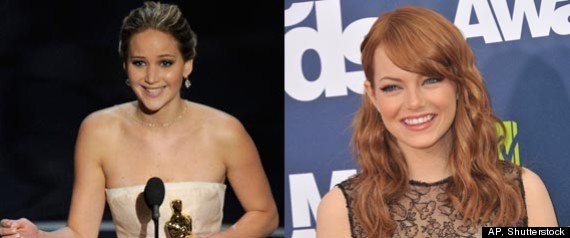 2. Emma Watson and Rebel Wilson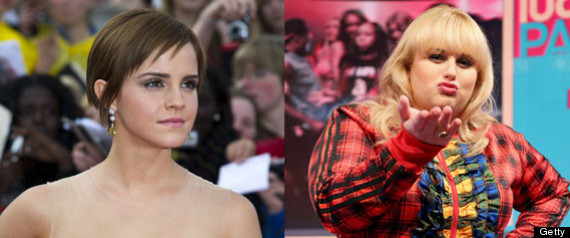 If we're going to focus on the "polar-opposites-teach-each-other-life-lessons" aspect of the buddy film, then we'd team up Emma Watson and Rebel Wilson. Reserved and studious Watson could teach hilarious and outgoing Wilson to be more introspective, while Wilson could teach Watson how to let loose. Maybe they could be cast as distant cousins brought together by a family reunion, or (seemingly) ill-paired roommates on some type of Spring Break adventure ... or maybe they would be brought together for a far more original premise. No matter what the scenario, we'd watch these two.
3. Kerry Washington and Eva Longoria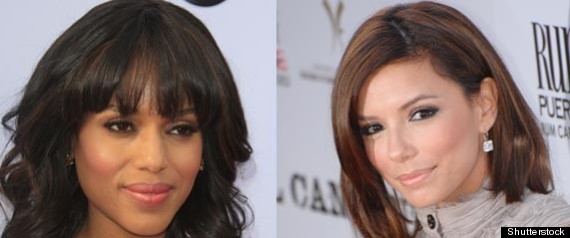 Whether it's talking honestly about gender and race or standing up for what she believes in through politics or social activism, Kerry Washington is not afraid to take on real issues. Eva Longoria is also no stranger to political activism -- in 2011, she produced the documentary "The Harvest," which tells the stories of three of the 400,000 children who work as migrant laborers on America's farms and she currently runs her own charitable foundation. We think these two impassioned and intelligent actresses could team up to create a film that would not only entertain, but raise awareness about an important cause.
4. Wanda Sykes and Ellen DeGeneres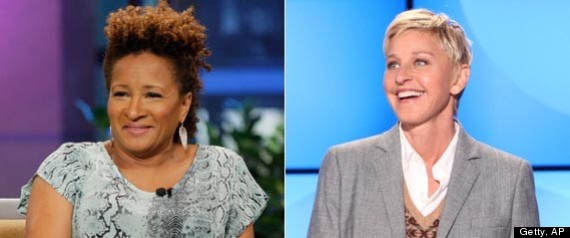 Wanda Sykes and Ellen DeGeneres are undoubtedly two of the most beloved female comedians out there. Both are able to bring humor to ridiculous current events as well as serious issues (like LGBT rights). They have also proved that they have great comedic chemistry. We'd love to see what they could do in a feature film.
5. Chelsea Handler and Whitney Cummings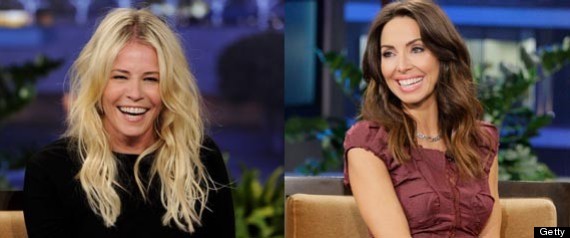 6. Meryl Streep and Literally Anybody/Anything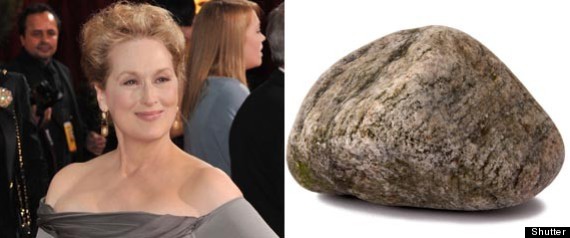 We'd pay $15 to see Meryl team up with a rock. If Meryl wanted to take a stab at "Cast Away 2" and talk to a volleyball for an hour and a half, we'd be down with that, too. Let's be honest, she'd probably get at least a SAG nod for the role. She's proven her dramatic chops about a billion times, but also dominates comedy and can sing and dance, too. It's Meryl's world, guys -- we're just living in it.
REAL LIFE. REAL NEWS. REAL VOICES.
Help us tell more of the stories that matter from voices that too often remain unheard.
BEFORE YOU GO
PHOTO GALLERY
Celebrity BFFs