As the Miami Heat prepare to face the New Orleans Pelicans on Christmas Day, one thing is certain this holiday season: There is not a grinch in the Heat's locker room.
Over the last week, Heat players and executives have been as busy off of the court as they have been on it, as they have been spreading holiday cheer throughout the Miami community.
On December 21, the entire Heat roster, along with the team's dancers and mascot, Burnie, distributed toys and gifts to children spending the holidays at Holtz Children's Hospital and Baptist Children's Hospital. The visits were part of the team's longstanding relationships with both facilities, but not the only act of generosity demonstrated by the Heat and its players this holiday season. The days leading up to Christmas featured a myriad of events hosted by Heat players and executives across Miami reaching children, veterans and other underserved members of the Miami community.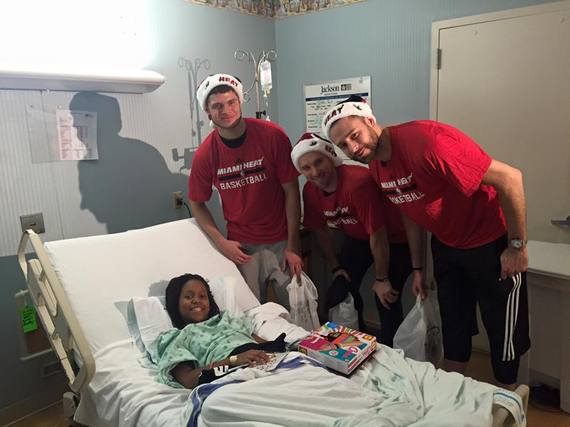 On December 17, Heat president, Pat Riley, and Chris Bosh hosted a holiday event at the Miami VA Fisher House. The two distributed gifts to families there and also presented a $50,000 donation from the Miami HEAT Charitable Fund to the Fisher House.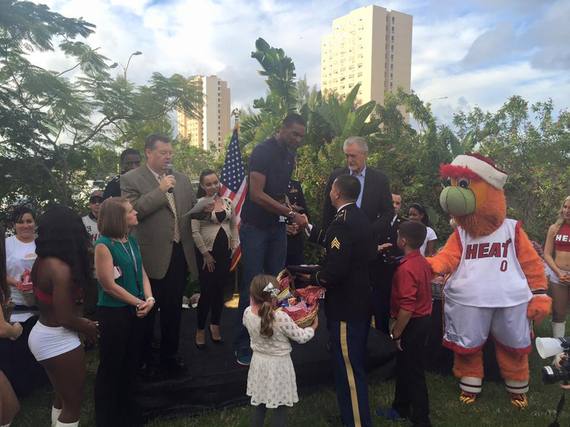 Bosh, who has been involved in the event since joining the Heat, notes the importance he and his family find in giving back to veterans during the holiday season.
"I've been involved in this event since I got to Miami. It was surprising seeing the numbers of homelessness, divorce and bankruptcy among our veterans. When I saw the numbers, I was like, 'Dang, these are the guys defending our country.' You watch the news and they're laying it on the line every day and coming back to nothing. We wanted to get involved in some kind of way. We just want to reach out and let them know we're thinking of them," Bosh told The Huffington Post.
Another of the Heat's leaders, Dwyane Wade, has been busy giving back this holiday season. On December 19, Wade and his Wade's World Foundation partnered with the Heat and Make-A-Wish Southern Florida to grant the wishes of several children by meeting and interacting with them and letting them accompany him to a Heat team practice. Later in the day, Wade hosted an event for several deserving families at Global Furniture Florida, where he purchased items from their Christmas lists and enjoyed an afternoon of food and fun.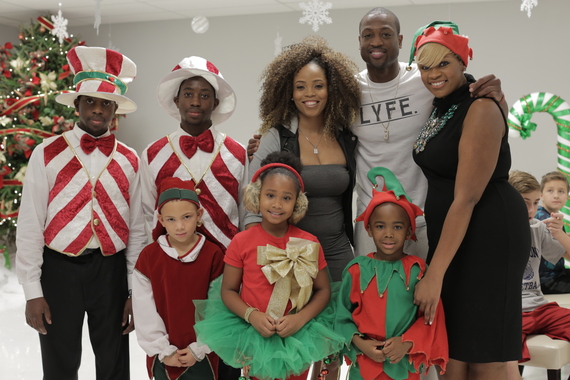 Reflecting on the events, Wade told The Huffington Post, "The holidays are a special time to acknowledge our blessings, and I am extremely grateful to the Miami community for their support over the years. It always brings me great joy to give back to them and help those less fortunate."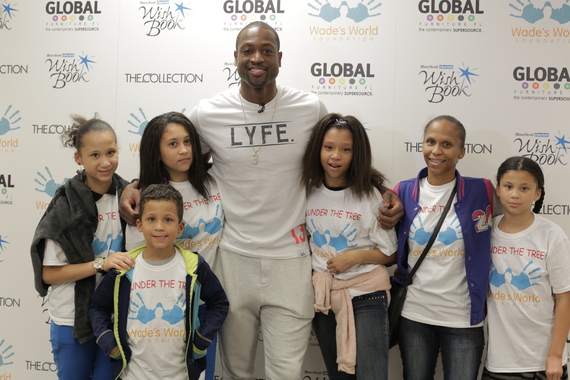 While the Heat's veteran leaders were involved in numerous charitable events this holiday season, rookie Justise Winslow, also looked forward to giving back. On December 23, Winslow hosted 20 middle school children from the Overtown area at Ms. Cheezious, for lunch and gifts.
Noting that his family has always given back to those in need, Winslow told The Huffington Post that he was looking forward to the event as a way to begin giving back to the Miami community and securing the practice early in his career.
"It's important for me, being a young guy, to give back. It wasn't too long ago that I was in their shoes. Material things are good to give back with, but the most important thing is to give through your words. I want to give them inspiration, motivation and hope that they can be whatever they want when they grow up. I want to let them know that I'm here for them," Winslow said.
One of the most unique events planned by Heat players and executives during the holiday season is a fishing trip hosted by Gerald Green and Alonzo Mourning for ten children from the Overtown Youth Center. Along with enjoying a day fishing with Green and Mourning, the children received brand new fishing rods and Heat goodies.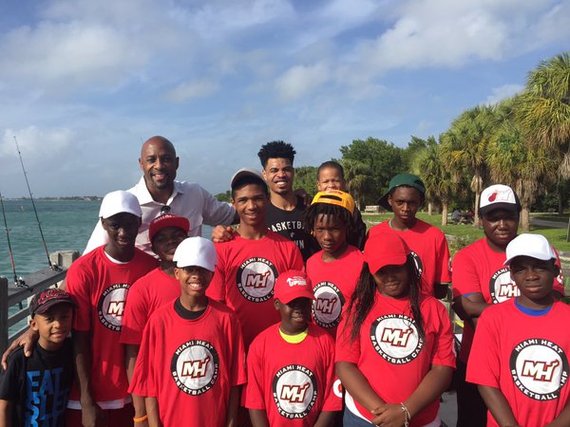 A long-time fishing enthusiast, after his father and grandfather instilled a love of the hobby in him, Green hoped to help the children from the Overtown Youth Center find something they could be passionate about.
"A lot of times, kids aren't fortunate enough to go fishing. Either they don't have parents who have the time to do it, they're in a situation where they can't afford to, or both. I'm trying to go out and spend time with the kids fishing and show them a couple things to introduce them to a new hobby. They might like it and it may become something for them to do instead of going out and doing something in the streets. Any time you can touch kids, get smiles on their faces and be positive in their lives, I'm willing to do it," Green told The Huffington Post.
While Heat fans are certainly hoping for a big win on Christmas Day, one thing is certain: With all that the Heat has given to the Miami community this holiday season, there are many winners.
Calling all HuffPost superfans!
Sign up for membership to become a founding member and help shape HuffPost's next chapter