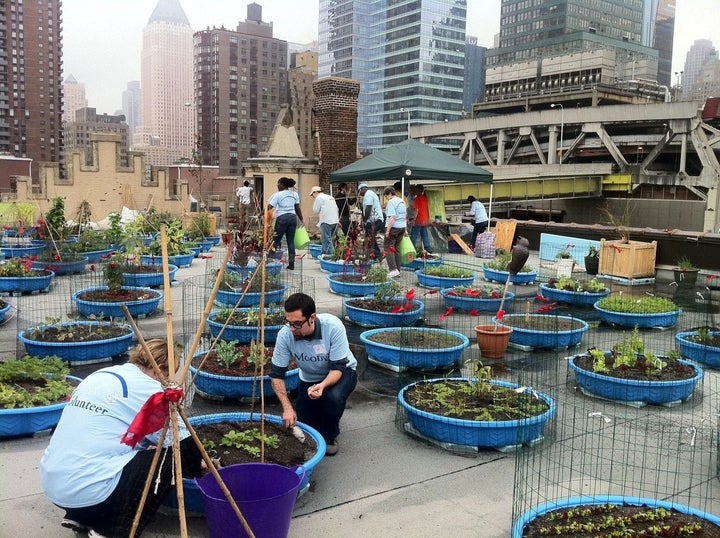 In 1984, Rev. Gene Bolin prayed over his church's newly purchased building in a distressed neighborhood in New York City. "God," the pastor petitioned, "help us to put this building to use 24/7."
He probably couldn't have imagined that almost 30 years later, his church would also be used top to bottom, as it opened an urban farm on its rooftop that grows food for the hungry while building a green community in the middle of the concrete jungle.
The project started in June, 2011, when volunteers formed a bucket brigade and carried supplies and 7 metric tons of soil to the roof of Metro Baptist Church. Plastic kiddie pools, 3' in diameter, serve as the raised beds. The first season's harvest included a range of fresh produce, which was given to Metro Baptist Church's food pantry and to the food pantry of Metropolitan Community Church, a co-founder in the project.
The vision for The Hell's Kitchen Farm Project, named for the 'Hell's Kitchen' neighborhood in which the church is located, is to create a hub of urban agriculture that grows vegetables and contributes to greater food security in the neighborhood, while providing a platform for education on nutrition and environmental sustainability.
Now in its second year, the rooftop farm has become an integral part of the church's identity. "I think of it as public witness," explains Metro Baptist's current pastor, Rev. Alan Sherouse, "The farm project has given people another point of entry to our church, community ministry and our understanding of the Gospel."
The "greening" of faith communities is happening around the country and the world. In an address to young people in 2008, Pope Benedict taught:
"My dear friends, God's creation is one and it is good. The concerns for nonviolence, sustainable development, justice and peace, and care for our environment are of vital importance for humanity."
The connection between the environment, justice and religion is also lived out in one of the toughest areas of Philadelphia. There, a small community of Christians known as The Simple Way has worked with the neighborhood to create innovative, food producing gardens that are testimonies to their faith. As founder Shane Claiborne explains:
"One of the most beautiful things we get to do here at The Simple Way is plant gardens in the concrete jungle of North Philadelphia -- and see kids discover the miracle of life, and fall in love with the Creator of life."
See Photos Of The Hell's Kitchen Farm Project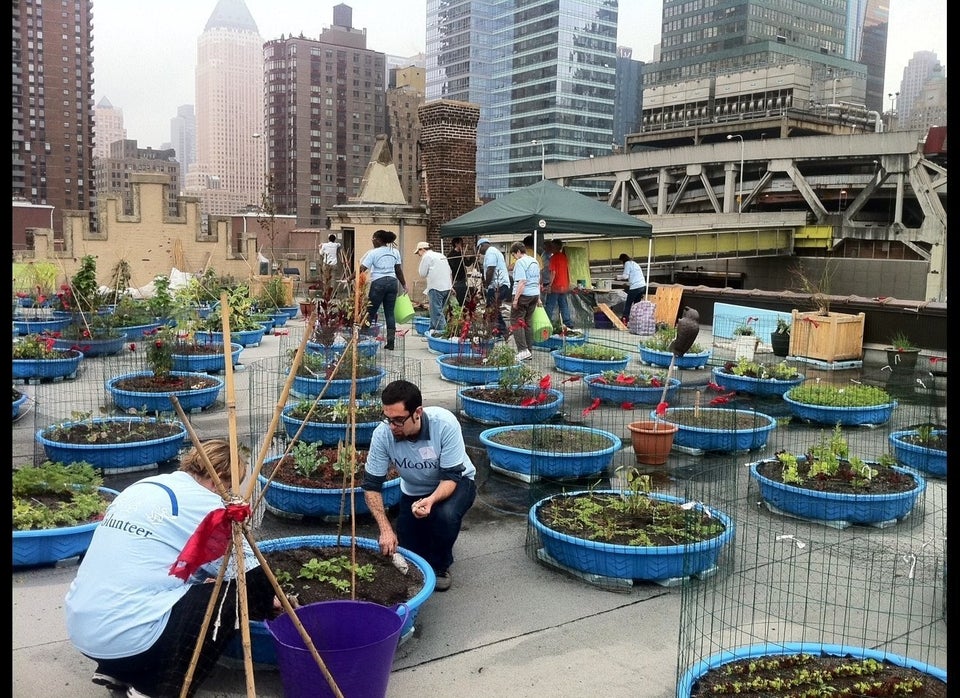 Church Garden in New York City
Related
Popular in the Community