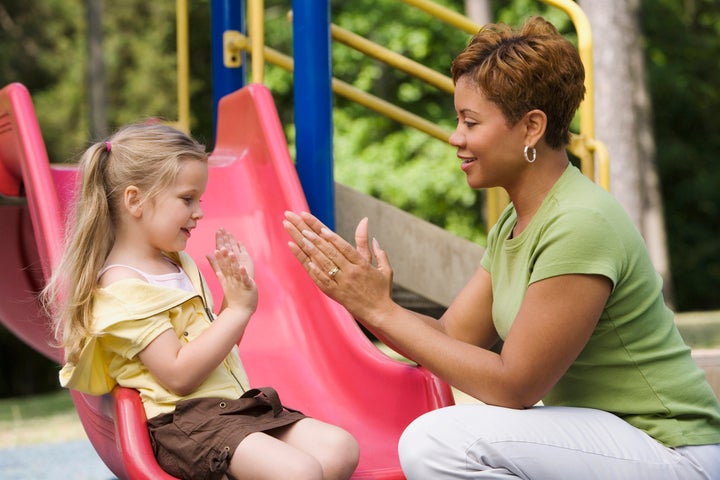 The high-profile success of the movie "The Help" has thrust nannies into the center of the American conversation, while projecting the notion that taking care of other people's children amounts to a viable early-stage career opportunity, the first step on the pathway to better things.
But this comes as news to real-life nannies encountered this week in the affluent New York City neighborhood of Park Slope, Brooklyn, where women described their work as just that: a basic job in an American economy that does not have enough of them.
In the movie version of nanny-hood, the African American woman at the center of the narrative, Aibileen, appears destined to become a celebrated novelist. In the real-life version of that experience, women tending to the offspring of wealthier families describe their work pragmatically, in tones of resignation.
"This job is what it's gonna be," said Denise Wilson, who has worked as a nanny for two decades and spoke as she occupied a bench in Prospect Park, while her two-year-old, blonde-haired charge sat at knee level in her stroller, eating Elmo cookies. "And that's fine. It's an honest living."
Despite the mythologies surrounding the life of nannies, their jobs operate at the intersection of the American underground economy and the homes of wealthier people. Many are employed by white collar professionals who work for major corporations, yet most are paid under the table, without health benefits. In an economy marked by high unemployment, nanny jobs continue to provide a steady source of income for thousands of women, yet these positions promise little in the way of advancement and are rife with exploitation, say labor experts.
"These jobs are not good jobs," said Enobong Hannah Branch, an assistant professor of sociology at the University of Massachusetts at Amherst and author of the forthcoming book "Opportunity Denied: Limiting Black Women to Devalued Work." "They are not jobs that are above the table, with set hours, clear expectations, health insurance, vacation, a process for grievances."
Wilson arrived in New York from Tobago when she was 16, two years after her mother, who had moved here to work as a nanny. She did not finish high school and started working as a nanny herself not long after she arrived in the states.
"I didn't come here expecting I would work as a nanny," she said. "I like kids, but I thought I might be a teacher or a nurse."
Wilson has sought the path of upward mobility, aiming at better jobs, but she has failed the GED three times and "tutors are expensive," she said.
She currently looks after two white girls, ages 2 and 7, and didn't want to say what she's making but said that it's about what other nannies make -- between $12 and $14 an hour.
Her days start at home with her own son, who is 13. They have breakfast together in her one-bedroom apartment in Crown Heights -- a "simple" place, she says -- before he is off to band camp and she to the subway, which she rides three stops before walking a few blocks to her boss' home.
It's not a bad commute, she said, although it would be impossible not to recognize the considerable difference in surroundings between where she starts and ends her day. In Park Slope, she said, the people are whiter, the cars are more shiny, the markets more organic, the shops more expensive. Crown Heights, a predominantly black neighborhood (particularly near Wilson's subway stop), is peppered with bodegas, Golden Krust bakeries and West Indian fast-food restaurants.
Wilson has been with this particular family for five years, but has worked for many over the course of two decades.
"It's hard to move from family to family," she said, her voice soft. "It's like losing your own child."
This attachment factor is touched on briefly in "The Help" and is a reality of the job, which Wilson has worked hard to manage. "You try to stay in touch, but then the bond just sort of eases away, and you learn to live with that."
She prepares lunches and snacks for the girls, takes them to their various camp classes and doctor's appointments, parks and playgrounds, and is as close to her employers "as she can be." She does not give the girls dinner or do bath time.
"That's the mom's job," she said. "That's bonding time. I wouldn't want anyone doing that for my son." And yet, invariably, some nights she comes home too late to play that role for her son.
It is rare for Wilson to have this kind of clarity around the expectations of her job, even if it is subject to change. Historically, the set expectation of a nanny or domestic is that there are no set expectations. A last-minute dinner party, a Sunday bridge game, a child with a fever who needs extra care through the night -- nannies are expected to stay, no matter what, sublimating the needs of their own families for those of their employers' families. And this largely continues to be the case today.
"The expectation of the job grows, but the salary does not," said Branch, the sociologist.
"If you ask white people about their nannies, they'll say, 'Oh, she's like a part of the family,' but the familial relationship is not reciprocal," Branch said. "She is part of the family because it is her job to care for her employer's family above all else."
Wilson said she hasn't seen "The Help," and she doesn't have time: When she finishes her days caring for other people's children, she must go home and care for her own.
REAL LIFE. REAL NEWS. REAL VOICES.
Help us tell more of the stories that matter from voices that too often remain unheard.