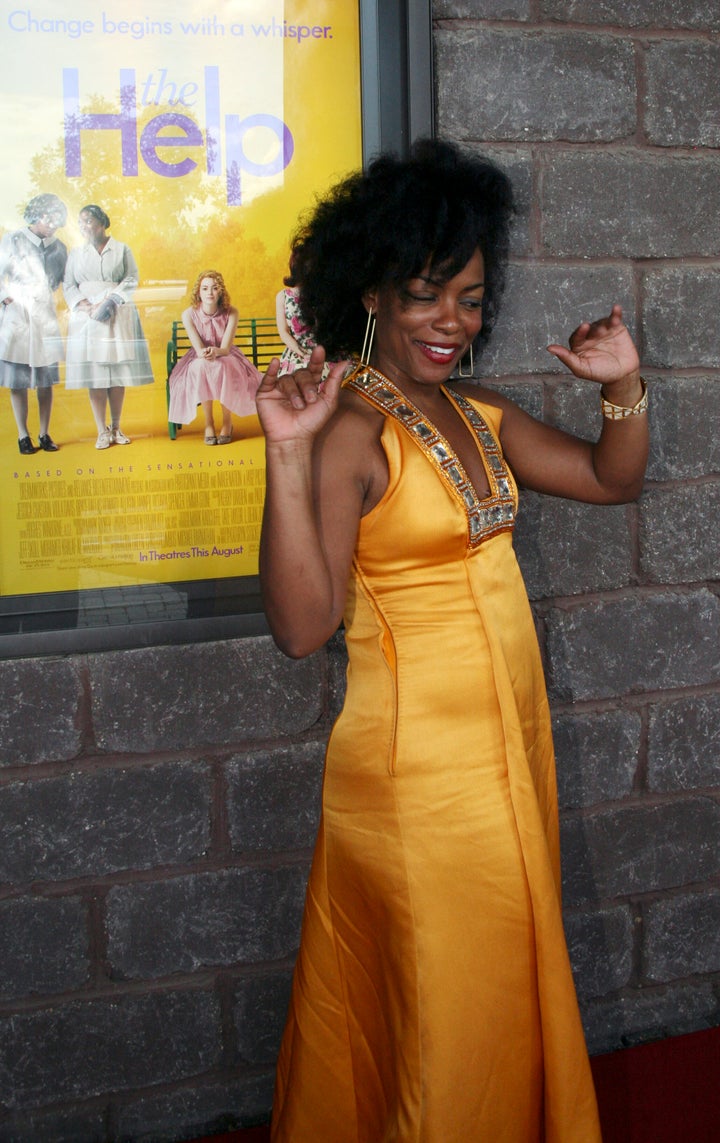 There has been a lot of talk about The Help, the screen adaptation of Kathryn Stockett's runaway No. 1 New York Times best-selling debut novel. The book takes place in 1960s Jackson, Mississippi, the cradle of some of the most virulent racial episodes of the civil rights era, including the brutal murder of civil rights activist Medgar Evers. While the story doesn't shy away from the intensity of the era, the book examines the relationships between black maids and the white women that employ them. Author Stockett was born and raised in Jackson, and the book is said to be based on a remembrance of her own family's maid, Demetrie.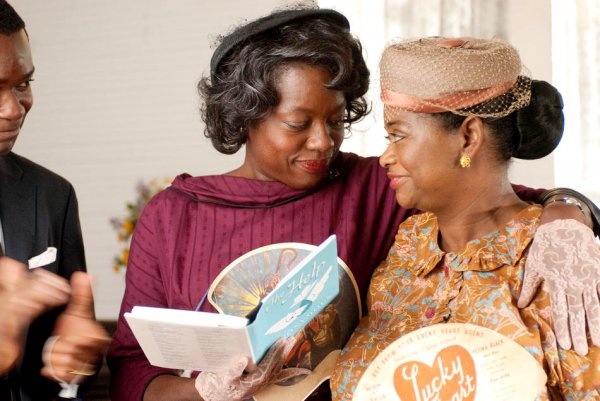 When it was announced that Viola Davis (above, left), the two-time Tony Award winner and Oscar-nominated actress, would play the pivotal role of the maid Aibileen, I knew I would see the film. Davis, in my opinion, is one of the best actresses working today, African-American or otherwise. As more casting was announced, my interest piqued even more, as the film was developing into a real showcase for an interesting mix of notable veteran actresses (Davis, Oscar winner Sissy Spacek, Oscar nominee Cicely Tyson, Emmy winner Allison Janney) and a much-buzzed-about group of up-and-coming Hollywood "It" girls (Emma Stone, Bryce Dallas Howard, Jessica Chastain).
Written for the screen and directed by Tate Taylor, a friend of the author and fellow Mississippian, The Help stays faithful to the novel to a large degree. Eugenia "Skeeter" Phelan (Stone; below, left) has just graduated from Ole Miss and has returned home to live with her parents, but instead of husband hunting, she is focused on pursuing a career in journalism. Skeeter is also devastated to learn that their maid, Constantine, who basically raised her and whom she adores, has mysteriously disappeared and no one will tell her why.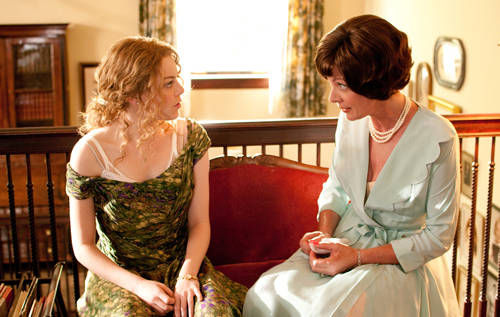 Aibileen (Davis) has been a maid her entire life, during which she has raised 17 white children of her various employers, and one of her own, a son, who sadly died in a work-related accident (or at least that's what she was told). After her son's death, it is as if a piece of her went with him; living life for her is just going through the motions.
The weight of Aibileen's spirit is evident from her first moments on screen. Davis is an actress of great power and subtlety; she carries the burdens of her characters and steps fully into the lives they lead, much like she did in her Oscar-nominated turn in Doubt.
Aibileen's best friend, Minny, played to perfection by comedic actress Octavia Spencer (for whom Oscar buzz has already started), is one of the story's more interesting characters. Another lifelong maid, Minny has a reputation as the best cook in Mississippi, but also as one of the sassiest mouths in the Magnolia State -- which has gotten her fired from several jobs. Yet, somehow she balances finding new employment, raising her own brood of children and dealing with an alcoholic, abusive husband. Minny's sass and strength are refreshing, often humorous and elicited more than a few grunts of acknowledgment and agreement in the mostly female audience that was present when I saw the film.
Skeeter, curious about how black maids feel about their employers and the work that they do, approaches Aibileen about telling her stories for a book project, which the fearful maid initially declines. But as racial episodes continue to rear their increasingly ugly heads, Aibileen becomes more courageous. Sharing her stories becomes a healing process for her; she even discovers her own writing talent. One of the film's most amazing moments occurs when, following the Medgar Evers murder, several of the other maids in Aibileen and Minny's circle decide to help Skeeter with the book, sharing their own stories of working in white homes -- stories both joyful and sad.
The white Jesus on the wall in Aibileen's humble home, a place of honor next to a photo of her deceased beloved son, underscores the amazing conflicts of everyday life in 1960s Mississippi -- black maids working in white homes, where they raise and nurture the children, clean house and cook the meals, but are not good enough to use the same bathrooms as their employers, or be trusted not to steal the silver they so diligently polish.
Although the early parts of the film move slowly, it radiates powerful female energy. One feels that the men are merely accessories in this faux idyllic southern land of sweet tea, sprayed hair, cotton bales and rigid racial and societal role-play. Once the maids begin to tell their stories, it humanizes them. You begin to see them as real people, with fully formed thoughts and emotions, and not just background players to their white employers' lives.

The Help opens nationwide on August 10, 2011.

Popular in the Community