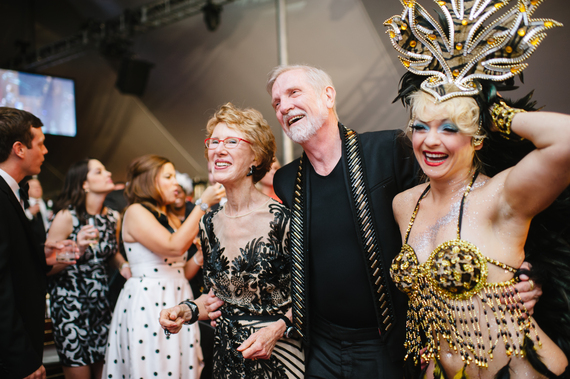 A woman steps into the spotlight. An eager crowd watches in awe as she proceeds to swallow roughly a foot-and-a-half-long table leg. With a tight red leather dress hugging her curves, she gestures toward the black-tie clad audience, encouraging applause for her pseudo-digestive antics. An entire third of a three-legged, silver table is still inside of her body. I'm thinking most people are in shock more than anything else, and I can't help but stare transfixed along with them, even though I've seen the act performed before. Jaws remain dropped. But, really, this is not unusual for anyone familiar with the types of parties I throw. The way I see it, a Derby eve celebration begs this kind of spectacle.
Gonzo journalist Hunter S. Thompson famously described the Kentucky Derby as "decadent and depraved." No doubt the decadence is alive and well. For those who don't know much about the Kentucky Derby, it's important to mention this is a weekend known for celebrating everything we love about Kentucky, without any kind of restraint. The first weekend in May brings together celebrities, politicians and business tycoons for a weekend of glamour, bourbon, and the best Southern Hospitality our fair city can offer. Of course, there are a couple of high stakes horse races too - the Oaks race for the fillies on Friday, and the most famous two minutes in sports, The Kentucky Derby on Saturday - but when the sun goes down over our Old Kentucky Home, the real fun begins.
As for the aforementioned depravity, needless to say, Derby weekend makes for an ideal setting to throw one heck of a party. But all the indulgence has a cause - helping some incredible local charities that work tirelessly to benefit our community. This year my wife Laura Lee Brown and I teamed up with fellow Kentucky natives Junior and Doris Bridgeman to create a new, completely over-the-top Derby eve event. When the idea was first conceived to merge the two great parties we had each thrown independently of each other in years prior, we knew we could create something very special. While the party setting - our own historic Hermitage Farm - was certainly picturesque, the night's action was more than you could ever imagine.
Sometimes shocking, often surreal - I wanted to make the event something all of the Derby VIPs had never seen before. (No small feat after throwing nearly a decade of Derby night bashes at 21c Museum Hotel in downtown Louisville.) At the entrance we literally rolled out the red carpet and blanketed it with over forty thousand red rose petals, a nod to the Garland of Roses bestowed upon each year's Derby-winning horse.
Celebrities and guests were welcomed in by two Green Rabbit sculptures, each the size of a large truck. The massive sculptures, crafted by the Cracking Art Group out of Italy, stood as the inanimate heralds of the party, showing people that they were about to enter into a new world.
Guests then found themselves in what I overheard some calling the largest tent they had ever seen. As people walked into the main ballroom, they were welcomed by a bejeweled headless horse statue, a piece by artist Andréa Stanislav called The Vanishing Point, which seemed appropriate given the equestrian theme of the weekend. We designed the event with a series of secondary tents, one of which held a VIP area with a checkered floor and walls covered in various artworks, one of which was a sketched depiction of the actor Willem Dafoe by the Romanian artist Levente Herman, from his "Facebook Portraits" series.
The entertainment for the party included comedic performances by Chris Rock, who opened the event, followed by Martin Lawrence acting as emcee for the night's musical performances by Darius Rucker, Ne-Yo, and DJ Cassidy. While the usual dancing and merriment ensued, something magical was in the air. In the same fields that grew some of thoroughbreds' finest, a truly transformative experience took place.
I think it's needless to say the inaugural Hermitage Grand Gala will stand out in the minds of our guests for many years to come. The party took people far outside of their "normal" and into an alternate realm where the unimaginable, and sometimes shocking, is real. When you come out on the other side of my parties, I want you to look back and feel like you've just departed a waking dream. Anything else is too ordinary, in my opinion.
Popular in the Community