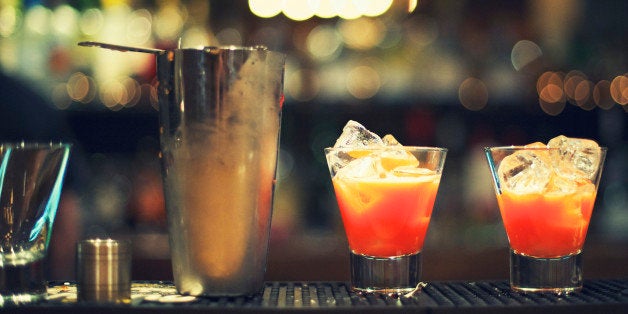 Unmarked doors that lead to mysterious corridors, secret cocktail lounges hidden inside restaurants, blue lights that act as signals: welcome to the world of hidden bars in the nation's capital. In the heyday of prohibition, D.C. was rumored to have over 3,000 speakeasies catering to everyone from the libation loving lowbrows, to the pearl-drenched elite. Nowadays covert bars are making a silent comeback. However, in a city known for keeping things confidential, you're going to need an in. Here's your guide to drinking undercover in Washington, D.C..
Harold Black
Faint lighting, antique bookshelves and secluded alcoves make this the perfect rendezvous point for a romantic tryst.
The Details:
214 7th St SE, Washington, D.C.
202-540-0459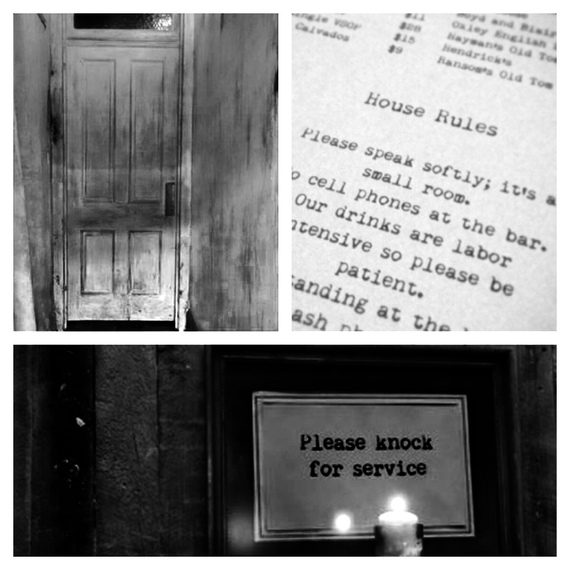 Yes, you can ask directions from the host at the Italian restaurant next door, but where's the fun in that? Channel your inner Sherlock and find the nondescript wooden door to the left of the entrance to Aqua Al 2. Emboldened by your sleuthing skills, open it, go up the stairs, and down the corridor to find another sliding wooden door on the left. Welcome to this intoxicating land of libations.
When this 28-seat bar first opened owners kept the number private with hopes that it would be dispersed organically. However, when the local press published the number (this is why we can't have nice things) the jig was up. Now guests can book a table the original way, by texting the number listed above, or they can reserve online. While the ambience is certainly worthy of Instagram documentation, do remember the house rules: no flash photography, no cell phones at the bar and soft voices are de rigueur.
The ever-changing cocktail menu is a delightful amalgamation of old standards and new favorites. Try the blossomy Beneath the Salt, a deliciously sharp concoction made with Cynar, an Italian bitter made with 13 herbs and plants, and finished fleur de sel.
PX Lounge
Craft cocktails in the poshest of settings make this a speakeasy for the upper crust.
The details:
728 King Street - Alexandria, VA 22314
703-299-8385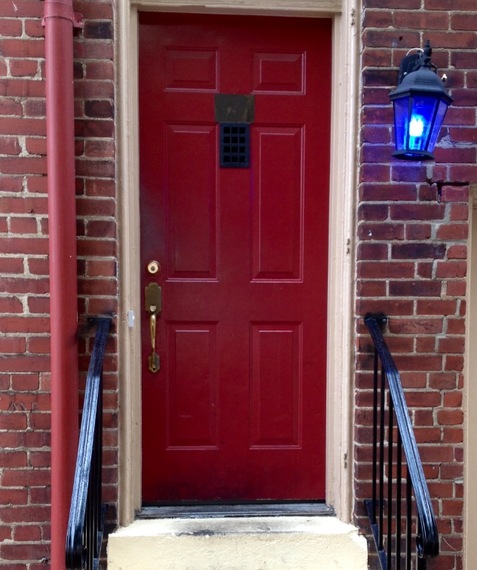 Nary a sign is to be found at the corner of Columbus and King Street just across the river from D.C., in Arlington, Virginia. Take heart and look for the glowing blue light next to an unmarked red door and buzz the doorbell for entry.
Gone are the days of private numbers, after all PX has established quite the cult following since opening in 2006. Reservations are only accepted online and the bar's decadent atmosphere is supported by its strict dress-code. Flip-flops, shorts, tanks and hats - yes, even that amazing Corina Haywood cloche - are not allowed.
PX's cocktail menu serves merely as a suggestion, but the story behind many of the drink's names are worth inquiring about. Oh My God Maria's Leg is on Fire was inspired by the time star bartender Todd Thrasher's wife sat a little too close to the fire on a camping trip. It's made with Maker's Mark whiskey, Cherry Heering and -of course-charred bitter oranges.
The place:
Columbia Room
Influenced by traditional Japanese cocktail bars, this intimate 10-seat space is a veritable event, not merely a destination.
The Details:
1021 7th St. NW, Washington, D.C. 20001
202-393-0336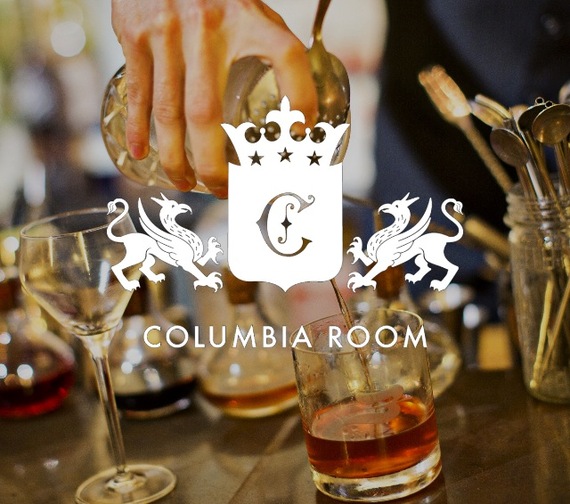 Photo Courtesy: Columbia Room
Hidden in plain site is the best way to describe this most hospitable of cocktails bars. Tucked away in the back of the Passenger bar is a door which leads to this secluded and peaceful retreat. Ask the host at the main entrance to seat you.
Reservations are required for Columbia Room's intimate prix-fixe drink tasting menu and can be made online. Guests are welcomed with an opening drink and then shown how to craft the perfect signature cocktail of the evening. The third drink is guests' choice and the right time to disclose your undying devotion to Chartreuse.
You can't go wrong at this cocktail cockaigne which has been named best bar by Food & Wine, GQ, Bon Appetit and USA Today. Bartender Matt Ficke focuses on drinks inspired by classics like the Getaway, a take on the standard daiquiri, made with Black Strap Rum, lemon, sugar and Cynar, a bitter Italian liqueur flavored with artichokes. "It's an original cocktail, blending ingredients from very different drinking cultures which gives it a totally distinct flavor."
2 Birds 1 Stone
This whitewashed, 60-seat establishment is the epitome of chill; catering to those who seek perfectly crafted cocktails without the pretension.
The details:
1800 14th St NW, Washington, D.C. 20009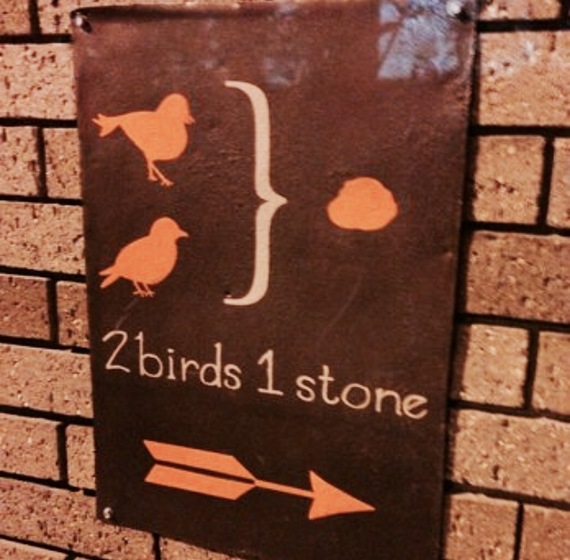 The staircase down to this lounge is located just off bustling 14th street behind Doi Moi, on S. Street. Look for the gold plated sign to know you've arrived.
Reservations are not required at this come as you are lounge. The space invites patrons to perceive it as they wish: a hip bar, a secret place, a neighborhood gem. However, what's not up for interpretation is the staff's dedication to creating perfectly executed drinks.
Bar director Adam Bernbach is perhaps just as famous for his potent concoctions as he is for his hand-drawn menus. Ponder the meaning off it all as your peruse his menu of seasonal rotating cocktails and the punch du jour. Can't make up your mind? Talk to the staff for recommendation's catered to your personal taste, or don't be afraid to ask for a glass of wine. In tightly wound D.C. a bar this approachable is a welcome respite.
The Gibson
Dim lighting, hidden booths and a mysterious entrance add to the appeal of this perfect rendezvous spot.
2009 14th St NW, Washington, D.C. 20009
202-232-2156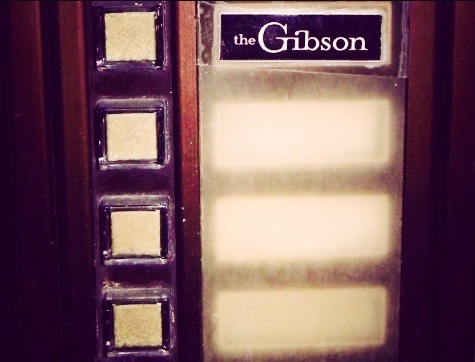 Look for the inconspicuous black door to the left of the entrance to Marvin.
Call ahead for weekend reservations. The upstairs lounge is obliging to groups but for a truly intoxicating evening, ask for one of the intimate booths on the first floor. Leave the shorts and flip-flops at home, after all Gibson's seductive ambience practically begs for drop-waist dresses and long strands of pearls.
The cocktail list rotates seasonally with mirthful drink titles like the Seductions of Brazil, Let's Play Musical Bartenders and Nailed in a Room made with house-infused Oxley gin, grapefruit juice and aromatic bitters. In the mood to heat things up? Try one of their warmed cocktails like the Heated Discussions, made with Appleton rum, Mezcal, Allspice Dram and lemon juice. Swoon.
Related
Popular in the Community