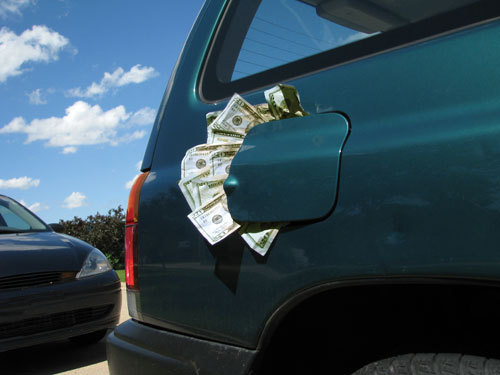 Photo credit: Mike Johnson
If you look online you'll likely be impressed with the rental car rates in Mexico: $6 a day, $8 a day, and even less than $20 a day for an SUV. It seems perfect.
But, you know what they say about deals that sound too good to be true.
Renting a car in Mexico is far from what it appears to be on the web. You're likely to pay at least double (most often triple) the price advertised online.
In this post, I'll show you how to calculate the true cost of your car rental in Mexico.
First, you need to understand the hidden cost.
The scam starts online. Discount travel sites show you incredible prices of less than $10 a day.
If you ask your car insurance provider to make sure you're covered in Mexico, they'll likely tell you that you are covered, and even better, your major travel credit card offers extra protection.
When you get off the plane and walk to the counter of the car rental company, everything will appear to be going as planned. Then they tell you that you need to purchase mandatory liability insurance.
Mandatory Basic Personal Liability Insurance:
All car rental companies in Mexico require you to purchase basic personal liability insurance, which is, at it's cheapest, about $20 per day. This is the insurance that covers the damage you cause to another person, building, or their vehicle.
You can bring a copy of your Geico policy from home, or even the fine details of what your credit card company covers, but you'll still be forced to fork over the money for liability insurance before you receive the keys to your rental car.
Discount travel sites like Hotwire, Kayak and Orbitz don't warn shoppers about the insurance, so it's likely you'll see a line of angry tourists in front of you arguing about the very same policies and either shelling out three-times the amount of money they expected, or slamming the door as they storm out of the rental office to hail a cab.
How to Avoid Disappointment and Stay Safe:
Don't be completely discouraged. The places you can visit in your rental car that can't be reached by bus or taxi are some of the best in Mexico. Many of Mazatlan's best activities and attractions, for example, can be reached by public transit.
Check with your U.S. car insurance company and your major credit card, so you know what types of insurance they cover. They can help you to avoid spending more on insurance from the car rental company than you have to.
Familiarize yourself with the real prices of a rental car in Mexico are before you book a reservation (roughly $30 a day for an "economy" vehicle), and use that price when budgeting for your trip.
Keep your U.S. insurance policy in the vehicle's glove box as well as the basic personal liability insurance you purchase from the company.
Be careful of airport fees and rent away from the airport if possible. Companies increase the rental price by 10 percent if they are located near an airport or give you a ride to or from an airport.
While driving in Mexico is very similar to driving in the U.S. or Canada, it's important to drive with caution. Signage is very limited and even the locals will tell you, "Don't drive at night."