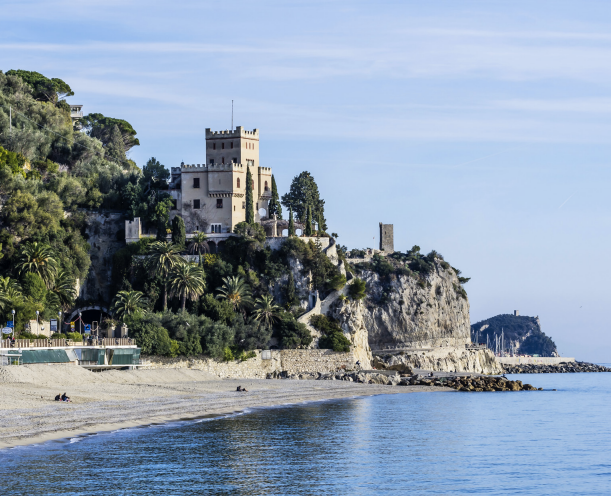 West of Rome is the title of a famous book of novellas by John Fante. "West of Genoa" is the byword of lovers of the Riviera di Ponente, the western end stretching from Genoa to the French border. This is a varied stretch of coast with seaside towns that are less well known than those of the more famous Levante (the eastern end with Cinque Terre and Portofino), but it is dotted with villages and beaches worth discovering. The most prominent names are Ventimiglia and San Remo, cities that attract people to the far west coast with the rather blasé atmosphere of their family jewels. A top name is Villa Hanbury in Ventimiglia (Corso Montecarlo 43, tel. +39 0184 229507), with nearly 45 acres of botanical gardens that inspired Italo Calvino to write his most famous novel, The Baron in the Trees. As early as 1912 Villa Hanbury had an inventory of nearly 6,000 botanical species, nearly all of which tropical or subtropical. And it has pergolas, avenues and a stretch of the ancient Roman road, plus a view of the sea as a background. In turn, San Remo responds with the Municipal Casino (Corso degli Inglesi 18, tel. +39 0184 5951), a majestic Art Nouveau building opened in 1905, initially as a ballroom and place for receptions and shows.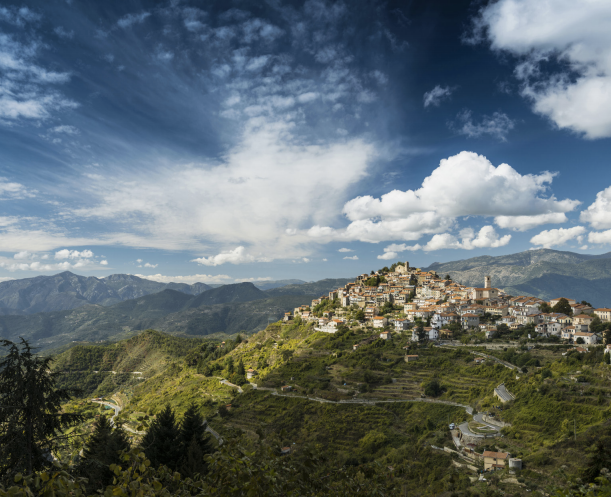 In the first decade of the twentieth century it officially became a betting venue, and even now it emanates an aura of grandeur with a SECRET ADRESSES by Laura Taccani Photos Getty Images FOR RIVIERA LOVERS somewhat decadent air: a place definitely worth exploring. After these more famous names, the Ponente area to discover is composed of fishing villages, gulfs with turquoise water, and surprising towns in the inland area. Dolceacqua, in the province of Imperia, is the perfect example of a medieval village that developed along the Nervia creek in the valley by the same name. Claude Monet stopped here during a trip to the Ponente and was bewitched by the place, which was the subject of several paintings. A church from the eleventh century and another one built in the fifteenth are must-see monuments, along with a castle founded in the 1200s. All around the landscape by the sea is a series of hills and mountains, cultivated with Liguria's famous terracing of olive and citrus groves. When it comes to citrus fruit, chinotto— myrtle-leaf sour orange—is typical of the Savona area.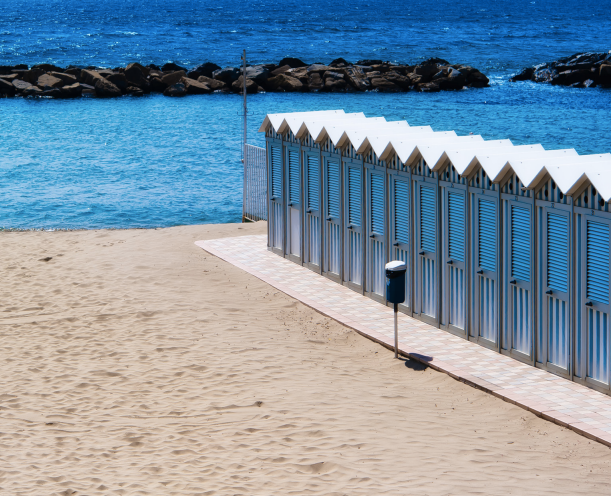 It is used to make a rather bitter but thirst-quenching beverage, and it would be unseemly not to try it at least once on a hot afternoon on the beach. Heading eastward, we come to towns like Alassio, Albenga and Finale Ligure, lively places full of restaurants, shops and cafés. Noli, just before Savona, is a lovely town. Between the late twelfth century and the end of the eighteenth it was the capital of a maritime republic, and it still has a castle, several towers and numerous buildings evoking its illustrious past. History aside, what counts is that in the summer this is the gulf that always has the most "blue-flag" beaches, guaranteeing environmental quality. So go ahead and dive in.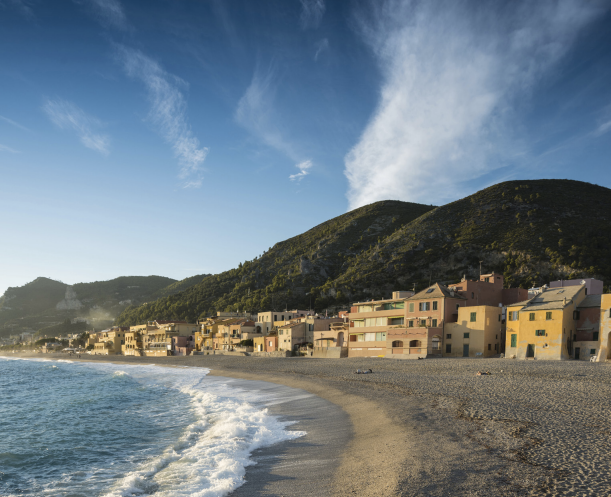 HOTEL B&B VILLA SALVAREZZA
Via Vescovado 7, Noli tel. +39 019 7490192
In the heart of town, under one of its symbolic towers, an ancient villa has been transformed into a little temple of Italian hospitality. The setting is simple but shows great attention to detail, top-quality service and a friendly welcome. It is well known for its buffet breakfast that can be enjoyed in the garden protected by the walls of the castle, which extend down to the town.
Via Polupice 1, Finale Ligure tel. +39 019 693289
You take an alley alongside the cathedral and suddenly you come to the door of this little trattoria, where you can try traditional Ligurian cuisine. It offers typical local stuffed pasta—pansotti—as well as vegetable pies and fish.
Via Patrioti Martiri 33, Dolceacqua tel. +39 0184 206923
In this cozy atmosphere that can seat a maximum of forty people, follow the waiter's advice about local dishes, especially fish and pasta.