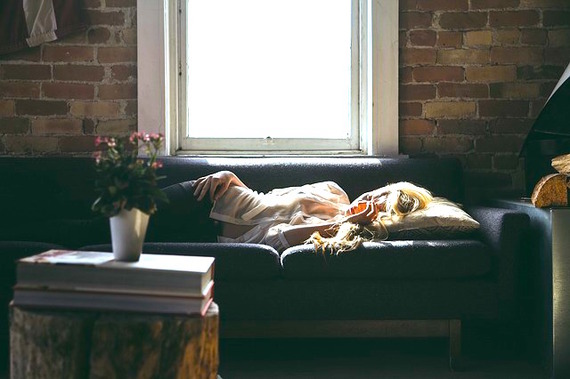 Fatigue was never an issue for me. But that was until the day I woke up and couldn't get out of bed.
I have to admit there were signs. An occasional headache that became daily norm, a mood that was all over the place, tiredness that never left me. I was irritable most of the time and started dragging my feet before heading to work. For someone who loved what she did, that, caught my attention. Have you ever ignored hints that something is going on in your life until the billboard falls on your head?
For some people fatigue develops gradually and can later coexist in a shady relationship with other health conditions. Not with me. On Monday, May 13, 2013, I went to bed, the moody, "normal" me. Next thing I knew I woke up feeling as if a truck had it me, and kept hitting. All. Night. Long. There was no getting out of bed for me that day, nor for the following 6 months.
My recovery took well over a year. It was painful, chaotic, sometimes despairing. Never had I felt my body "abandoning" me to that degree. Being self employed meant that I wasn't getting paid while taking time off and I had no idea if I were to be home bound for long. Worse, I wasn't even sure whether I would be able to ever get back to work. Doctors had no clue of what to do with me and my own research wasn't being helpful.
Looking back I am able to see the power of that one year journey. It was profound, transformative and life changing. My diet needed a reboot and so did my sleep schedule. But mostly, my life begged for an epic purging of the old to give space for the new.
So I ended up closing a successful business as a Pilates teacher in London and moved into a sunny island in the middle of the Atlantic. I was craving sun, warmth, sea, beautiful scenery, inspiration and time... Time to reevaluate who I was, what I needed and where my desires were hiding. Time to bond with my husband, my family and myself. Time for self-care. A bitter-sweet reminder that nature is more powerful than the schedules, diets and lifestyle I self impose. Further, the nature of feelings that are trapped proves stronger than the energy I spend to conceal them, and had I ever been trying to buffer uncomfortable emotions!
No amount of caffeine or energy boosting supplements will match the vitality, glow and natural source of energy I get from learning the needs of my body and psyche, and being in relationship with them.
Now I can smile and feel grateful for a body that wasn't abandoning me. Quite the opposite, my body was showing me how to live. Not via castrating standards, short-cutting time or attaining overwhelmingly large goals that weren't even my own. Not by draining my energy in buffering painful feelings and uncomfortable experiences. Instead, by developing the understanding of who is this person "Me." The wisdom that comes from learning what my body needs, what it likes, how it heals and what makes it thrive. This lesson taught me that energy isn't really gained from elsewhere. Rather, it is recycled from within me.
A question for you, the reader, to let simmer, where in yourself and in life can you use your energy better, or free the one that's been held?
Catarina Catarino coaches, teaches and host retreats in Pilates and Eating Psychology. Connect with her at catarinacatarino.com.