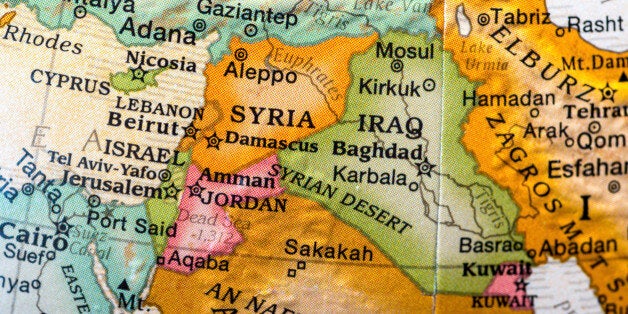 Each year on June 20th the United Nations invites organizations and people from around the world to celebrate World Refugee Day. This is an event that "honors the courage, strength and determination of women, men and children who are forced to flee their homeland under threat of persecution, conflict and violence." As I reflect upon this year's focus day, I remember my recent visit to Gaziantep, a Turkish city close to the Syrian border.
Gaziantep is approximately 61 miles from Aleppo, Syria, part of a UNESCO World Heritage site decimated by conflict fueled by Syrian President Bashar al Assad's government loyalists, backed by Russian airstrikes, and between various rebels fighting for freedom and vying for shifting frontlines. Gaziantep hosts more than 350 000 Syrian refugees in various urban centers, disturbingly trending upwards from the 280 000 documented in a Human Rights Watch report of 2015.
As a humanitarian and artist, part of my job is to take overwhelming statistics of tragedy and horror, and bring the numbers into focus. Each statistic represents a child, a woman, or man, with a compelling story and life. Each statistic represents a family, a journey, a life. Local NGOs working at the grassroots level such as Basmeh and Zeitooneh, a civil society organization started in 2012 run mostly by volunteers, are exemplary in this process. I was fortunate to spend a day at their community center in Gaziantep, interacting with the children enrolled there and the aforementioned volunteers who are also primarily refugees. They are making a quantifiable difference in the worst migrant crisis since World War II.
The center provides early education opportunities and psychosocial support for approximately 90 children and youth ranging from ages 6-18 (although most of the children that I met that day were approximately 6-10 years old). They are supported with activities related to theater, photography, visual arts, choral singing and literacy. The center provides a critical service, considering nearly two-thirds of Syrian refugee children are not enrolled in any formal education institutions. Most of the children and their families are also essentially stateless, forced into the underground economy as child laborers in order to sustain a living. I was informed about one particular youth who would bring a knife to the center as he regularly used it as protection at his afternoon job as a shoe shiner.
The children I met on that particular day were joyful, tightly bound to one other and exuberant in their play, seemingly unaffected by the horrors they came from. This is a testament to the effectiveness of the programming provided to them by Basmeh and Zeitooneh and its adjacent 6-month rehabilitation process. The manager told me that when some of children were first admitted they would only draw pictures with black crayons of headless bodies as that was their predominant experience in the ISIS controlled neighborhoods in Syria before fleeing. I subsequently snapped photos of what they were now producing. Their creations had transformed into beautiful and colorful paintings that stated their rights as a child, along with festive finger puppets to interact with each other and other pieces of art that typified the love they had for this safe space.
The brave women and men who work and volunteer at the center additionally have their own harrowing tales of escape, forced migration and resettlement in Gaziantep. Their pragmatic resignation to history resonated deeply within me. They were are all fully aware of the images that we have seen throughout this now five year conflict and understood that there is little hope for effective outside intervention. Despite this, they all continue to selflessly commit their energy into the next generation, embodied in the many children at this community center.
If we are going to give the appropriate gravitas and relevance to this year's World Refugee Day, then we must reaffirm each individual story, family and child that lives behind the overwhelming statistics. I can attest that the courage, strength and determination stated in the Convention relating to the Status of Refugees that we will celebrate on June 20th lives deeply resides in the Syrians I met in Gaziantep.
Calling all HuffPost superfans!
Sign up for membership to become a founding member and help shape HuffPost's next chapter