You probably wouldn't think twice about a 1% difference in price when buying shoes. But when choosing among online stock brokers, that 1% siphoned from your account year after year may swipe $500,000 or more from your retirement savings.

That's the findings from a NerdWallet study into the true cost of investment fees, which shows how small decisions regarding fees can open large holes over time in your investing portfolio.

This is especially true for millennials. When it comes to online stock broker fees, time is at once on their side and working against them. Why? Compound interest is a double-edged sword. For young investors, time gives them an advantage to reap long-term gains, but it also swells the impact of fees.

Double blow of fees on retirement savings

The one-two punch of fees hits this way: As an investor's retirement savings grow, so do fees, which are typically based on a percentage of assets invested in vehicles like mutual funds and exchange-traded funds, or ETFs. Every dollar taken out to cover management costs is one dollar less that can be invested for compound growth. Over time, that takes a toll.

The study looked at different investment scenarios for a 25-year-old who has $25,000 in a retirement account, adds $10,000 every year and earns a 7% average annual return.

Investing in a mid-cap mutual fund in which an investor pays 1.02% of the portfolio's value annually in fees -- an expense ratio that is below average for funds in this class, according to fund-tracker Morningstar -- would grow to $1.77 million over 40 years. Not bad, right?

But over time, the impact of compounding fees wipes away a hefty chunk of savings. In all, over the course of four decades, fees would chew up $592,000 from the total amount.

One way to retire $533,000 richer

Another way to look at this phenomenon is comparing an actively managed mid-cap fund, which will have higher fees, to a low-fee ETF with a similar exposure to midsize firms. The biggest difference is that the ETF has fees of 0.09% -- about one-tenth what the actively managed fund charges.

Choosing a lower-cost ETF, a millennial would retire with $2.3 million versus $1.77 million. The actively managed fund with its 1% in fees would wipe away 25% of the total value over 40 years. The ETF fees, meanwhile, would erode only 2.5% of its value.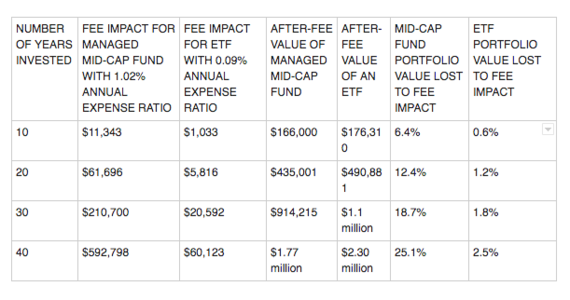 A single mutual fund or ETF does not a well-balanced retirement portfolio make. The wise investor has a balance of asset classes to hedge against market valleys and peaks. But the comparison is useful to underline the long-term impact of fees when shopping for an online stock broker or a managed portfolio.

Find that fee

The DIY investor is the fastest-growing segment of investing and skews millennial. In other words, there are a lot more people self-directing their investments, and the demographics suggest their numbers will only rise.

If you're thinking about joining the trend, here are some resources to kick start that process:

My colleague Arielle O'Shea penned this excellent primer, "Understand Investment Fees." If you want to know your brokerage commissions from your sales loads, this is a good place to start.
The Financial Industry Regulatory Authority provides this Fund Analyzer tool that lets you sift through 18,000 mutual funds, ETFs and exchange traded notes. The tool estimates the impact of fees and expenses on your investments and lets you look up available discounts.
A common time to take a close look at fees is when you leave one employer's 401(k) plan for another. In partnership with FeeX, NerdWallet's 401(k) fee analyzer helps hunt for lower-fee alternatives when you roll over retirement funds from former employers.
Kevin Voigt is a staff writer at NerdWallet, a personal finance website. Email: Kevin@nerdwallet.com. Twitter: @kevinvoigt.
Calling all HuffPost superfans!
Sign up for membership to become a founding member and help shape HuffPost's next chapter