Campaign letters are always at least a little comic -- the faux-personal tone, the formal-informal style, the beggarliness. There are also the "artful" decisions made by the authors that are fun to explore for hidden meanings.
Hillary's latest dispatch to her supporters is a gem. Her campaign is over, the thrill of future campaign-related possibilities long past, and yet she is forced to continue asking for cash. The word "help" is plastered all over the thing, the smell of bad management rising from the text. One particularly pained passage makes the campaign seem like a shamefaced mutt who has left an unwanted deposit on the kitchen floor for the family to clean up.
"There's something else -- less endearing and I hope less enduring -- that our campaign has left behind: our substantial campaign debt."
Yuck.
There is also the decision to leave off entirely the name of the man Hillary is going to be campaigning for beginning Friday, the man now at the center of the "fight she believes in" and the "cause" she "believes deeply in" and the "next phase" of the "journey" she's embarking on and the "cause" again she wants to advance and maybe even one of the people she wants to "advocate alongside."
Or maybe not. The need to not offend in order to raise the cash to clean up the debt has left Hillary inarticulate. What's the real message of this letter?
"The Democratic party is my cause, of course, as is the Democratic president, the name of whom, however, I can not bear to write."
or
"My true cause above all is you, dear Hillary supporters, no matter what I say -- and you know that and so, ha, I don't have to say it!"
or
"Even if you hate hate hate Barack Obama, don't hate me, still love me, always, and show that love by sending me money, please. And for that, I won't mention his name!"
Enjoy!
Dear X,

I made a promise to you, and I intend to keep it.

I told you that if you stood up for me, I would always stand up for you. You did more for me than I could have ever imagined, and I'm going to keep my end of the bargain and keep fighting for what we believe in -- in the Senate and on the campaign trail, helping to elect a new Democratic president and a bigger Democratic majority in Congress.

That relationship will endure thanks to the remarkable journey you and I have shared. But there's something else -- less endearing and I hope less enduring -- that our campaign has left behind: our substantial campaign debt.

I'm so grateful for all you've done for me -- all the ways you have given your time, energy, and financial resources. But today I am asking once again for your help ridding our campaign of debt so we can keep fighting together.

Contribute today to help us reduce our campaign debt.

As you know, I had to loan money to my campaign at critical moments. I'm not asking for anyone's help to pay that back. That was my investment and my commitment because I believe so deeply in our cause.

But I do need your help paying the debts we accrued to others over the course of this campaign. We put everything we had into winning this race, and we came just about as close as you can.

I will never regret the energy, effort, and passion we put into one of the closest and most expensive primary contests in history. But I need your help to move on to the next phase of our journey together.

Your contribution today will help us pay down our campaign debt.

You've done so much for me over the past 17 months, and I can never thank you enough. But I hope you know how much I appreciate everything you put into our campaign.

Sincerely,
Hillary
Hillary Rodham Clinton

P.S. Everywhere I go, people tell me what a big difference our campaign has made in their lives. Let's keep working together throughout 2008 and beyond to advance the causes we believe in and to advocate alongside people whose voices need to be heard.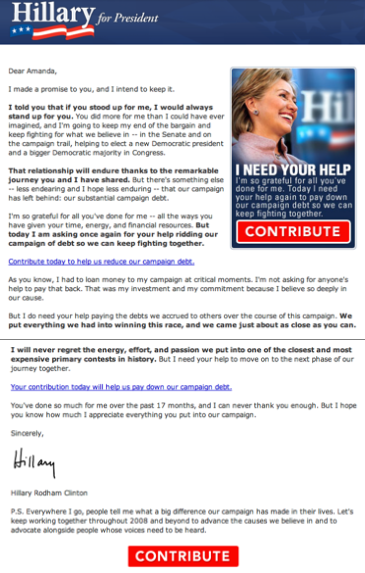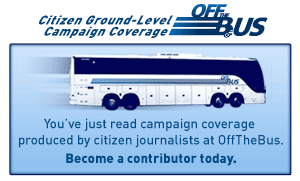 Calling all HuffPost superfans!
Sign up for membership to become a founding member and help shape HuffPost's next chapter