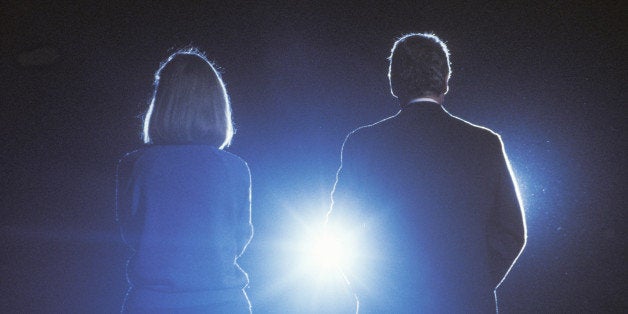 In the past few months, there has been a distinct buzz about a generation gap among women in supporting Hillary's run for president (this story line has appeared in Politico, The Blaze, The Daily Beast, and last Sunday's NY Times, among many other places). Generally the stories ask the same thematic question: why don't young women want to vote for Hillary when their mothers do?

This storyline is flawed for several reasons. First and perhaps most importantly, the comparison data are being used incorrectly. Comparing young to older women does not make much sense poll-wise; young people (not just young women) tend to be anti-establishment.

Young people are on the whole usually for the anti-establishment candidate; think of those who "went green for Gene" in the McCarthy 1968 campaign to challenge then-president Lyndon B. Johnson. Think of who supported George McGovern over Ed Muskie. Bill Clinton won over young people in 1992 when he was "cool" enough to play saxophone on the Arsenio Hall show (making himself look the outsider in multiple ways). Even the 2008 success of Obama over Hillary can be traced to young people supporting the outsider.

Women are usually the outsiders in political races due to their difference from the male norm in politics, but in Hillary's case, her last name trumps her gender. Because of her political experience (both elected and non), she looks like the establishment candidate here, and young people seek out something different; hence Bernie's appeal.

Young people, both men and women, prefer Bernie to Hillary -- but they also say that they prefer the White House to remain in Democratic hands, suggesting that once Hillary wins the primary, they will indeed vote for her. (And the gap between Bernie and Hillary is not actually very high among millennials -- it was only a few percentage points, which may be statistically-significant in a large enough sample, but does not mean much substantively, especially not this far from the actual election.)

Secondly, millennial voters have a lot of good reasons to be anti-establishment right now. Not only are they interested in anti-establishment candidates, but they are pretty negative about politics in general (at least in its current electoral form). New research finds that few of them want to run for office, particularly young women, and especially young women of color, as they (generally accurately) perceive modern U.S. politics to be acrimonious, gridlocked, and focused on partisan point-scoring rather than helping people.

But this doesn't mean that young women are not feminists or that they can't see the potential of politics to be about solving collective problems rather than the horserace-style coverage of electioneering. Perhaps what we need is a renewed focus on Take Our Daughters to Work Day, which Marie Wilson started in 1993 under the theory (proposed by Marian Wright Edelman) that "we can't be what we can't see." Every day, thousands of elected women at all levels of government use politics to solve problems, help people, and make the world a better place, all goals widely and deeply felt by millennials; if more young women could see this, they might want to engage with current politics rather than seek to make a difference through entrepreneurship or nonprofit work.

Finally, even if young women do prefer Bernie to Hillary right now (and the poll data suggests this, albeit pretty weakly), this can change depending on what Hillary does and how the national conversation treats her over the next few months. Young women tend not to believe in discrimination -- until it rears its ugly head in their own lives and workplaces, or until they see it happen in undeniable ways. The fairly brutal sexism targeting Hillary in her 2008 campaign, but more particularly the ignorant male Republican comments on rape and abortion in the 2012 elections, can have the effect of awakening Millennial female understanding that, as the women's lib movement put it, the personal is political (still).

Hillary herself could make her run seem more historic by emphasizing how being a woman makes her different (and it does) -- a strategy she failed to take in 2008, probably to her campaign's detriment. How many young women today know that as a Senator in 2005, she was critical to pushing the FDA to approve letting Plan B (emergency contraception, also called "the morning after pill" be sold over the counter? How many know that she was largely responsible for popularizing the sentiment that women's rights are human rights while First Lady, at the Beijing UN Conference on Women in 1995?

This poll-driven obsession over a year before the real election is ridiculous. If Hillary becomes the nominee, as seems likely, young women will come out and vote for her. If she can take steps to remind young women that feminism is far from over, and that she understands the world differently because she is a woman, they may be even more likely to support her. Millennials are not dumb, and they are not anti-feminist - right now they just see Hillary as part of a broken political establishment. It is in large part up to her to fix that perception.
Popular in the Community