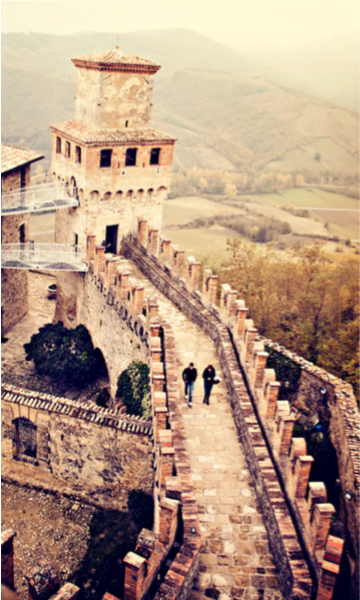 A big little secret: about 50 minutes from Milan by car, just after the bridge over the Po River and a short distance from Piacenza, the cities and their in nite suburbs end suddenly. And all at once a rolling, delightful and "real" countryside appears, inhabited and full of traditions, sometimes almost looking French, yet with a gloomy and almost medieval appearance.
The horizon is dotted with castles, farms and hills, all of which part of the sweeping view of the valleys of Piacenza, all different and each beloved by the litigious tribes of fans who chose one as their "personal" garden based on personal preferences in terms of landscape, food and, above all, wine. The area's traditional wines (Gutturnio, Ortrugo, Malvasia, Bonarda, Barbera Piacentino, Monterosso) have become nobler in recent years and, thanks to the work of farmers and vintners, they earned kudos for their genuineness but also elegance. Maybe they should be promoted more . . .
There are plenty of ideas. You can go from Val Tidone, dotted with medieval fortresses, to Val Luretta, now one of the favorite places of the Milanese in search of rural chic and stone farmhouses for their vacations. This is a small and rugged area with an Irish air to its verdant plateaus. From Val di Nure, already "contaminated" by the scents and view of Liguria and its stretch of the Apennines, to the more famous Trebbia valley, a paradise for rapids shooters and lovers of poetic historic villages, it is here that we can admire Bobbio, with its monastery built in 614 AD that soon became the cosmopolitan center of power and culture for the era, and its surreal Ponte del Diavolo, with eleven irregular arches.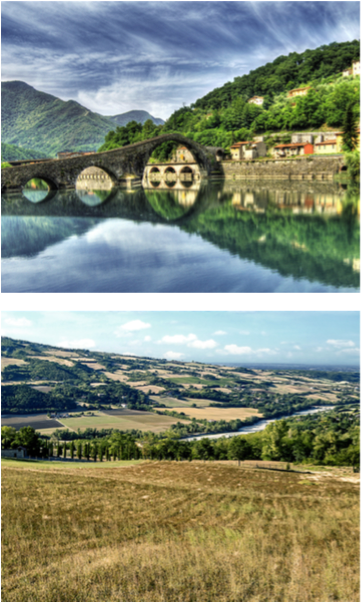 It was in Bobbio that Marco Bellocchio— who had a love-hate relationship with his birthplace— lmed his most rebellious lm, I pugni in tasca, in 1965. Between Bobbio and the nearby bucolic Val d'Aveto, now famous for its dairies producing cheese and yogurt that are the love of gourmets and enthusiasts of "real food," that Hemingway had one of his numerous Italian epiphanies. "I've just crossed the most beautiful valley in the world," he waxed in 1945 while working as a correspondent for the Allies.
The most rustic, truest and least cited valley is the Val d'Arda, which once hosted the Via Francigena crossed by pilgrims traveling to Rome. Full of places to see, from the magni cent town of Castell'Arquato, a favorite of the Visconti family, with vineyards that even enter the town center (it was here that Michelle Pfeiffer became Ladyhawke in the lm by the same name), to Vigoleno, considered one of Italy's most beautiful towns, and on to tiny Vigolo Marchese, boasting a Romanesque basilica and a baptistery thought to date back to the Byzantines (originally a pagan temple). But bear a few places in mind for the excellent value of some of their products. The wines from La Pusterla and the to-die- for cakes from Panetteria Perazzi (crostata di prunellata—a plum jam tart—and sbriciola), full of local butter and almonds from Vigolo; and then lunch at Trattoria Biasini, in Magnano di Carpaneto, where you'll eat the old-fashioned way, at a traditional farm and ordering in advance (+39 0523 850110) because the dishes here are slow and time-consuming to make. For unforgettable dishes, try culaccia (the best culatello from Parma, a delicious cold cut!), pasta with herbs, pheasant and dry Barbera wine served in a cup. Nearby, in Diolo di Lugagnano, a seventeenth- century home is now the holiday farm Al Cogn (tel. +39 334 1280976), where everything, even sweet-smelling old sage, comes from the courtyard next door.