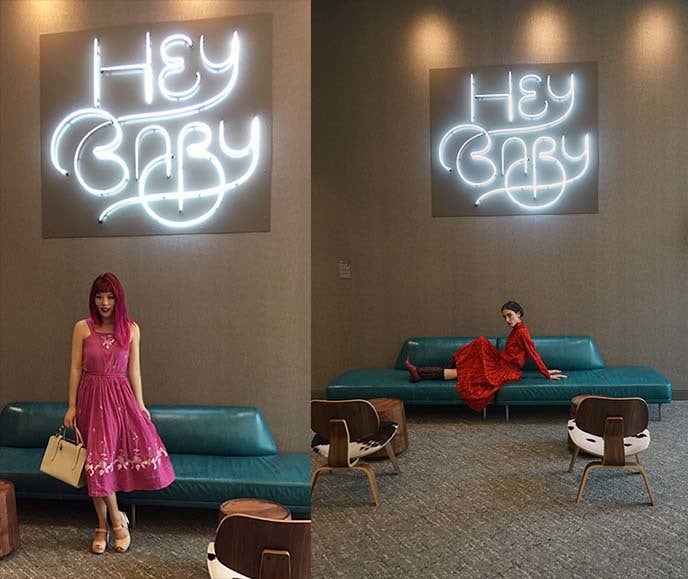 Austin, Texas has become an offbeat travel destination in recent decades. The city has a growing number of design-oriented boutique hotels and restaurants, which I discovered on my recent trip.
I dined in a 1920s pharmacy, drank cocktails at a mid-century poolside lounge, and got access to the mysterious "Floppy Disk Repair Co" that is actually a speakeasy bar.
Enjoy this guide to the hippest foodie destinations in Austin, a city that truly "keeps it weird."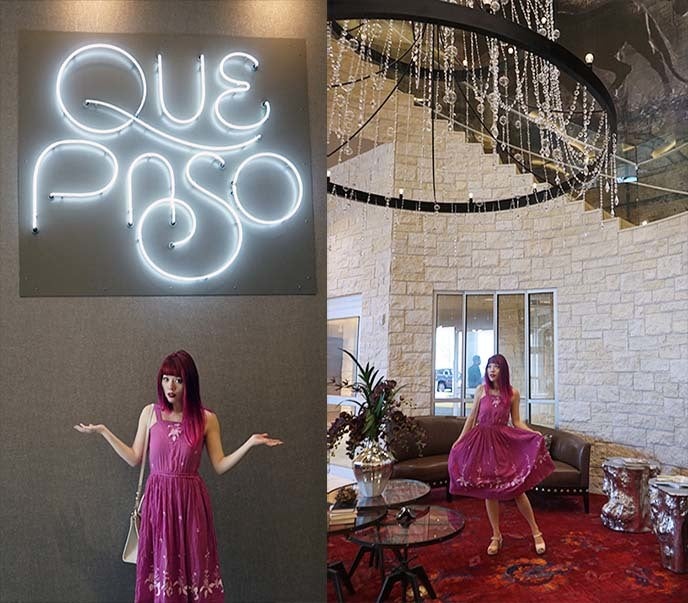 I was eager to stay at Archer Hotel after seeing photos of the mid-century modern meets Southwest decor. This new boutique hotel is located in the up-and-coming Domain Northside, and the interiors perfectly capture the laid-back, artistic vibe of Austin.
The Archer's lobby is filled with eclectic, modern Texan interiors such as cow skull pillows, and a glass ceiling marked with Lonestars. I enjoyed strolling around the north Austin neighborhood, which is lined with hipster shops and restaurants, and then coming back to the spacious rooms.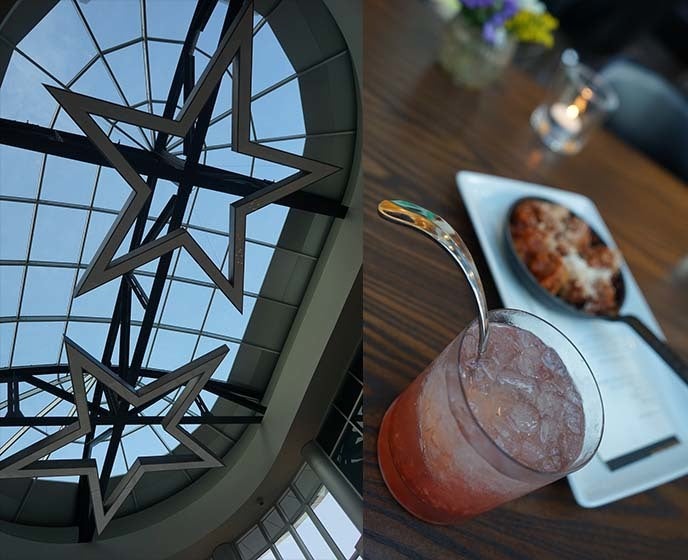 At Archer Hotel Austin, I dined at Second Bar + Kitchen, which also has a popular downtown location.The restaurant is run by Chef David Bull, and specializes in seasonal, local, casual fare that is perfect for sharing.
I started with the outstanding meatballs, and a unique gin cocktail with peach, honey and a scoop of jalapeno jam.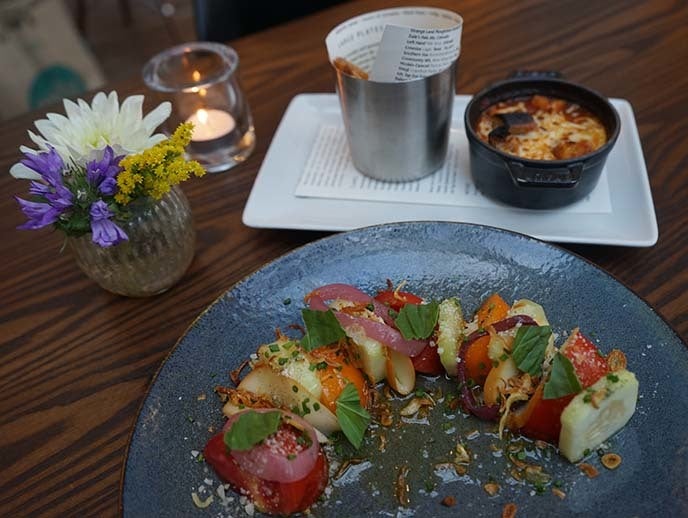 Our server offered off-menu selections, made fresh with the ingredients of the day. The Texan heirloom tomatoes with smoked cheddar were my favorite, as well as elevated comfort food such as pepperoni soup, pizza with blue cheese and pork, and grits with black truffles. I finished the meal with a "bite sized" blueberry tart, and two more cocktails: a Southern Bourbon Sour and Boilerplate Old Fashioned.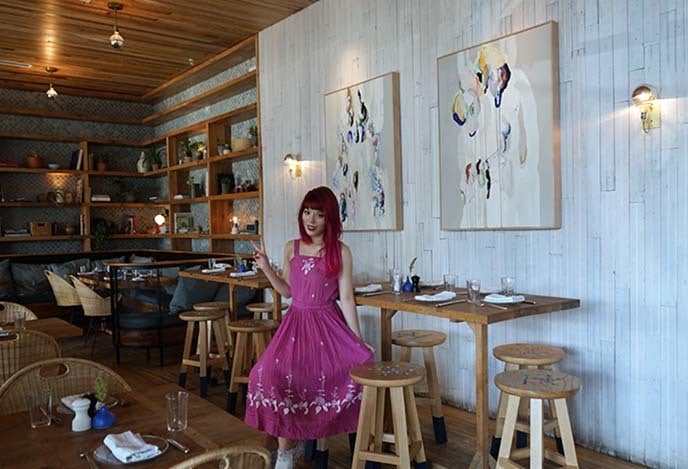 One of the hippest eateries on South Congress Avenue is Café No Sé, an all-day cafe. The eye-catching interior features whitewashed wood walls, accented by reclaimed wood furniture and vintage bookshelves. This airy, cozy space is ideal for brunch with a group of friends.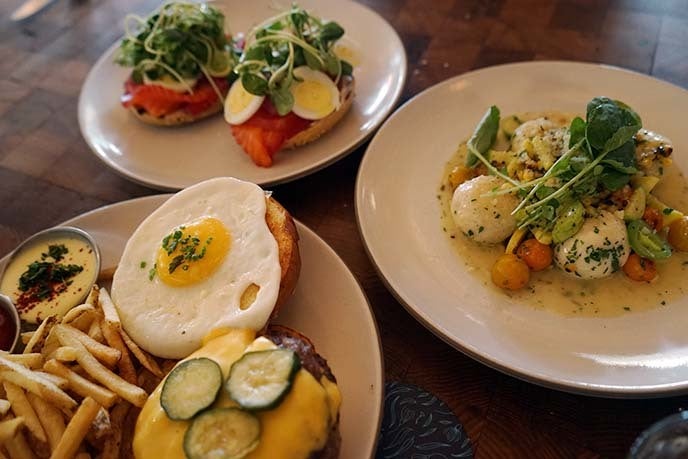 Café No Sé offers a seasonal breakfast, brunch and all-day menu, plus "All Day Rosé". The New American menu has hearty yet healthy selections, like hummus with kamut tabbouleh and laffa bread, and bigeye tuna poke with brown rice, pickled jalapeño and grapefruit.
Come to Cafe No Se for brunch favorites with a colorful twist, such as beet and horseradish-cured gravlax on a bagel, and ricotta gnudi (pasta dumplings) with charred corn, tomato and herbs.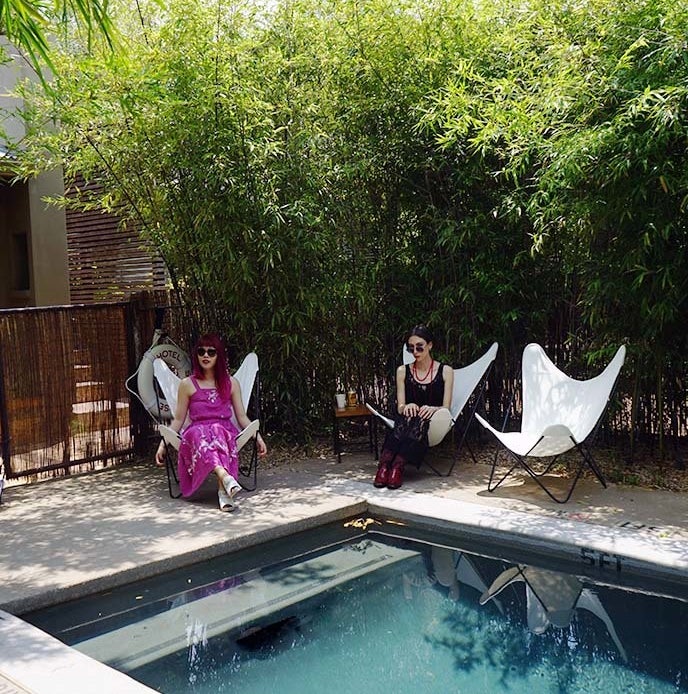 I'm a fan of sipping cocktails on a patio — and Hotel San José turned out to be my happy place in Austin. Bunkhouse founder and designer Liz Lambert transformed a motor lodge from the 1930s into a hip hotel in the trendy South Congress district. Case in point: the retro pool, surrounded by black bamboo and mid-century lounge chairs.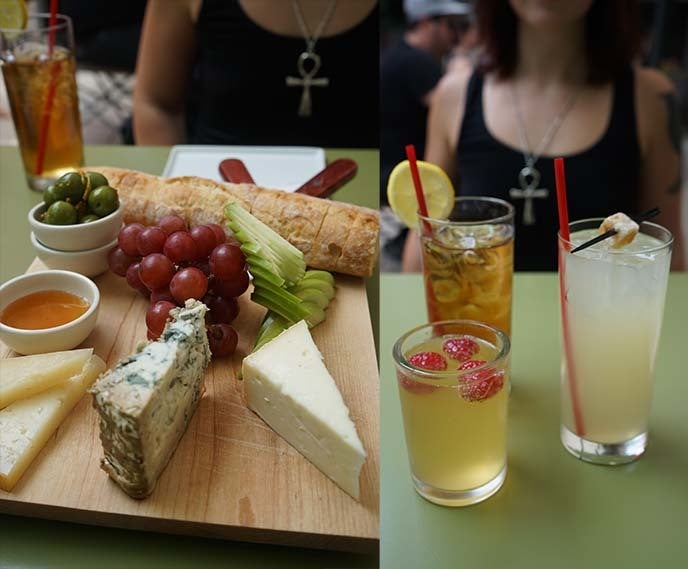 At the Hotel San Jose lounge, my friends and I sat in the lush courtyard, and enjoyed drinks and light fare such as a cheese plate. The drink list includes micheladas and refreshing cocktails: try the sake with ginger brew, lime and crystallized ginger, and "champassion" or champagne, passion fruit, and raspberries.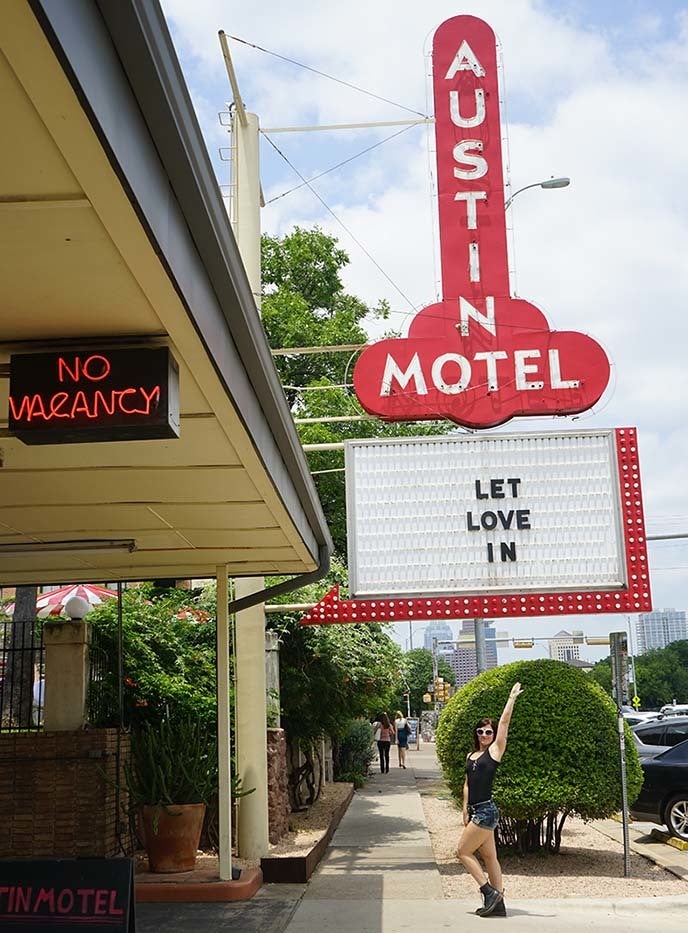 Austin Motel & Fine Foods Bar
Next door, Liz Lambert's Bunkhouse group has another property: Austin Motel, which encourages guests to "Let Love In."
Once again, the designers paid tribute to the history of the motel, which first opened in 1938. They kept original elements like the neon sign, while updating the rooms and 1950s pool.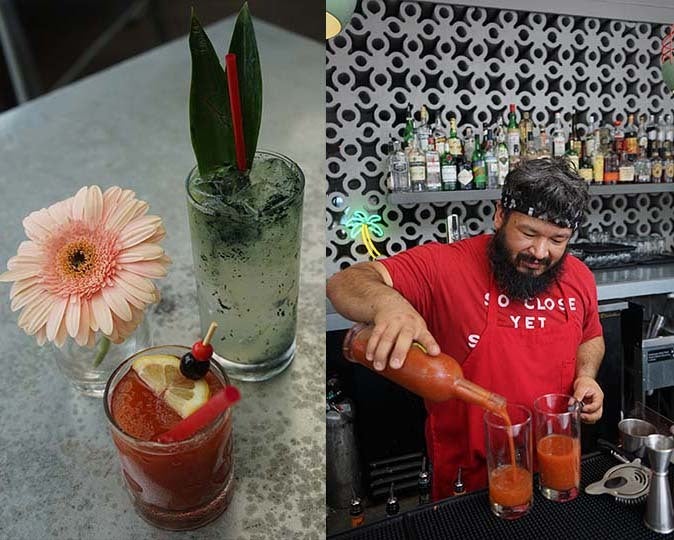 I grabbed a drink at Fine Foods, a laid-back retro bar that opened in April as part of Austin Motel. The friendly bartender mixes old-fashioned punches and cocktails, with names like The Dean and Playboy's Punch.
I cooled off with a Cold Fashioned, a frozen Old Fashioned with rye, citrus and bitters. Health food fanatics would rejoice over the Green Belt, an original mix of gin, lime, Chartreuse, Luxardo and chlorophyll "pond scum."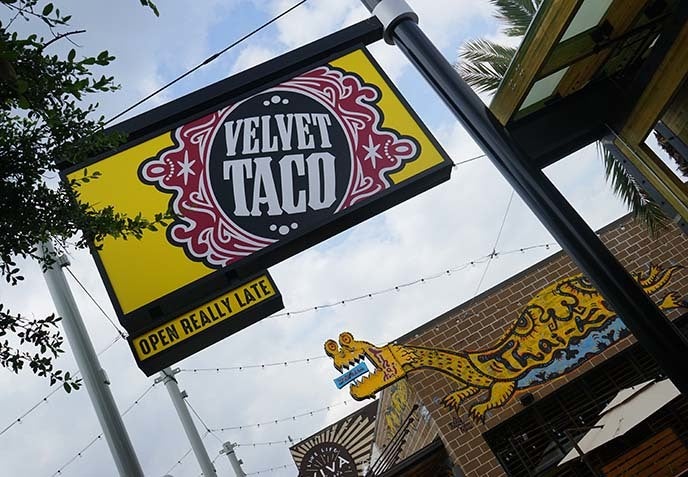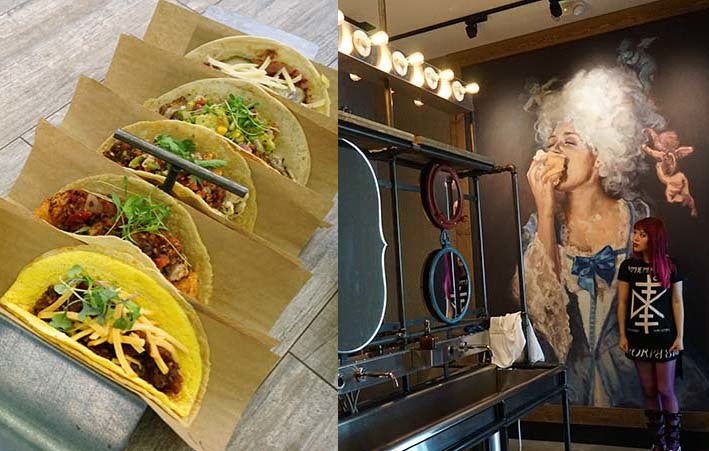 Velvet Taco's mission is to deliver a new take on tacos. They experiment with unexpected flavors such as paneer, or red curry coconut queso. Each order consists of one taco, so diners can mix-and-match. Among my favorite selections were the breakfast tacos with Barbacoa brisket, and a fish taco wrapped in lettuce.
Velvet Taco's interiors are just as funky as the food. In the restrooms, a Marie Antoinette mural encourages guests to eat cake (and one should — the red velvet slice with cream cheese frosting is delicious).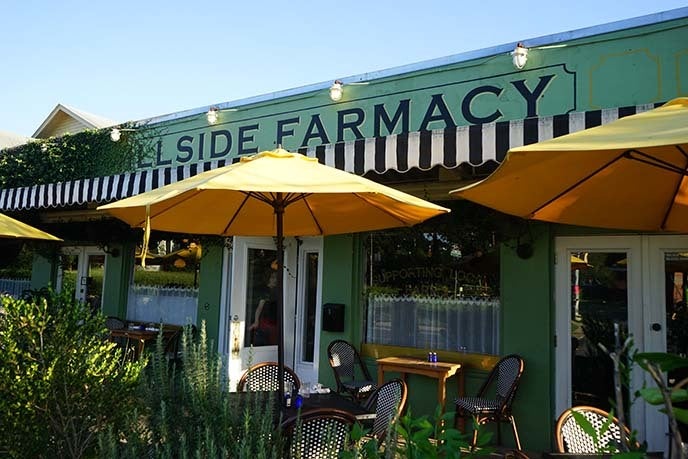 At first glance, I was charmed by Hillside Farmacy, set in a restored antique pharmacy. In the 1920s, Hillside Drugstore was run by Austin's first African American pharmacist. Today, the restaurant pays homage to the building's history with original counters and a glass case lined with apothecary bottles.
Hillside Farmacy is well-loved by locals for its raw bar and throwback cocktails. I tried a "Country Doctor," a homemade fountain soda with ginger, fresh apple, cinnamon and applejack. I also recommend the "kombooza" or kombucha with rum, a refreshing twist on the typical Dark and Stormy.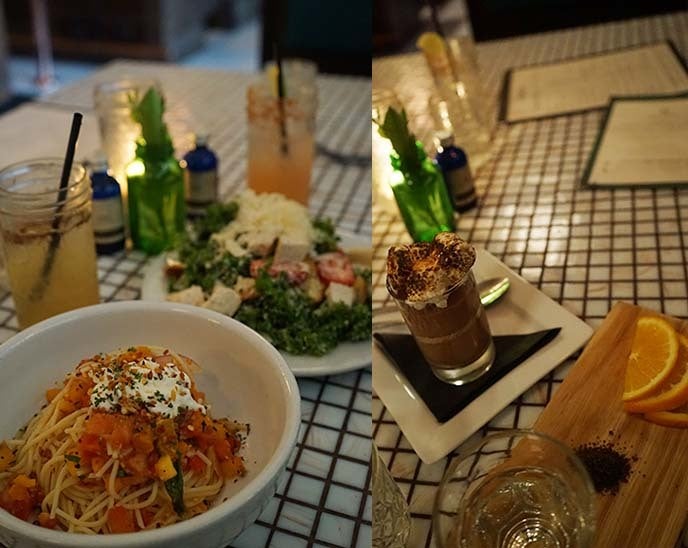 The name, "Farmacy," is a nod to the thoughtful menu, which focuses on locally sourced or foraged products. Cheers to the Southern starters such as the Pimento Cheese, an addictive spread served with celery and crunchy bread.
Our server recommended the pasta alla checca, as Texan heirloom tomatoes were in season. It was the perfect showcase of farm-fresh ingredients straight from Austin. I finished up with a magnificent campfire chocolate mousse with vanilla marshmallow, dark chocolate, sea salt and graham crackers.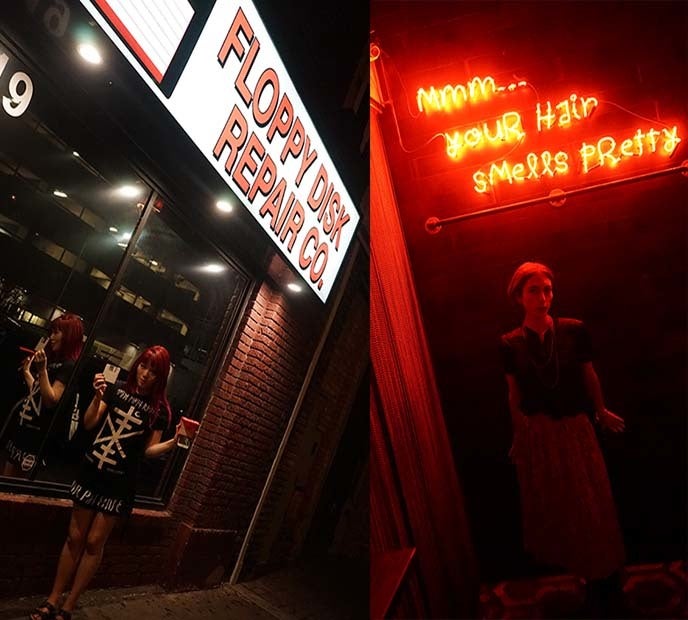 Floppy Disk Repair Company
I couldn't leave Austin without checking out the hipster, underground bar scene. I heard of a secret speakeasy bar, disguised as a Floppy Disk Repair Co. It became my mission to find access and see what low-tech wonders lurked inside.
One must know the keypad password, which changes every week, in order to get inside. I managed my way in by showing the bouncers floppies... but my method may not work for everyone.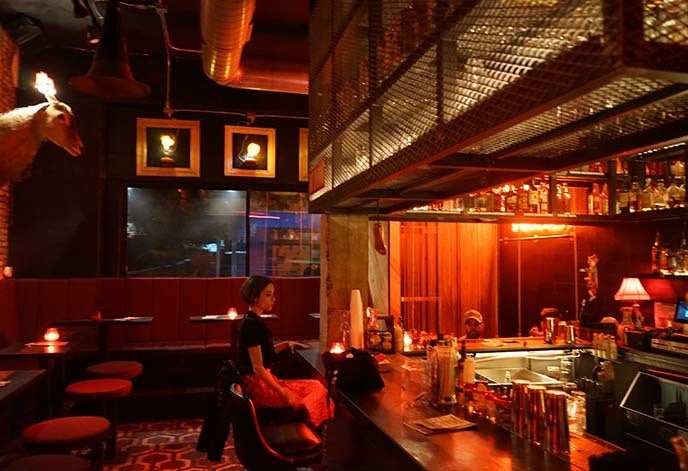 The Floppy Disk Repair Co's interior can only be described as creepy, with doll head lights and a sign that reads: "Mmm...your hair smells pretty." The speakeasy's menu adds to the psycho theme, with cocktails called "Silence of the Lambs" and "My Trix are not for your kids." Despite the off-putting name, I adored "Gary's spicy fire crotch margarita" -- tequila, serrano peppers and ginger beer, served in red-tipped glasses.