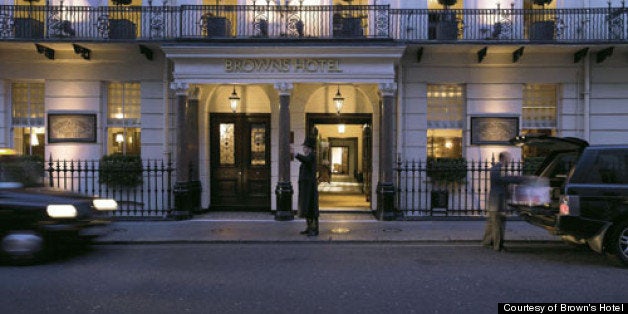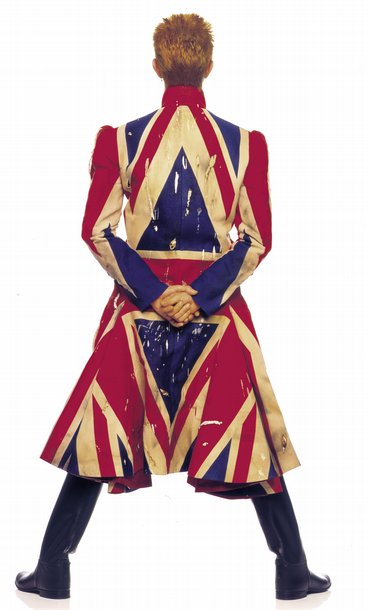 (Original photography for the Earthling album cover, 1997.
Union Jack coat designed by Alexander McQueen in collaboration with David Bowie. Photograph by Frank W Ockenfels 3. © Courtesy Victoria and Albert Museum, London)
There never was, and never will be someone quite like David Bowie. Not only is he one of this world's most innovative and original musicians, he is perhaps one of our most important and seminal assassins of the banal.

(Promotional shoot for The Kon-rads, 1963. Photograph by Roy Ainsworth. Courtesy Victoria and Albert Museum, London)
Through August 2013, fans (and even those who are just curious about The Man Who Fell To Earth's persona) can experience a full on Bowie immersion in the artist's hometown of London at the Victoria and Albert Museum at the aptly named exhibition, "David Bowie Is..." All one really needs is a good 48 hours in London, an open mind and a place to stay overnight (as you'll want to visit the exhibition the day after to really drink it in).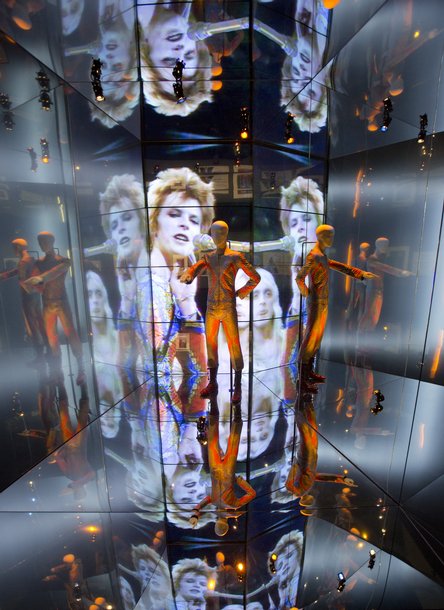 (Getting a Glam groove on. Image courtesy Victoria and Albert Museum, London)
More than 300 objects from the Bowie Archives have been brought together for the very first time including handwritten lyrics, original costumes, fashion, photography, film, music videos, set designs, Bowie's own instruments and album artwork.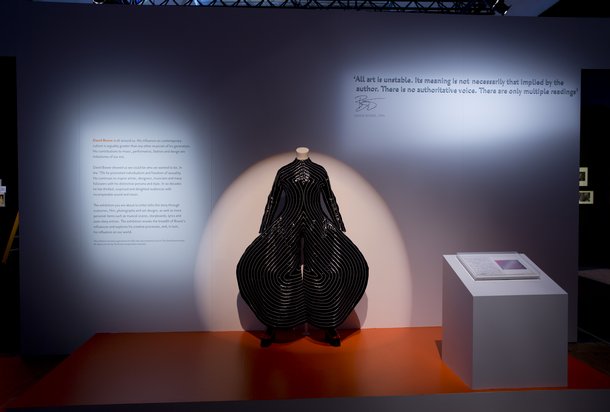 (One of David Bowie's most PANTastic outfits. Striped bodysuit for Aladdin Sane tour. Design by Kansai Yamamoto. Image courtesy of Victoria and Albert Museum, London)
The exhibition explores the broad range of Bowie's collaborations with artists and designers in the fields of fashion, sound, graphics, theatre, art and film. On display you'll find Ziggy Stardust bodysuits (1972) designed by Freddie Burretti, photography by Brian Duffy; album sleeve artwork by Guy Peellaert and Edward Bell; visual excerpts from films and live performances including The Man Who Fell to Earth, music videos such as Boys Keep Swinging and set designs created for the Diamond Dogs tour (1974). Alongside these will be more personal items such as never-before-seen storyboards, handwritten set lists and lyrics as well as some of Bowie's own sketches, musical scores and diary entries, revealing the evolution of his creative ideas.
David Bowie Is, Victoria and Albert Museum, Cromwell Rd, London SW7 2RL, United Kingdom
Tube stop: South Kensington (on the Piccadilly, Circle and District Line).
To note: Plan ahead -- not just for this exhibition, (which is sold out online, but you can still get tix the day of) but for London travel in general. The city is experiencing an unprecedented number of bookings, and what was once easy to book last minute is not the case this summer. Below are a smattering of suggestions for visiting London -- and witnessing the glitteringly glam career of Mr. Bowie.
Despite the recent brouhaha about uniforms (those were for the trains though, not the planes) Richard Branson's Virgin Atlantic is still the coolest way to jet cross the pond. Further, his Upper Class Clubhouses out of Heathrow (as well as Gatwick and JFK) remain the best lounges bar none. The lounges have everything you need for a start to a happy holiday, (or a hardcore business trip) including spa treatments, (mani/pedi's, blowouts, and massages) food aplenty and of course, the requisite champagne. It's the perfect way to spend a couple of hours before setting off.
UPON ARRIVAL: WHERE TO STAY.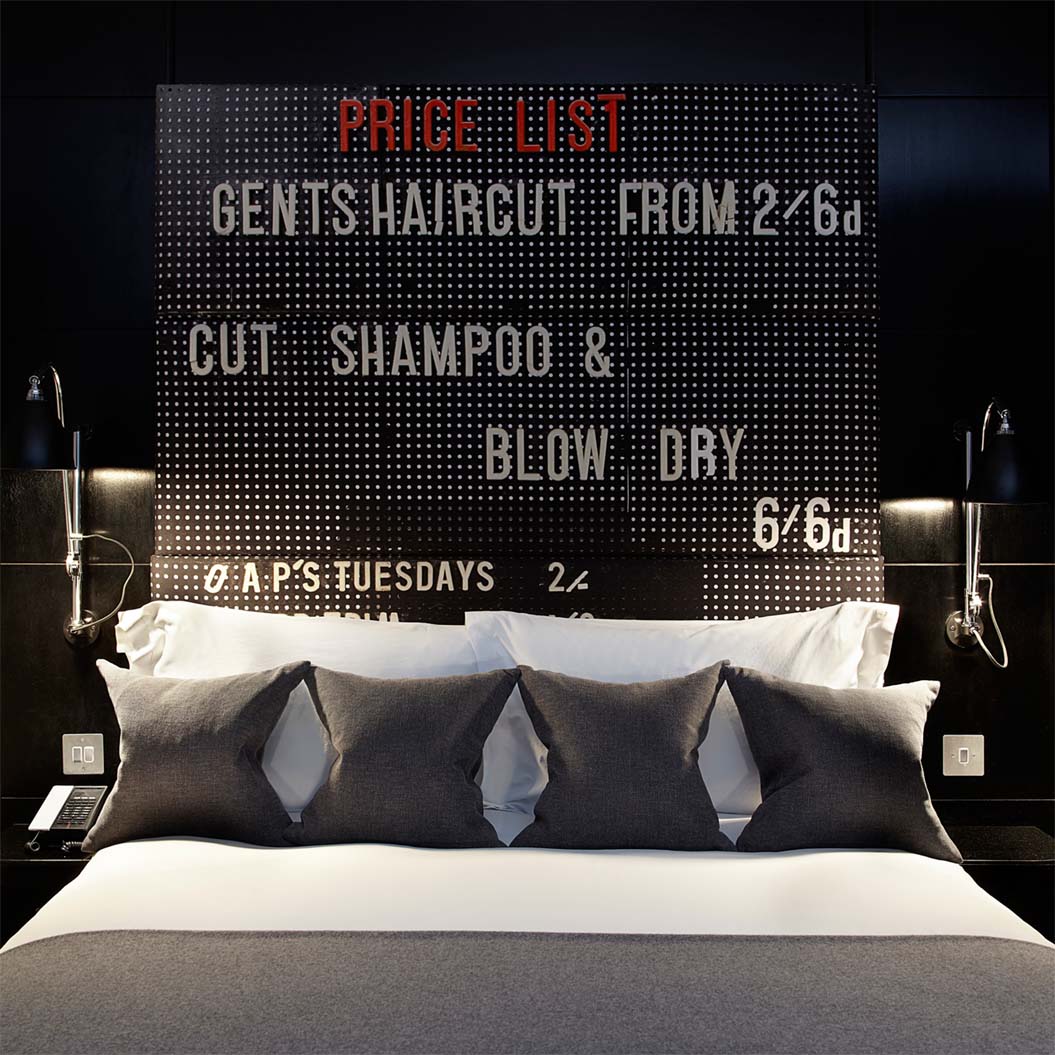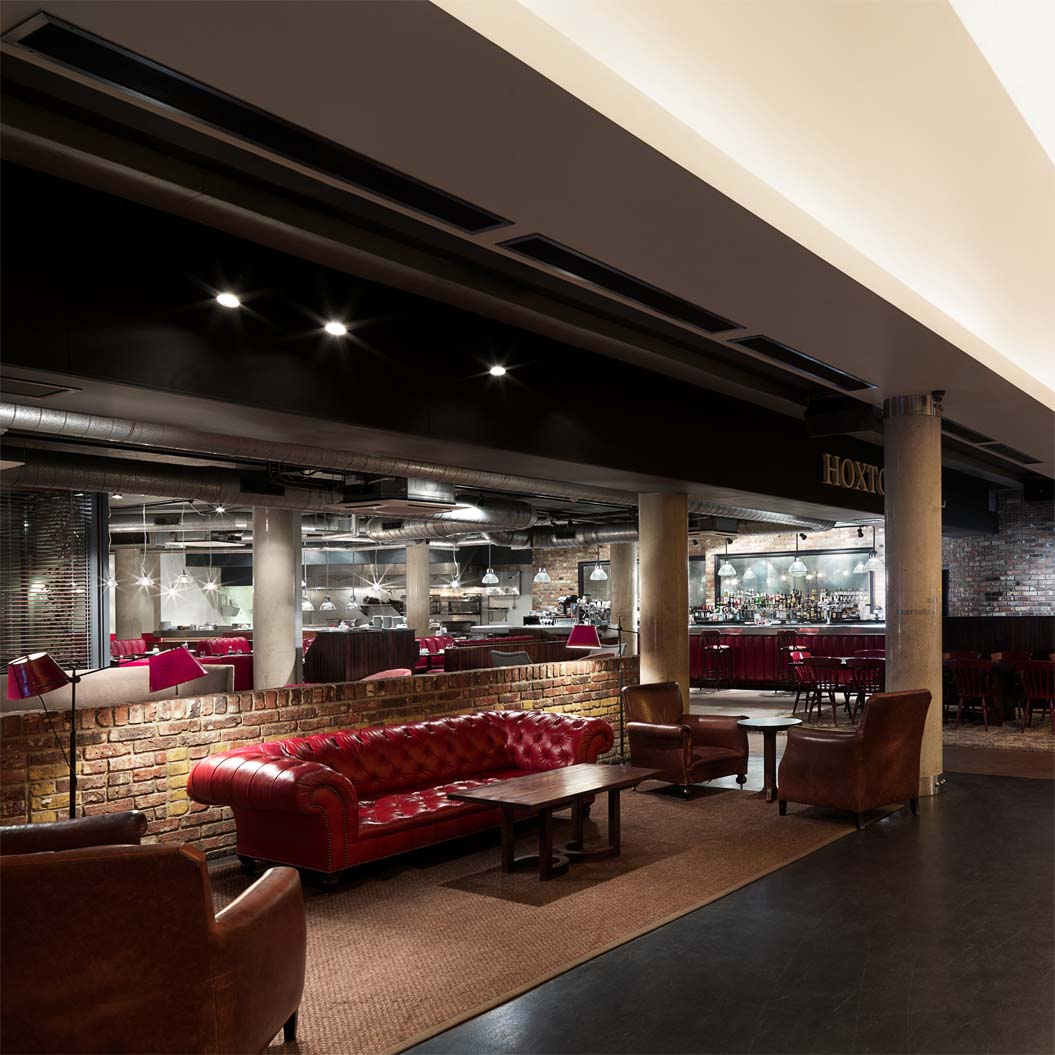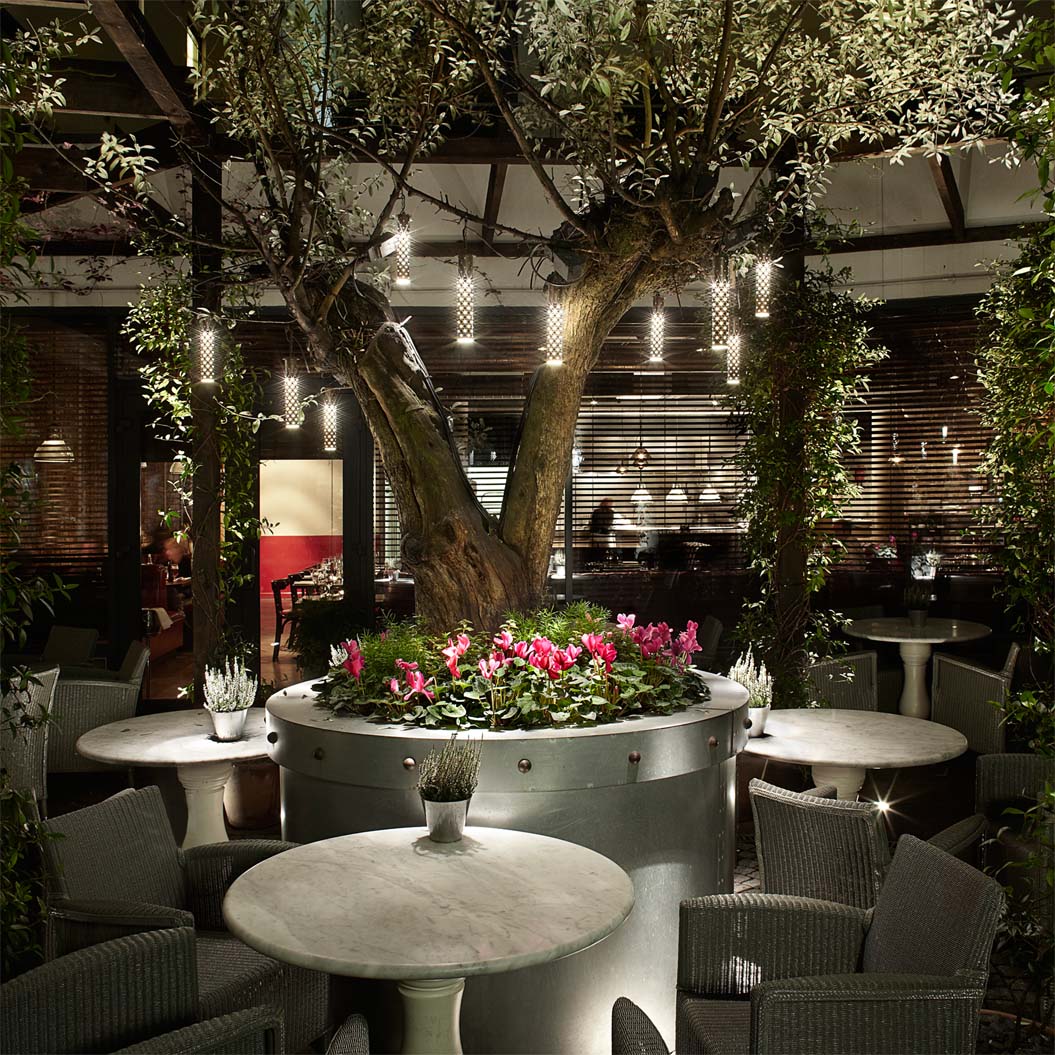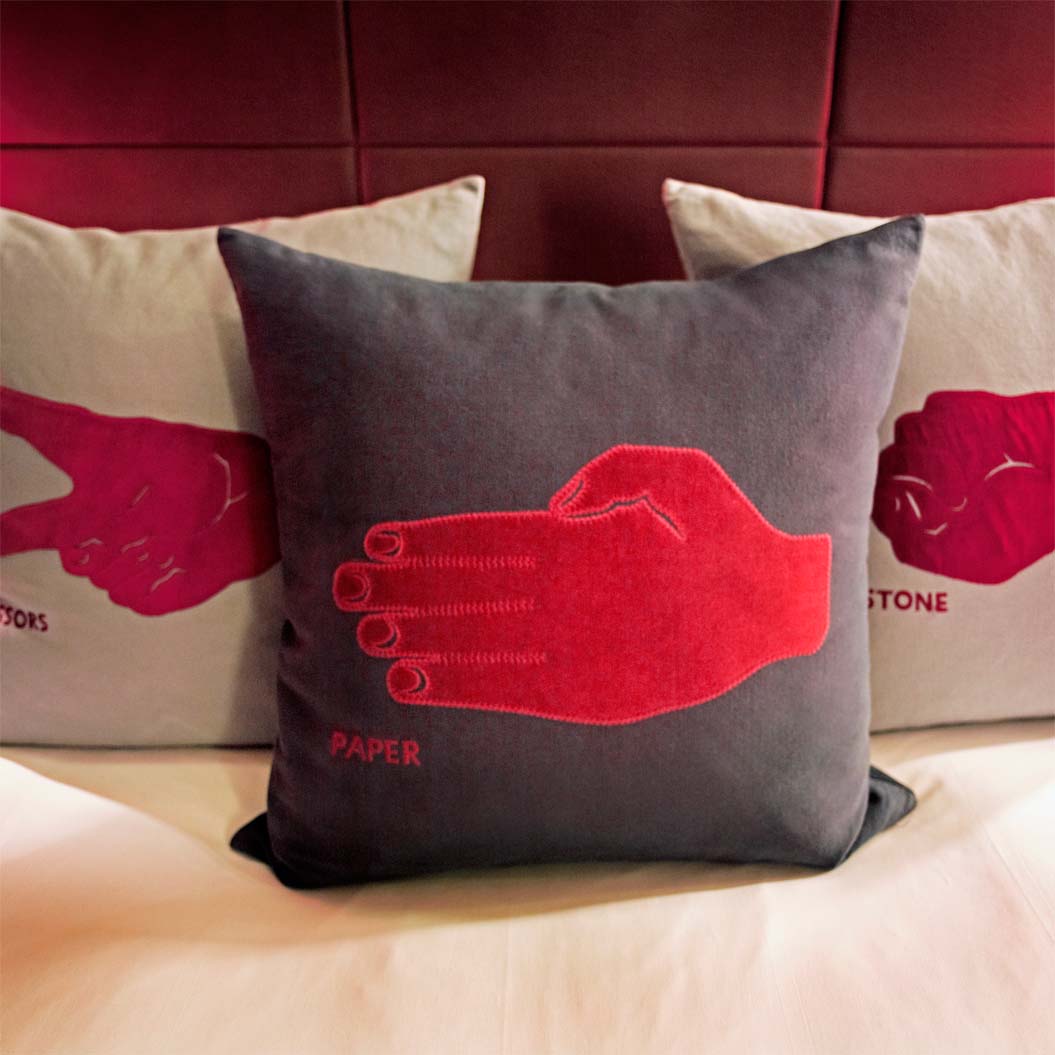 (The many faces of The Hoxton Hotel. All images courtesy of The Hoxton, London.)
HIPSTER CENTRAL/EAST LONDON: While it's not Brixton (where Bowie was born), London's Shoreditch neighborhood is currently the epicenter of hip and cool, and really the best place to experience it all (and perhaps, sleep it off) is The Hoxton, an uber slick, urban playground with budget prices and Frette Linens in its 280 rooms. The Hox is undoubtedly the epicenter of urban cool for the East End, complete with groovy ping pong tables, DJ's constantly spinning (not that you'd hear it from your room, fyi) and their bespoke Gin Garden Bombay Sapphire Botanical Experience -- learn how to make your own gin specialty, or, have the opportunity to blend their own unique scent and will take away their own 10ml bottle of tailor made perfume at the end of the session for only £35.
If you find the Hox unavailable for your dates and you're still keen to stay East, try The Boundary. With only 12 rooms, (each with a different design that has been inspired by legendary designers or design movements that the owners admire, like Eames, Le Corbusier and Charlotte Perriand) it'll be straight out of Dwell Mag, but it'll cost you a pretty penny compared to the one size/price fits all rooms of The Hoxton.

Tube Stop: Old Street Station (Northern Line, EXIT 3).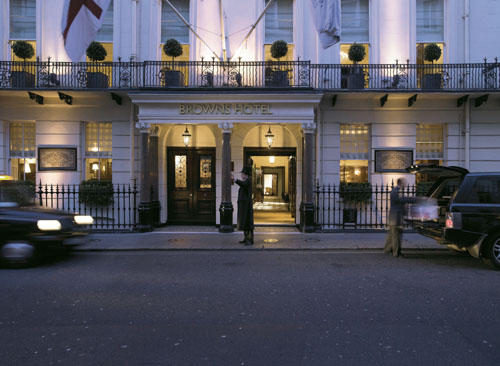 (Brown's Hotel at dusk. Image courtesy of Brown's Hotel, London)

MAYFAIR MAINSTAY/WEST LONDON: In 1837, James Brown, Lord Byron's butler and his wife Sarah, who was Lady Byron's maid, acquired 23 Dover Street and by mid 1838, had expanded into numbers 21, 22 and 24, to create Brown's Hotel. Recognized as the oldest hotel in London, the five star establishment is celebrating it's 175th anniversary with a series of specials throughout 2013, including getting a second night in a one of their suites for the 1837 price: £18.37 (approximately $28.03).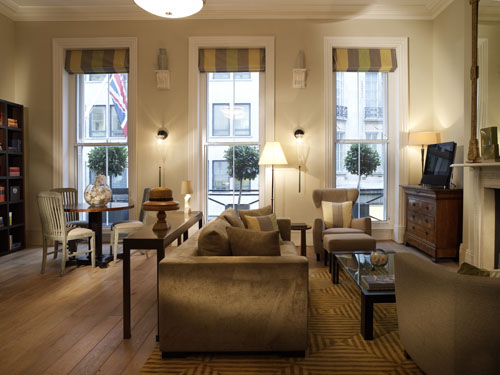 (Room with a view. Image courtesy Brown's Hotel, London)
Another facet of the traditional yet still uber hip hotel this summer incorporates classic cars and Highclere Castle, aka, "Downton Abbey." From July through September, guests can experience 'The Highclere Castle Vintage British Summer Day' and choose the Rolls Royce that recently appeared in the series, or the Queen Mothers' favorite car 'The Ivy Baroness'. Upon arriving at Highclere, guests will be able to explore the historic castle, home to Carnarvon family since 1679, and stroll around its beautifully landscaped gardens before taking in the Egyptian Exhibition highlighting the achievements of the 5th Earl of Carnarvon who famously discovered the Tomb of the Egyptian Boy Pharaoh, Tutankhamen, in 1922.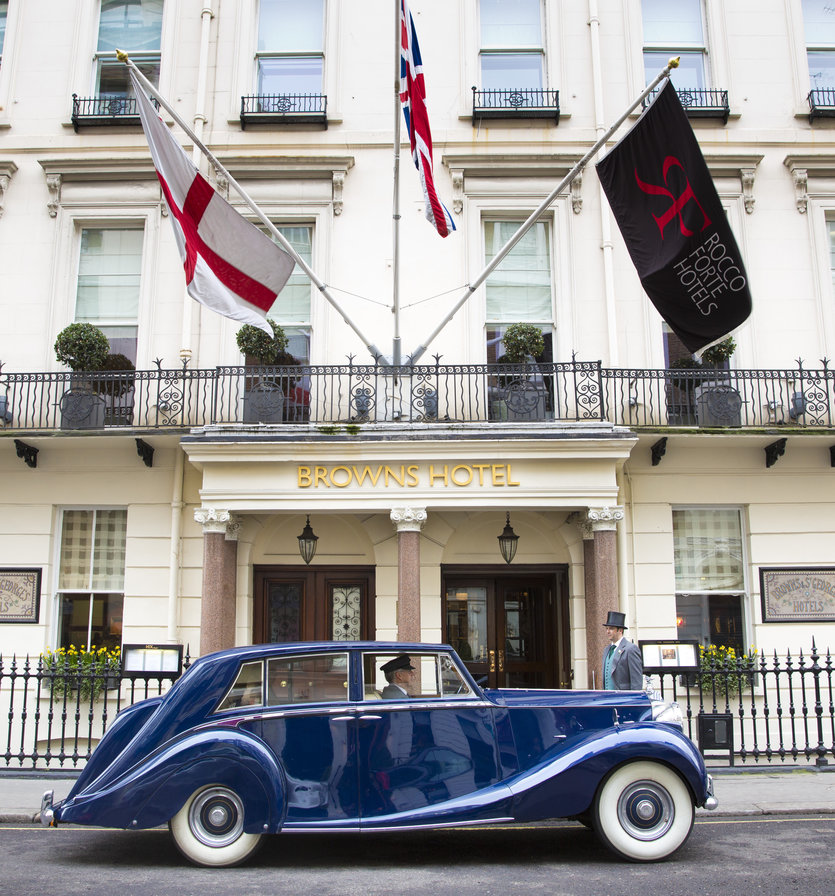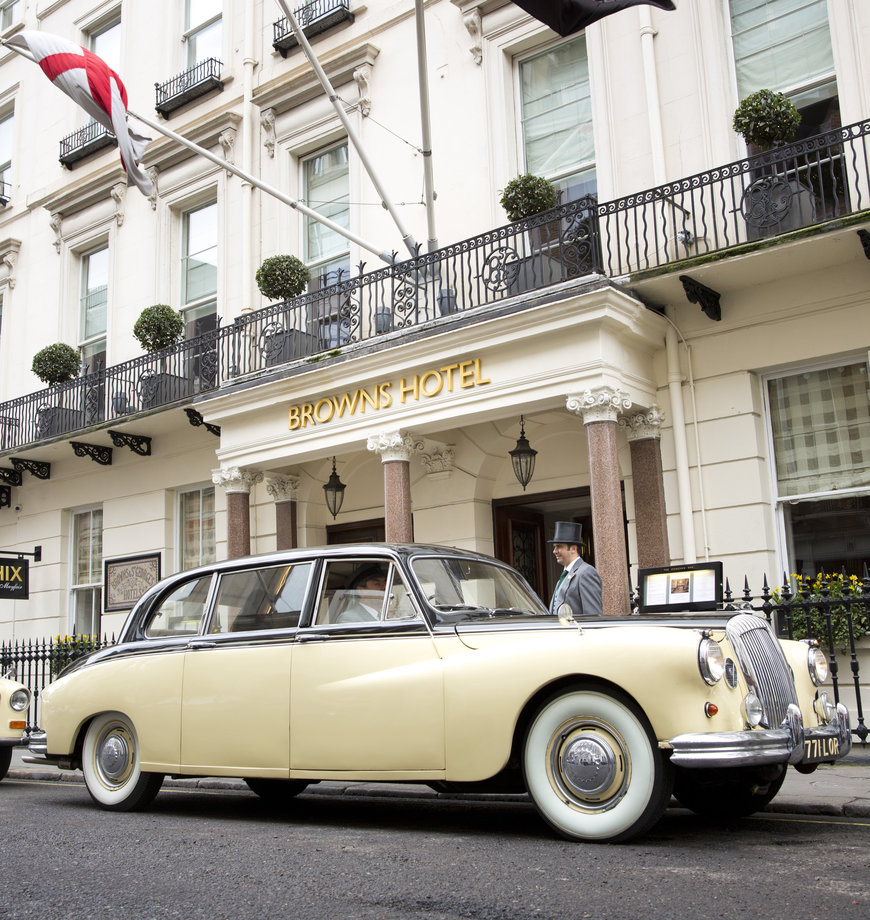 (Your respective rides to check out Lord Grantham's pad. Images courtesy Brown's Hotel, London)
Tube Stop: Green Park.