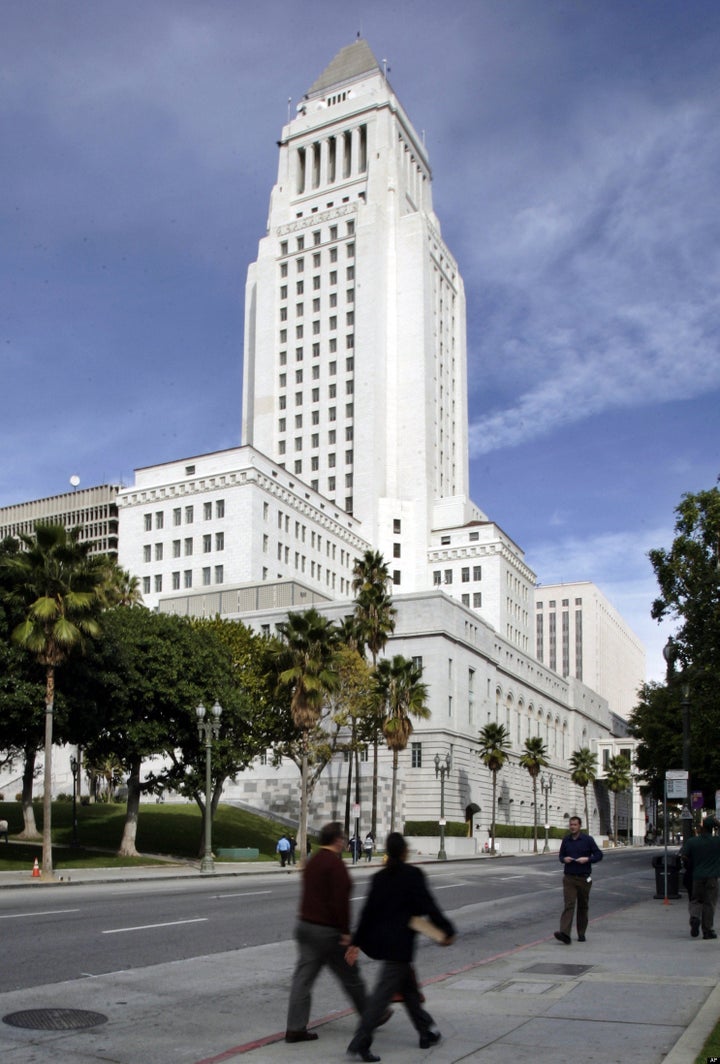 Art history can be broken into distinctions of time, but also of place. One can discern differences of style and influence, for instance, between 17th Century French painting and that of Italy. So too have distinctions in American art become apparent in the twentieth century when looking at the artists of New York and those of California.
Beyond California's late 19th Century plein-air school and the influence of Mexican artists like José Clemente Orozco and David Alfaro Siqueiros in the first half of the twentieth century, Los Angeles has also given birth to a distinct moment in art history during the last 40 years: the light and space of Robert Irwin, Doug Wheeler, Maria Nordman and James Turrell; "finish-fetish" artists like Craig Kauffman and Billy Al Bengston; and the assemblage tradition of Edward Kienholz, Betye Saar and John Outterbridge. The art made in New York and Los Angeles is as distinct as the cities themselves. It seems logical, then, that the Los Angeles County Museum of Art -- also just over 40 years old -- should be distinct as well.
Contemporary cities no longer look like the villages of Europe; they look like Los Angeles. LA is a man-made utopia built on chamber-of-commerce boosterism, brought on by a combination of good weather and great marketing. The modern world was invented -- or reinvented -- in Los Angeles. Everything gets reinvented in California.
Take, for instance, the palm tree. Despite not being native to Southern California, the palm tree has become a powerful cultural object, an iconic image that has drawn legions of people to a beguiling version of paradise. In 2007, Robert Irwin was commissioned by LACMA to plant around the campus a carefully curated grouping of exotic species of palm trees from around the world; he will continue to do so in the coming years, including surrounding the Lynda and Stewart Resnick Exhibition Pavilion, opening next fall. Irwin has scrutinized the trees as sculptural objects, collected and organized in a museum environment.
Chris Burden has also amassed a collection worth preserving in a Los Angeles museum. His Urban Light is a massive collection of more than two hundred streetlamps dating back to the 1930s and before, gathered from various cities within Los Angeles County. Now collected at the main entrance of the museum -- a temple-like façade recalling the grand columns at the entrances to the great civic structures of the East Coast and Europe -- they are in effect a kind of history of LA's civic identity. In bringing them together Burden draws out their distinctions within the larger overall culture that is Los Angeles.
Perhaps as with any really big city, increasingly there is no longer one LA In 300 years Los Angeles has evolved from a modest Spanish pueblo to the second-largest city in America, a vast, complex, fast-growing urban metropolis whose communities speak more than a hundred languages. It is probably only a museum -- an encyclopedic museum -- that could represent such a multitude of cultures, providing some sense of center in response to so much diversity.
Encyclopedic art museums like LACMA were created, and maintain their status as educational institutions, on the premise that much can be learned about a place and time by the finest art that it has produced. Art from every region and era not only documents history, embodies aesthetic inventions, and constitutes the highest of human achievements; it is also a proxy for a worldview. The general art museum as we know it was born in Europe out of the Enlightenment, which privileged a rational, taxonomic -- and clearly Eurocentric -- perspective. The traditional art museum presents a unified narrative of artistic and cultural history from ancient Egyptian, Greek, and Roman times through the achievements of the Renaissance, the advent of modernism, and finally to the present.
But Los Angeles -- situated at the western edge of Western expansion, looking out to the Pacific Rim, thriving under the enormous cultural influence of Latin America -- is a vastly different place than the European and, later, East Coast cities whose institutions embody and perpetuate the ideas behind the general art museum. From this perspective it is increasingly possible to see that the historic artistic achievements of Latin America are parallel to, and in many ways quite distinct from, the achievements of European artists. Similarly, in Asian culture the lasting influence of ancient Chinese art is equal to that of Greece and Rome in the West.
This museum, as it grows, aims to reflect that difference of worldview in its presentation of the art of all times, all ages, and all places. To do that we have sought out living artists to help put this history in context. In 2007 we asked John Baldessari to collaborate on the gallery design for the exhibition Magritte and Contemporary Art: The Treachery of Images. Baldessari literally turned the galleries upside-down, covering the carpets in clouds and papering the ceiling with LA freeways. In doing so he made the exhibition exciting for kids and critics alike. More recently, Jorge Pardo has designed a stunning installation for our permanent collection of ancient American art; and the Viennese artist Franz West recently collaborated on the just-opened installation of art from the Pacific Islands, a collection which the museum acquired last year.
Contemporary art, at its best, communicates immediately and clearly. In fact, perhaps it only becomes esoteric or obscure if you must first march through the history of art to get there. Los Angeles is a city that privileges the present, and from this particular vantage point we might make the journey through art history in reverse: from contemporary art through the modern era and early 20th Century Mexican art, to the masterpieces of 17th and 18th Century Europe, to the Mughal courts of India, to older works from pre-Columbian, Islamic, Japanese, and Chinese cultures. Visitors to LACMA might be able to make connections between the light and space of 1960s Venice, California, and the exquisitely detailed treatment of light in the paintings of 17th Century Venice, Italy.
Contemporary artists create things as ways of seeing the world. Nurtured in a museum, they will become the way that people look at our time; art will be the context -- if not the content -- by which future generations understand us.
Related
Popular in the Community